Planning the Perfect Graduation Party: Tips and Tricks for a Memorable Celebration
Planning a graduation party can be a daunting task, especially if you're not sure where to start. Wondering what types of questions should you consider while planning? How do you handle invitations and RSVPs? To help you out, we've put together some tips and tricks for planning the perfect graduation party, along with answers to frequently asked graduation party questions. 
6 steps to plan a graduation party
Step 1: Set a budget
To ensure a successful graduation party, the initial step is to establish a realistic budget. This will help you determine everything you do in the next steps. By setting a budget beforehand, you can allocate funds efficiently and avoid unnecessary expenses, making your celebration more enjoyable and stress-free.
Step 2: Choose a date and venue
Once you have the budget figured out, the next step is to choose a date and venue for your graduation party. Where are graduation parties held? Many graduation parties are hosted at home, but you can also get creative here! Local parks or restaurants are excellent alternatives. Or, check out tools like Peerspace to find a unique space to rent. Either way, it is crucial to plan in advance as these locations tend to book quickly, particularly during peak summer season.
When are graduation parties held? Graduation parties are most commonly hosted during the spring and summer months, around the time when most high schools and universities hold their graduation ceremonies. These celebrations can occur on or around the day of the graduation, or can be held at a later date to accommodate the schedules of family and friends. As we noted earlier, it is important to secure a venue and date early on, as these can fill up quickly during the busy graduation season. Some families even choose to host graduation parties before the ceremony, as a way to celebrate the graduate's achievements before they walk across the stage. Regardless of when you choose to have the celebration, the focus is always on recognizing and honoring the accomplishments of the graduate.
Step 3: Set up an event website and online RSVPs
In today's digital age, creating an event website is a convenient way to keep your guests informed and allow them to RSVP online. This approach will save you time and effort while simplifying guest list management and communication. Here are some of the benefits:
Worried about party crashers? Set a private invite-only guest list to manage who can RSVP. 
Sending paper invites? Add a QR code to easily direct guests to your event website and online-RSVP.
Change of plans? Use the built-in email tools to communicate with guests.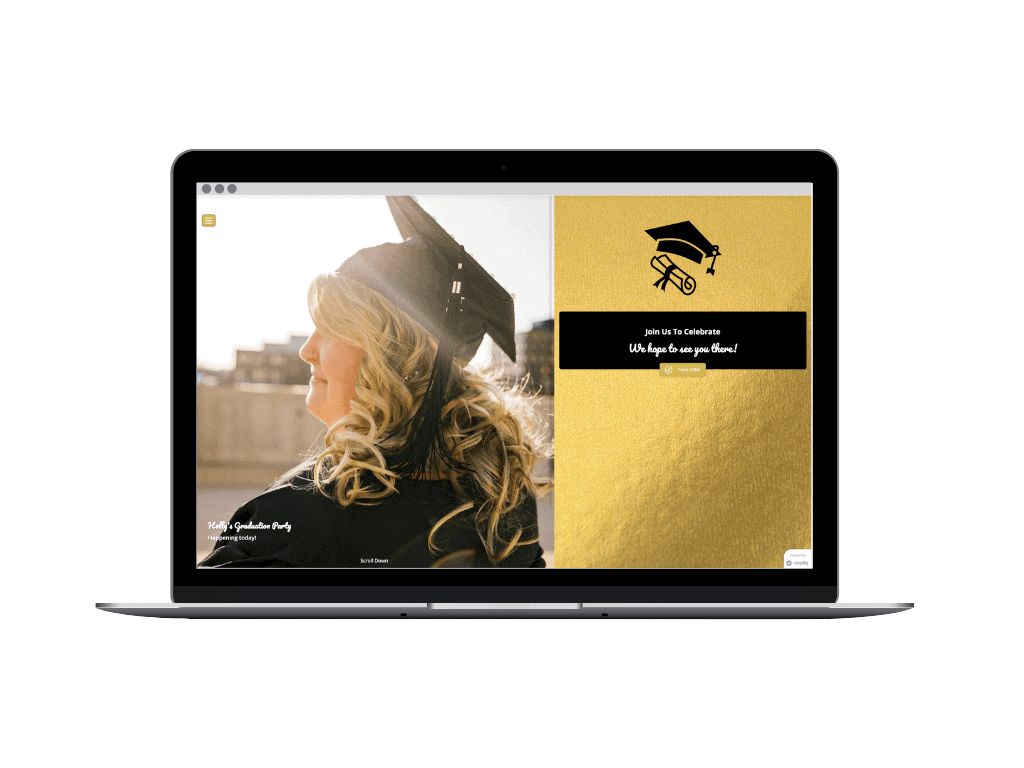 Step 4: Invite Guests
Once you've chosen a date and venue and set your party's website, it's time to invite your guests. Consider sending out printed invitations (with RSVPify you can add QR Codes for your paper invitations!), or using an online invitation to make things easier. Be sure to include all the necessary information, such as the date, time, and location of the party, as well as any special instructions or requests. 
An invitation template can be a helpful tool whether you are inviting guests digitally or via snail mail. Templates allow you to send invites digitally (like by email or sms) and/or printed by snail mail. There are many graduation party invitation templates to choose from, which you can easily download or print to spread the word about your celebration.
Step 5: Plan the menu
Food is an important part of any party, and you want to make sure that you have enough to feed all your guests. That's why we recommend collecting RSVPs ahead of time, so you can ensure you're covered!
To simplify the food preparation process for your graduation party, you may want to consider hiring a caterer or hosting a potluck. If you decide to handle the food yourself, consider serving easy-to-prepare menu items like barbecued meats, walking tacos, or simple sandwiches. These ideas are not only cost-effective but also easy to serve and clean up.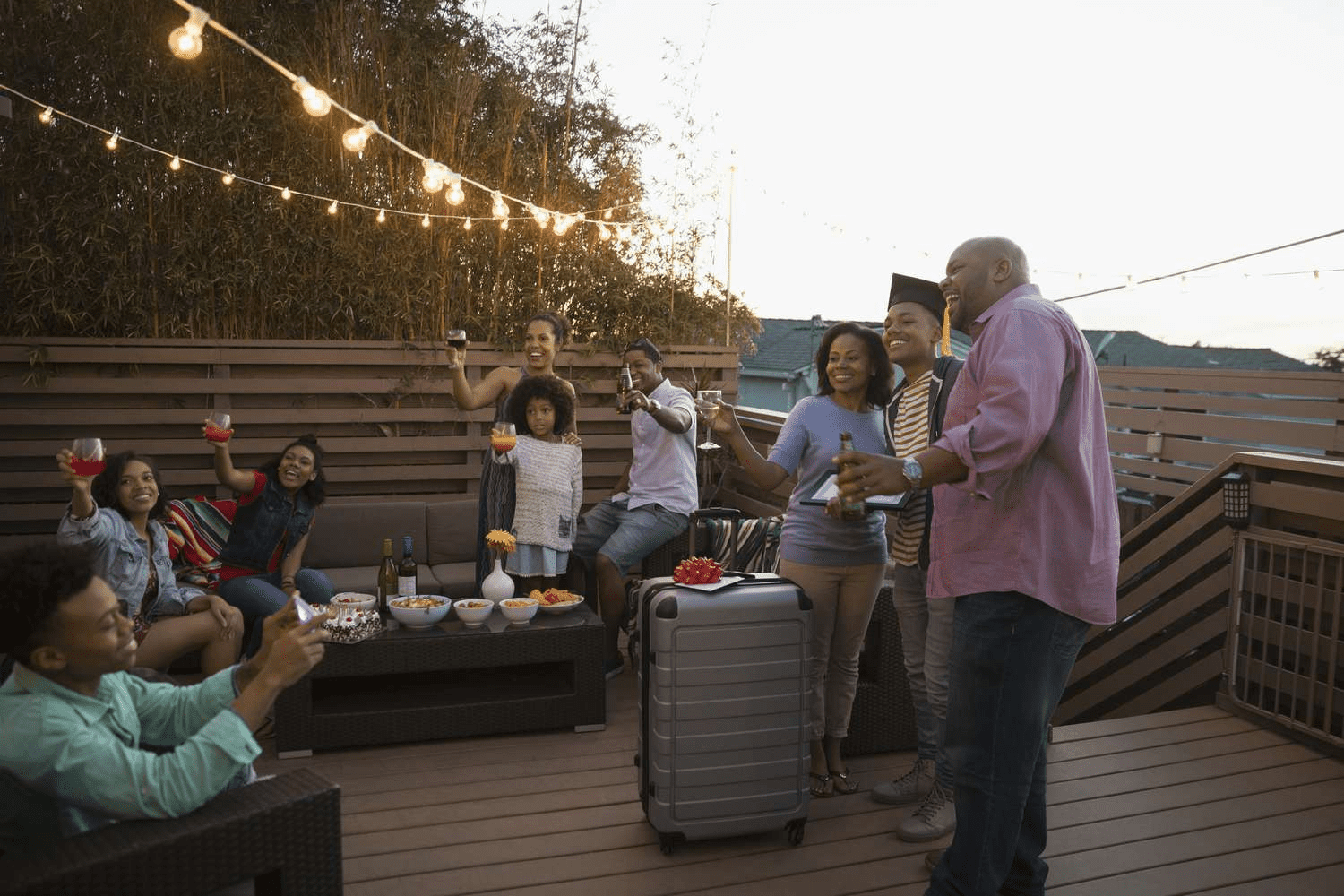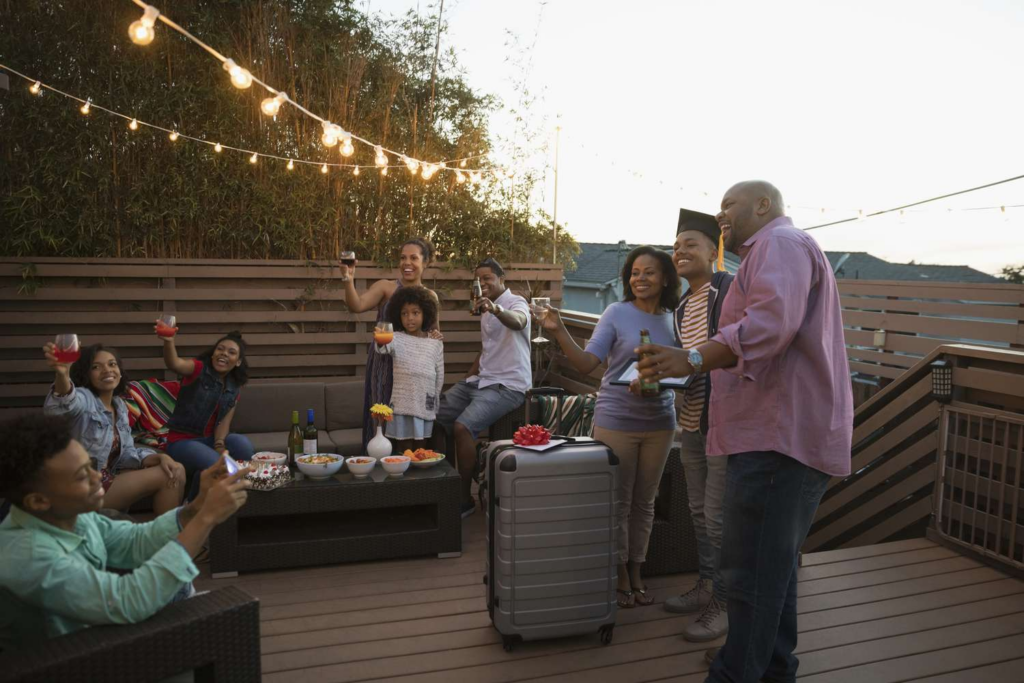 Step 6: Plan decorations, entertainment, and memorable touches
Decorations are a great way to make your graduation party feel special. Consider using balloons, streamers, and other party supplies to decorate the venue. You can also create a photo booth area where guests can take pictures and create lasting memories of the occasion.
When you plan a graduation party, you don't face many of the traditional challenges and requirements of more etiquette-driven events like weddings or Bar Mitzvahs. If you are looking to create some memorable moments, there are always a few things you could choose to include:
For big events, consider a greeting line similar to a wedding. This lets your guests get a chance to congratulate the graduate personally, and also lets everyone grab a photo with the honoree.

Speeches are always nice, but unlike a wedding, don't feel like you need to include them. A smart move is to consider whether the graduate would appreciate them.

Gifts should be handled similarly to a wedding. Create a station to collect cards or presents, so your grad can enjoy them after the festivities are over
From venue selection and menu planning to creating invitations, there are many steps involved in planning a successful graduation party. With a little planning and preparation, you can create a memorable celebration that your graduate will never forget.