Planning a graduation party? These templates can quickly check invitations off your to-do list.
When planning a graduation party, creating invitations is an essential step. Luckily, you don't need to be a graphic designer to create stunning invitations. There are many graduation party invitation templates available online – either for free or at a nominal cost. Let's review our favorite paid and free invitation template providers:
Best Graduation Invitation Templates
If you're in need of downloadable templates that you can edit with tools such as Microsoft Word or Photoshop, Template.net offers a variety of options. While their selection of graduation templates is more limited compared to their birthday party invite templates, there are still some great choices to explore. You can browse through their selection of free templates or consider upgrading to a pro membership for just $2 per month.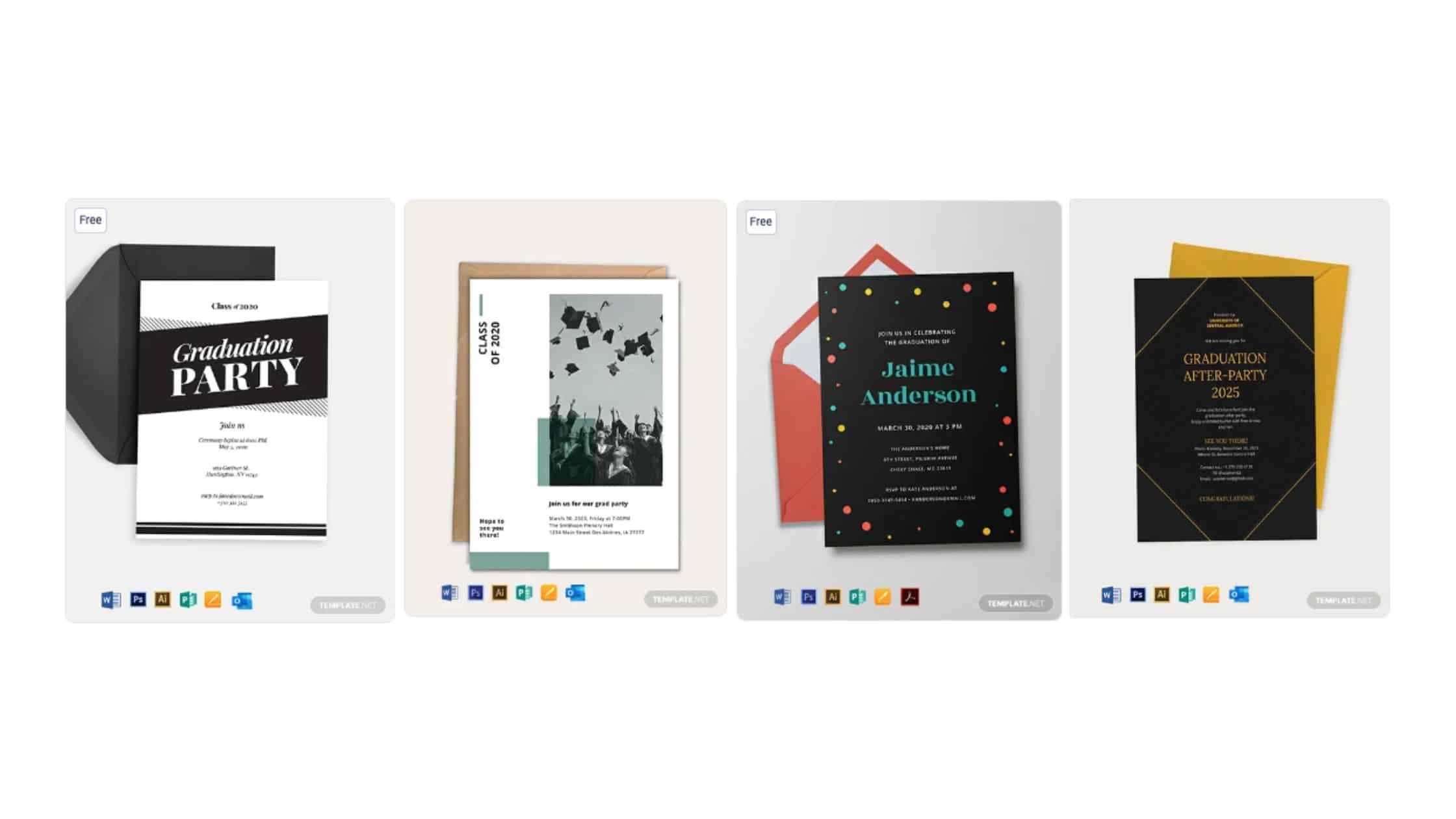 Greetings Island has a wide range of invite templates that you can personalize and download for free, although they come with Greetings Island branding. However, if you prefer to use a premium template or remove the watermark, you can easily purchase an individual package or subscription at a reasonable price. Overall, Greetings Island is a great option for creating beautiful and affordable graduation party invitations.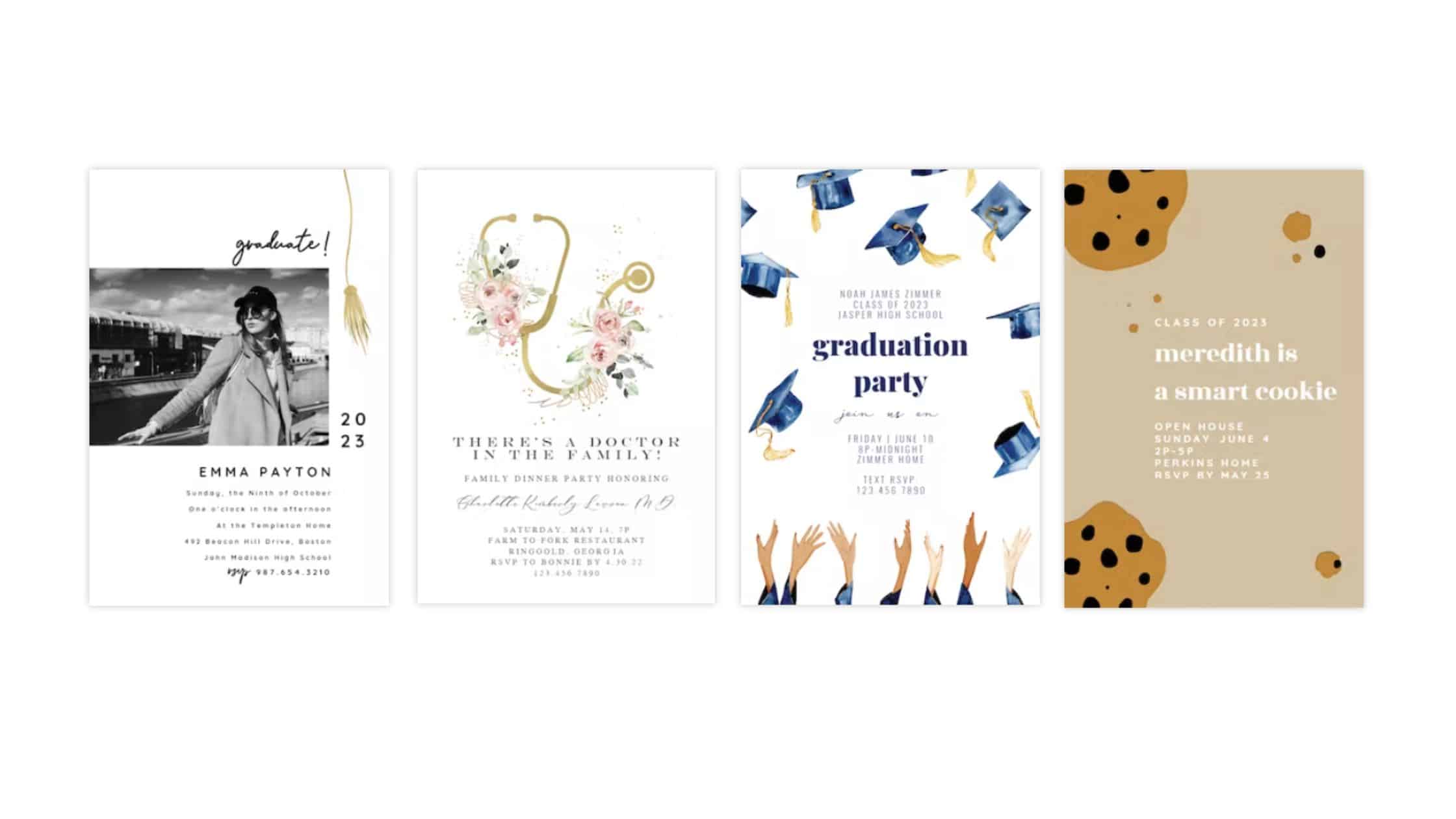 Canva is a versatile design tool that provides a wide range of free customizable templates, as well as some premium options with additional design elements. Canva offers easy-to-use drag-and-drop functionality and a user-friendly interface. Some invite templates may require a paid subscription to access all the design elements, but many are completely free to use. If you're looking for more design options, Canva also offers a premium subscription starting at $12.99 per month.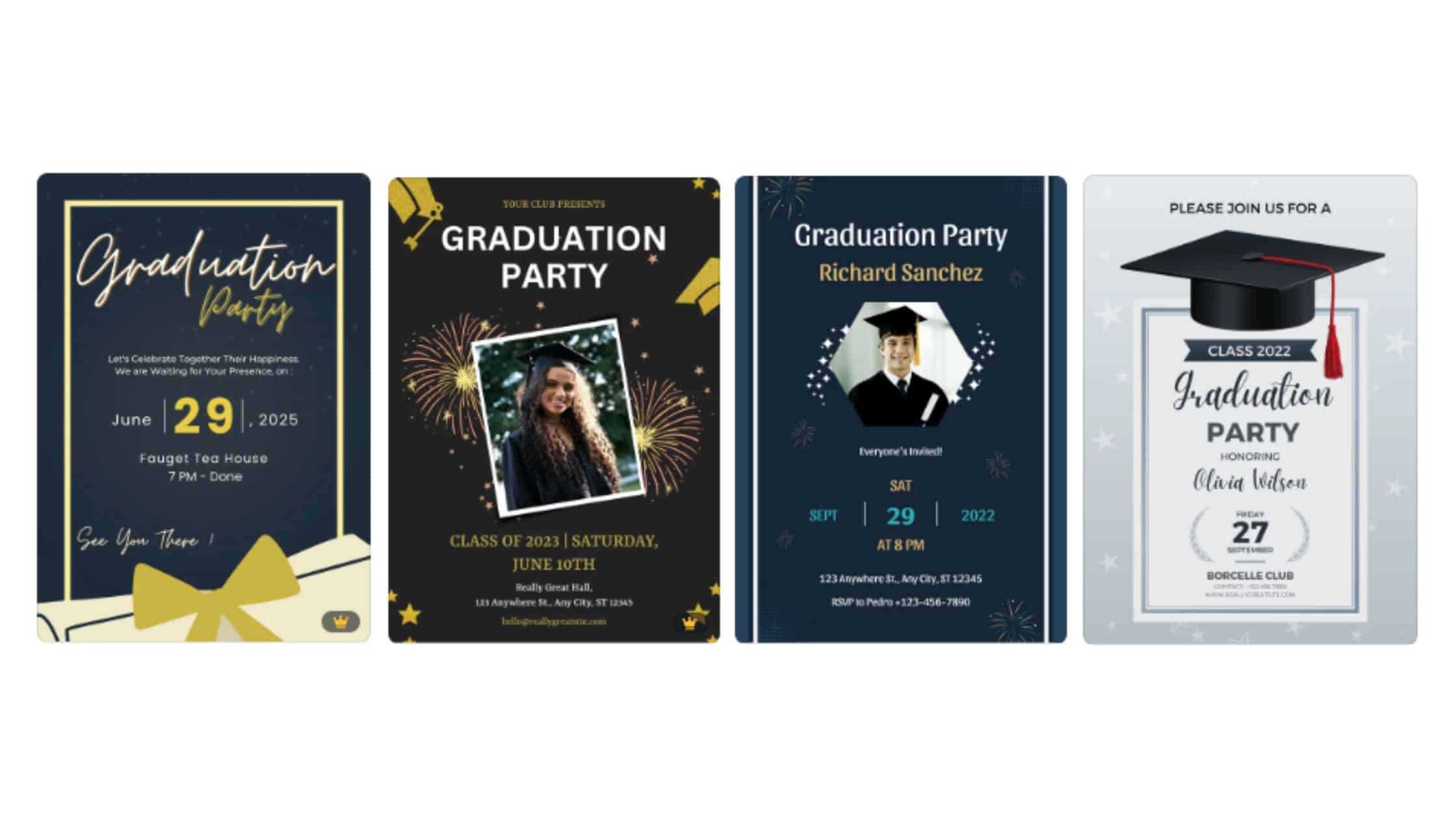 Adobe's Express platform is another user-friendly graphic design tool that offers customizable invitation templates for various events, including graduation parties. The free plan provides users with a wide range of templates and robust customization options. For even more advanced features and options, users can subscribe to a premium account starting at $9.99 a month.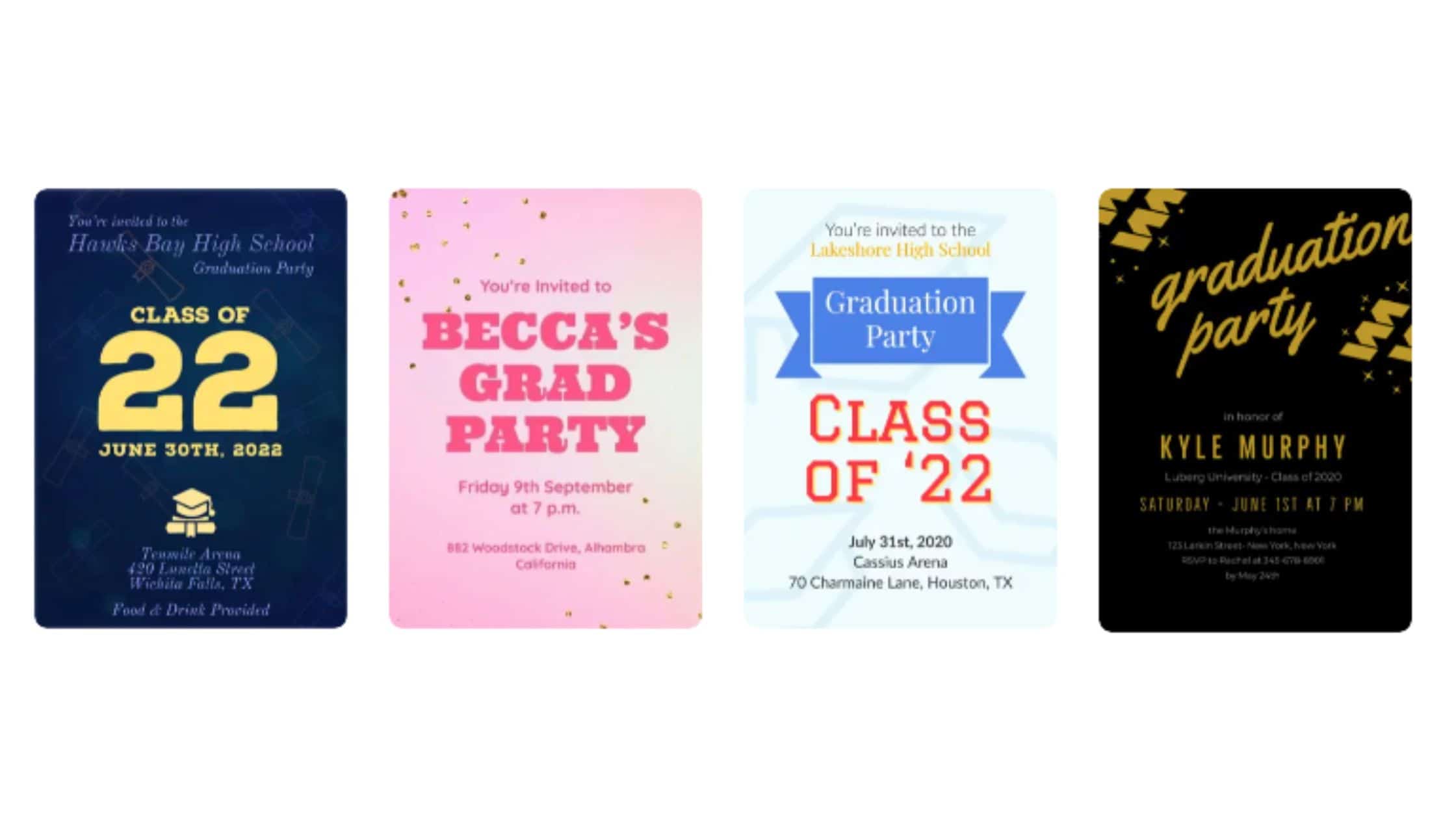 Etsy's marketplace is a fantastic resource for those who want to purchase unique and personalized graduation party invitation templates. With numerous shops offering a wide range of digital templates, you can easily find a design that matches your party's theme or style. Once you purchase your desired evite template, you'll receive access to an online editor that allows you to customize and download your design.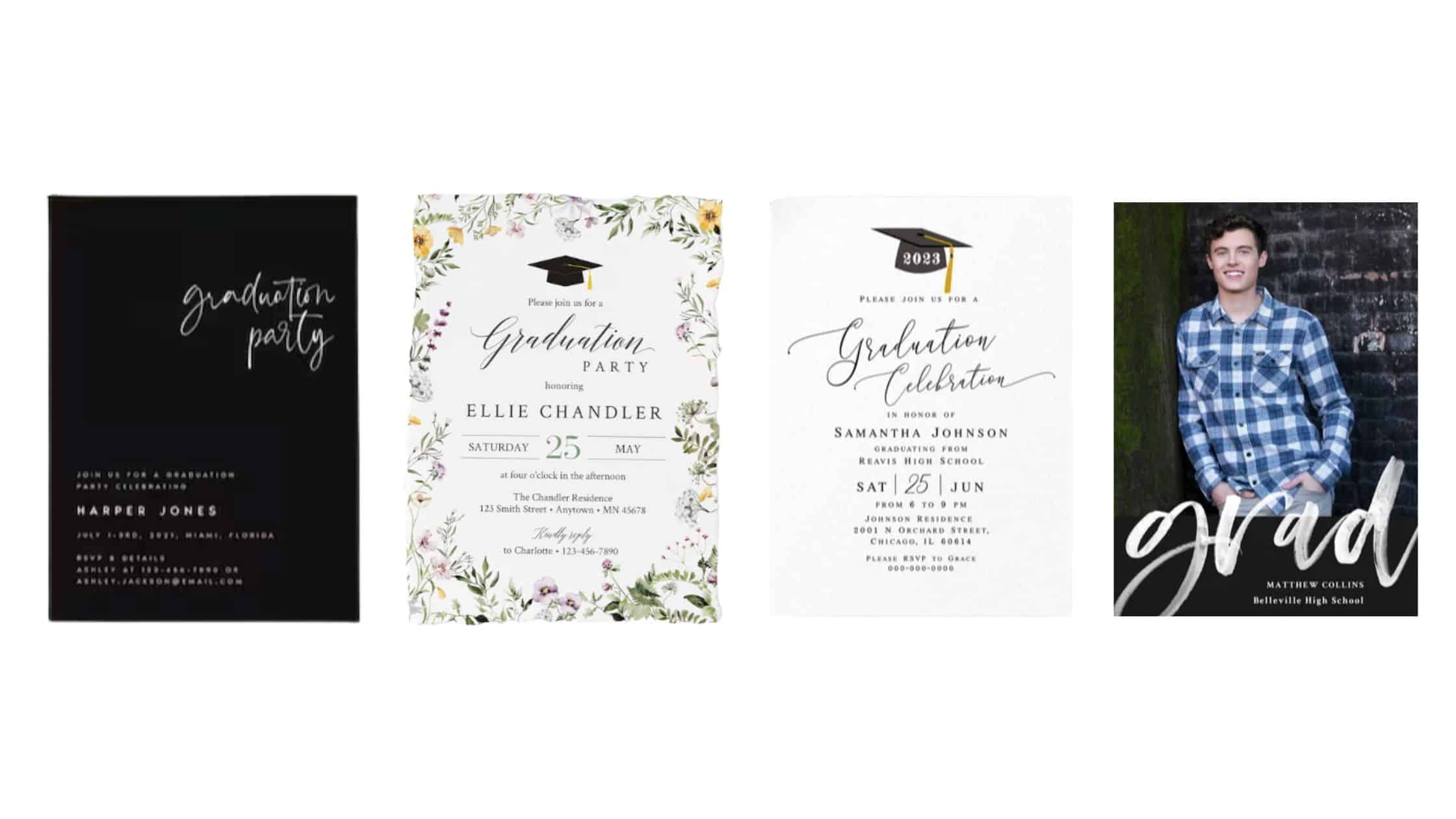 From the left: Invite 1 | Invite 2 | Invite 3 | Invite 4
If you're looking for premium-quality graduation party invitation templates, Zazzle is definitely worth checking out. This well-established marketplace is now offering instant downloads of customizable templates. While these templates do come with a price tag, the selection is worth the investment. With a wide range of designs to choose from, Zazzle is sure to have something to match your party theme and style. Plus, their easy-to-use editor allows you to personalize your invitations with all the details your guests need to know.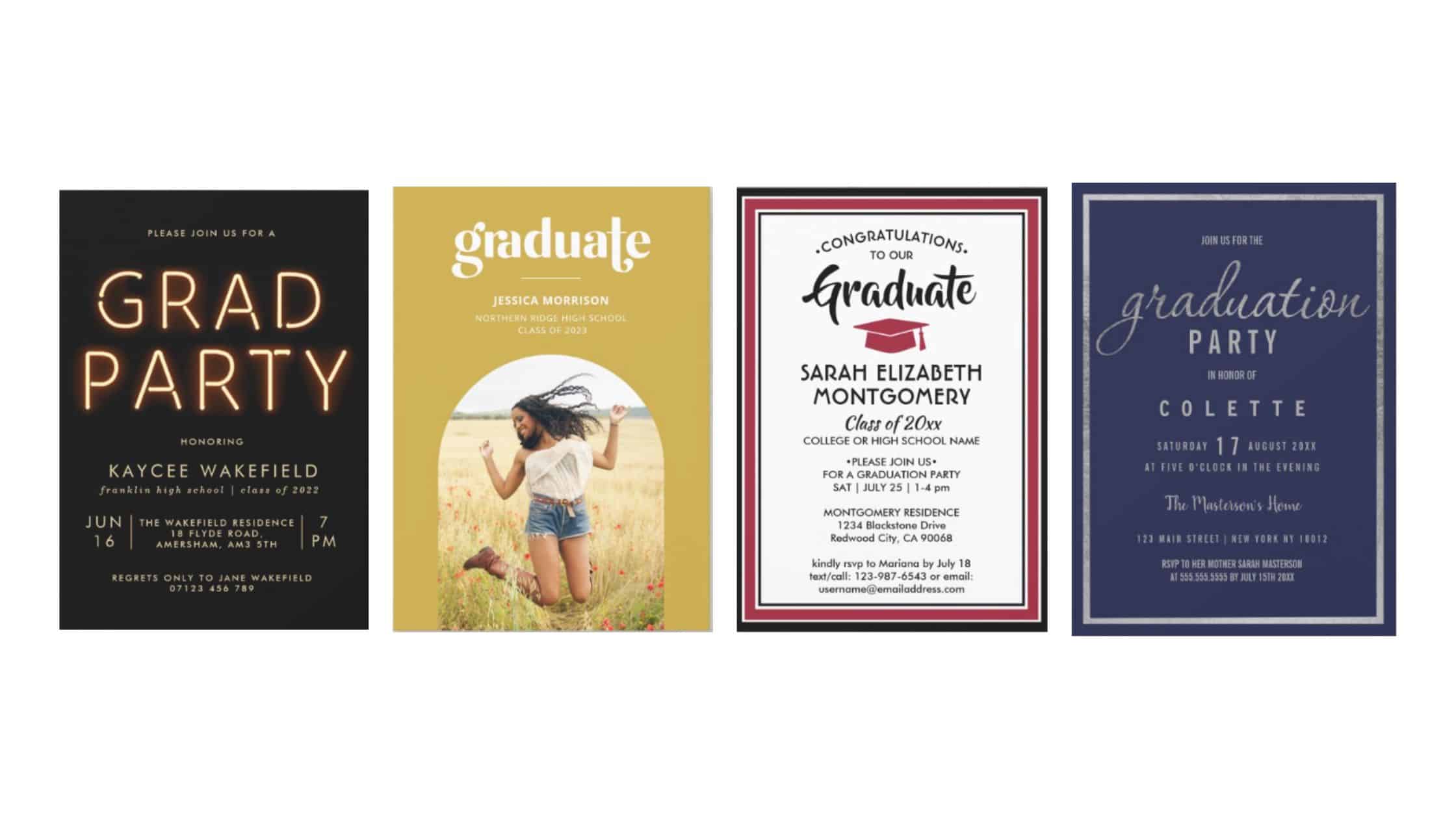 From the left: Invite 1 | Invite 2 | Invite 3 | Invite 4
Benefits of graduation invitation templates
Invitation templates are an excellent tool for creating beautiful invitations quickly and easily. Whether you're planning an intimate gathering or a big celebration, using a graduation party invitation template can save you time and effort while also ensuring that your invitations look great. These templates also offer flexibility, as they can be used for paper invites, digital invitations, or both. This makes them ideal for any type of event, whether you want to send invitations electronically or print them and mail them to your guests.
The templates we've shared are also often very affordable or even free. While some premium templates may come with a small cost, many providers offer a range of free templates that you can download and use without any charge. This makes it easy to create invitations that look great without breaking the bank.
Best practices for using invitation templates
There are some best practices you should follow to ensure that your invitations are effective and error-free. First, make sure to customize the template fully to include all the necessary information about your party, including the date, time, location, and any special instructions or requests for your guests. Check and double-check your work to make sure there are no errors or typos that could confuse your guests.
It's also important to test any links or QR codes included in the invitation to make sure they work correctly. Finally, pay attention to the design elements of the template, such as the color scheme and font choices, to ensure that they are easy to read and visually appealing.
By following these best practices, you can create graduation party invitations that are sure to impress your guests and make your celebration a success.