With the return of in-person weddings, the size of your guest list is a major consideration
After two long years of venue capacity limits, COVID safety rules, and the need for flexibility right up to the day of an event, in-person weddings are set to make a big comeback in 2022. This is obviously great news for newlyweds getting ready to tie the knot. Planning should be a lot easier, more venue options are available, and wedding vendors will be eager for your business!
One thing that's also returning with in-person weddings are concerns about guest list size. Now that capacity limits are gone, your first instinct might be to throw open the doors and invite everyone you know. But, choosing the size of your wedding guest list is actually a critical decision. Don't believe us? Here are just a few of the things that are affected if you send an online invitation to everyone you know:
Venue choice – while COVID capacity limits have expired in most places, the size of your guest list directly affects your venue choice. Whether you want an indoor or outdoor venue, knowing how many people to expect should dictate where you decide to have the big event.
Vendor considerations – from the amount of food and beverages you'll need from your caterer and bartender, to transportation options to and from your wedding venue, it's hard to start booking vendors (and paying deposits) until you know your guest list size.
What type of event you want – if a small, intimate ceremony with your closest friends and family is your dream, it might be hard to pull off with hundreds of people in attendance.
Your wedding RSVP website choice – many wedding RSVP and online invitation platforms offer differing subscription tiers based on the size of your event. It's important to get a head count in mind first, to make sure you choose the right subscription tier and save money you can use for other wedding plans.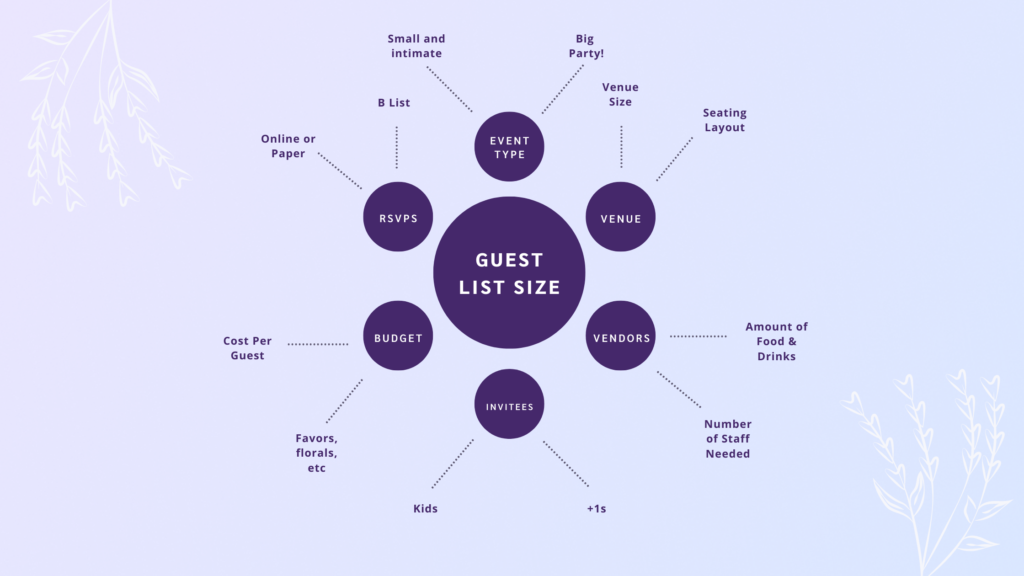 See what we mean? When you wonder "how many people should I invite to my wedding?", there's a lot at stake. That's why we've got some helpful tips for you as you start thinking about your guest list.
Tip #1: Figure out what type of ceremony and reception you want
Your big day should be special, memorable, and most importantly, everything that you want it to be. That's why it's a good idea to sit down as a couple and think through what type of ceremony and reception experience you really want. Sure, partying with all of your closest friends and family might be fun. But do you also want the hassle of making sure everyone has food, an open bar, and safe transportation home from the ceremony?
On the flip side, an intimate ceremony and reception can allow you to spend more time with those closest to you on the big day. But, this raises some other problems. How do you trim down the guest list to a manageable number? Who makes the cut and who does not? Do you hold a private ceremony for just an intimate group, followed by a big bash at the reception?
There's no right answer to this choice, other than the one that feels most right to the two of you. But before getting into the size of your guest list, determining the type of event can help put you in a ballpark to make that choice easier.
Tip #2: Use round numbers to make decisions on invitees easier
As you start to compile your attendee list, you will inevitably run into the same issue that every couple has before you. Sure, the first few dozen names are no brainers. But how do you invite this work friend but not that one? This set of cousins, but not those other ones you haven't seen for a few years? Wedding invitations often become a stressful process for couples, as the guest list continues to grow – or some hard conversations are anticipated for those who don't make the cut.
One good tip? Try and settle on a "hard cap" of attendees to give yourselves a cut line that can make these decisions easier, or at least necessary. For traditional weddings, some good numbers might be 100, 150, or 200. Once you get over 200 (and honestly, probably earlier than that), you've strayed into Big Wedding territory. And while those can certainly be a lot of fun, the planning headaches grow exponentially along with your guest list.
Tip #3: Let your budget dictate your invite list
The other thing young couples often forget when planning their wedding is how much everything will cost. Even if you find the perfect little budget venue, or plan to cut some corners with a cash bar or a used wedding dress, wedding costs add up quickly. And there are some elements, like catering and clothing rentals, that simply can't be avoided.
This is why the other step you need to take before compiling your guest list is figuring out your maximum budget for the event, even if it falls short of what you hoped. The sooner you can figure out realistically what you can afford, the easier it will be to settle on a head count that fits what you have in mind and won't break your bank. You don't want to begin your married life without a penny in your pocket!
Tip #4: Create "tiers" of guests to accommodate inevitable nos
Another pro tip from the experts is to create a second, backup tier of guests if you've settled on a hard count that still leaves some folks you'd otherwise invite left out. This is especially important given that your RSVP responses rate won't come in as quick as you hope, and you might be surprised to see how many people can't make it. An additional tier of guests allows you to "sub in" other guests if you are noticing a trend of people sending their regrets.
But when do wedding invites go out? If you are wondering when to send out wedding invites, make sure to budget enough time between inviting your initial list of guests and a secondary round for your "backups". Use the response rate data, along with your preferred wedding date, to structure your invite schedule accordingly.
So, how many people should I invite to my wedding then?
The final answer is, whatever makes the most sense for you. But, if you use these tips to guide your decision-making process, you can at least settle on a number that fits your budget and your vision of your big day as best as possible. So grab a bottle of wine, sit down with an Excel spreadsheet, and start doing that budgeting. The most important thing to remember? At the end of the day, you'll have a wedding day that is everything you hoped it would be.