How Long Will it Take Your Wedding Guests to RSVP?
The RSVPify team decided to take a deep dive into its data to provide some insight into the average wedding RSVP response time. We thought we'd do our part to help RSVPify users and young couples everywhere better understand what to expect when choosing how to handle their RSVPs online.
One of the common questions we tend to hear regularly is a rather simple one: how much time should we allow our guests to RSVP? Since this comes up quite often, we thought it would be worth putting our trusty intern Mark to work on answering this age-old question for the masses.
We pulled the data, crunched the numbers, and came up with some hard figures based on our users' guest lists. We took a sample size of a half-million digital wedding RSVPs our users have received since the first of the year. So, what does the timeline really look like for issuing and receiving digital wedding RSVPs?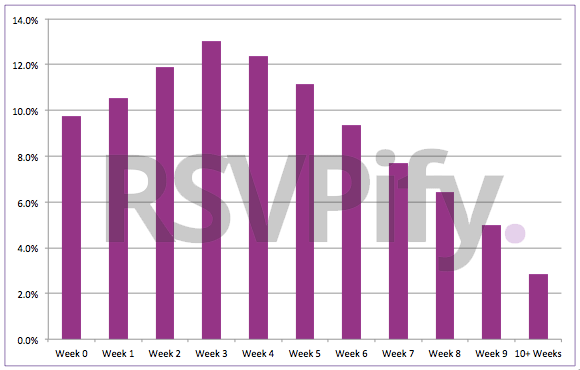 A Visual Look at the Average Online RSVP Timeline
Percent of RSVPs Received by Week
Not surprisingly, after we crunched the data there was indeed an RSVP response "sweet spot." The majority of RSVPs (57.6%) were received within the first five weeks since invitations were first sent. The most popular week for guests to submit their RSVP was Week 3, accounting for 13% of total RSVPs.
You can expect to have received around 50% of your RSVP responses by about four-and-a-half weeks after you first send out your invitations. On average, the rate of response will begin a slow but steady decline thereafter (a faster decline if you've limited your deadline to two months). We can estimate that you will receive around 80% of your responses after about seven weeks if you allow for a two-and-a-half month RSVP timeline.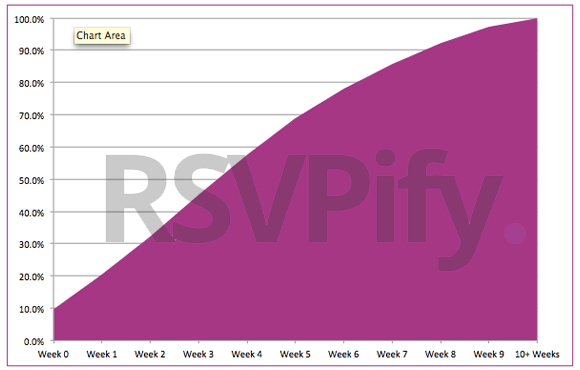 Percent of Total RSVPs Received by Week
As illustrated in the chart above, the average wedding RSVP was submitted during Weeks 3 and 4. Responses tend to trail off after Week 5, with Week 6 and beyond accounting for only 28.4% of total RSVPs received.
So, when should you send out your invitations and how much time should you allow guests to RSVP? Send your invitations out between 6 and 10 weeks before your wedding date. We recommend closer to 10 weeks if you're having more than a handful of out-of-town guests. Set the deadline to RSVP at 3 weeks before the big day.
A few important things to remember while considering this data:
Your social media frenzied friends may respond within hours of their invitation, while Great Uncle Joe who shuns computers may not respond for 3 months (if ever). If you're sending paper RSVPs, the data might be a bit skewed to the early end — and you can likely expect you first wave of RSVPs to arrive in Week 1 rather than Week 0.
Week 0 includes responses received during the first 7 days since invitations went out. Not to be confused with Week 1.
What does this mean for you, our loyal (or potential) online wedding RSVP users? Aside from knowing generally what to expect from your guests now, it's obvious that there are some steps anyone can take to help speed up the process a bit. Some of this depends on the service you choose to use of course; some free wedding websites may contain issues that can delay RSVPs more than our data reflects.
Now that we've shown you the data, here's a few tips to help change the RSVP timeline for your event for the better. Keep these in mind as basic pointers for helping to gather more RSVPs quickly; remember, even the best organized online RSVP couple can't account for Great Uncle Joe any more than anyone else can! So, without further ado…
RSVPify's Tested Tips to Taking Control of Your Wedding RSVP Timeline:
1. Earlier is always better
So, how long should you give people to RSVP? As with planning any event, the more time you can give yourself and your guests to get organized, the better. Online RSVPs minimize the time it takes to notify and receive info from guests, but just like before the online RSVP emerged, personal calendars and schedules will always dictate guest response times. Do your best to choose an RSVP service quickly, even if you aren't quite ready to send out your invites, because it allows you to figure out exactly how long it will take to contact your guests in the first place.
2. Settle on a guest list, and stick with it
One of the hardest aspects of planning a wedding and getting RSVPs out and back is the guest list itself. When you're limited by a budget, as most of us are, there will always be some tough choices to make with your guest list. That said, the sooner you can figure out who you want to be there, and who unfortunately (or maybe fortunately!) won't be coming, the sooner you know exactly who you need to contact, and who you need to hear back from. Fortunately, there are some really robust guest list management apps that exist today.
3. Figure out what your vendors need, and factor that in
Look, if it wasn't for the many ways that extra costs pile up during wedding planning, the RSVP process wouldn't be so scary, right? But really, the reason you need to be on top of your wedding RSVP timeline is to avoid racking up costs with your caterer, reception hall, et al. This is most important when considering the deadline for responses you plan to include for your guests. While you want to be sure to leave time for them to figure out their own schedules, be sure to leave yourself plenty of time to ensure you have the important info you need for your wedding vendors. Talk to them each early, and be sure to find out firm deadlines that each need for this information.
4. Don't be afraid to enforce the timeline
Deciding on a proper wedding RSVP timeline is step one. But after all that careful planning, it's ok to start contacting guests or hurrying up those forgetful relatives if your info deadlines are approaching. You can see our advice on how to remind guests to RSVP. No matter how much you may love a friend or family member, some of them will never remember to check their emails or submit their online RSVP promptly. Also, consider including terminology in your wedding RSVP wording to help speed the process along. So stay on top of your guest list – because before you know it, it will already be time for the wedding! If you get stuck with some late addition(s), check out this post on how to handle wedding RSVPs submitted after the deadline.
Special thanks to RSVPify Wonder Intern Mark Dobrenko for crunching the numbers for this Special Report…