Vaccine scheduling software may be the perfect solution to speed up COVID-19 vaccine distribution
As the COVID-19 pandemic continues to rage on a year after news first broke of its existence, the world anxiously looks to 2021 as the year where normalcy returns. Just before the holidays, heartening news broke of the first few vaccines not only demonstrating better-than-expected effectiveness for preventing the disease, but also that vaccines would begin to be distributed even before the end of the year.
Now, as the clock has turned to 2021, the high hopes of the world have been tempered a bit by the challenging reality of distributing and vaccinating the entire global population. Hindered by logistics, requirements on distribution, and the need to prioritize the most at-risk groups, COVID vaccinations in the United States and globally are significantly behind schedule.
While some issues will just have to be navigated as best as possible (like the need for cold storage to keep some vaccines at needed low temperatures), frustrations have begun to emerge among the public about why scheduling COVID vaccination appointments continues to be confusing, unnecessarily frustrating, or both. From people being turned away after waiting hours in line in Florida, to frantic vaccinations to seemingly anyone nearby before the doses expire in California, many folks continue to wonder – why can't we make this vaccine scheduling process easier?
Some counties have reverted to setting up calls centers, painstakingly fielding thousands of calls a day from residents eager to get the shot.
Why a vaccine registration app could be a great solution
Few dedicated vaccine scheduling and registration software suites exist. Where they do, they are often not well suited for use with COVID-19 vaccinations given complexities caused by high demand, recipient restrictions and multiple doses.
As the New York Times notes, event management platforms like RSVPify and Eventbrite already offer robust scheduling capabilities with time slots and capacity limits — and are well suited to address the unique scheduling and management challenges facing Coronavirus vaccine providers.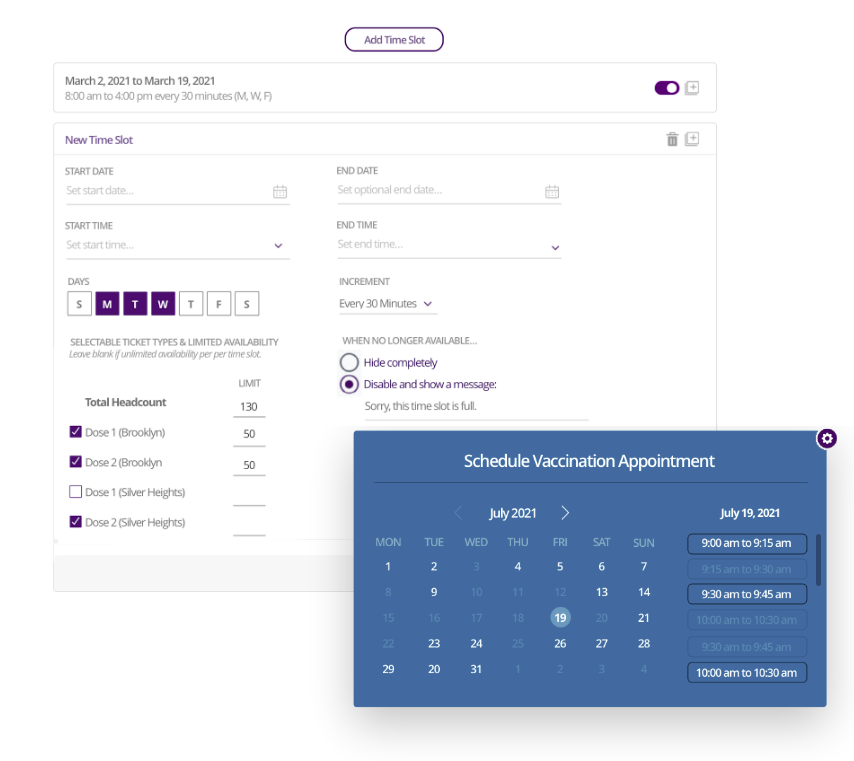 But this is just the tip of the iceberg – COVID vaccine scheduling software could offer a whole range of benefits to both individuals and the government that could truly get the masses on the road to vaccination over the coming weeks, let alone months:
Real-time scheduling could make planning so much easier – Instead of forcing people to wait in first-come first-serve lines (where the risk of getting the coronavirus while waiting for the vaccine offers a sad irony), vaccine scheduling software would allow interested residents in the area sign up for pre-set time slots. This obviously makes thing more convenient for people hoping to get their dose, but also…
Vaccine distribution centers can better manage their resources – Knowing the exact amount of pre-scheduled clients, as well as being able to collect their personal information or even verify identities before they show up could save countless time and effort. For vaccine centers that are already overwhelmed with demand and logistics, this could allow for better management of staff and supplies.
Vaccine scheduling apps could also help streamline distribution – Aside from collecting visitor information, being able to measure the exact amount of doses needed at a given site thanks to a vaccine registration app could also help the national (or international) supply chain operate more efficiently. Instead of relying on guesswork (especially when shots like Pfizer's have a specific shelf life and need for limited cold storage), government distribution centers would have real-time data to adjust shipments accordingly.
Vaccine registration apps could even be used to prove that you've been vaccinated – It seems likely that some sort of vaccination proof (such as an "immunity passport") will likely be needed over the coming transition months, to help demonstrate for travel or work that you've received your two doses. Since many registration apps already offer custom QR codes for events, it should be fairly easy for a vaccine scheduling app to provide QR codes to registrants to scan and prove their vaccination status whenever needed.