Traditional & Online Wedding RSVP Wording Ideas
When it comes to RSVPs and invitations, one of the biggest questions is almost always around selecting the proper wedding RSVP wording. Couples want to make sure they request the information needed to properly plan the big day, as well as establish the tone for the wedding.
Of course, another important consideration is whether to use a paper RSVP or online version. While the paper RSVP card is traditional, an online RSVP process can save time, money, and paper. Whichever option works best is up to the couple, and there's really no right or wrong way to phrase your wedding RSVP wording. There are, however, some common elements that you should include – and some popular ways to phrase the various sections of your wedding RSVP to make it easy for your guests to read and quickly fill in. Check out some examples of wedding RSVP templates.
Critical Elements to Your Wedding RSVP
There are 3 critical elements to any wedding RSVP: RSVP deadline, guest name(s) and a reply. There's also two optional elements that may be needed for some weddings: meal preferences and any additional requests for information.

1. RSVP By Date.
It's important to set an expectation for guests to send their RSVPs by a specific date so you don't find yourself following up with half of your guest list trying to finalize your numbers. Even with a deadline, there will likely be a few guests who need some followup and reminders. For some advice on following up with guests, check out our advice on how to remind your guests to RSVP. If you're curious as to what to expect in terms of your RSVP timeline, you can see our analysis of how long it takes for wedding guests to RSVP on average.
2. The Names of Your guests.
It's important to know who the RSVP is from, wouldn't you agree? You'll also want to ensure you have the spelling correct for your place cards or seating chart. Traditionally, your guests will enter their names after the "M" on your RSVP – with the "M" as the first letter of Mr., Mrs., or Miss. Some hosts are doing away with titles altogether while others prefer to keep this formal element.
3. Accept or Decline?
The most important element of your wedding RSVP wording to get your final headcount. Ask your guests whether or not they can come to your wedding! This may be the one event, or you may have guests respond to your wedding's Secondary Events such as a rehearsal dinner or brunch. Hosts may also need to get a count of children versus adults attending for vendors.

Optional Elements to Your Wedding RSVP
4. Entrée Preference.
This section will depend on what you're serving at the reception. If you're opting for a buffet, chances are you can leave this section off altogether. If you have multiple entrée options, list the options, and ask your guests to tally the entrée preferences for their party and place a number next to each entrée option. The caterer may also want to be aware of any special dietary restrictions or allergies so this can be requested through the RSVP process as well.
5. Additional Requests.
Another optional element that may be included in the RSVP process is additional questions for your guests or the option for guests to add a note for the couple. This can be something fun such as song requests for the DJ, or information that would be helpful to your planning such as asking when guests will arrive. Here are a couple of questions we frequently see asked:
What song will get you out on the dance floor?
When will you be arriving / Where will you be staying?
Do you have any advice for the newlyweds?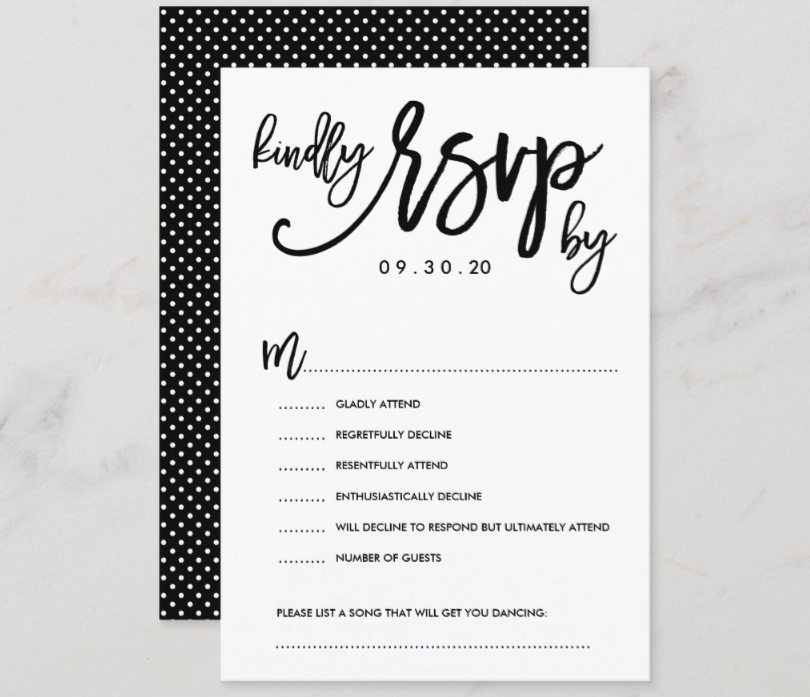 Wedding RSVP Wording Examples
Wording for the 'RSVP By Date' Section
There's a variety of options and combinations for wording your call to action on your RSVP. We've compiled a list of these variations to inspire you:
RSVP By 05/01/2020
Please RSVP No Later than 05/01/2020
Please Reply By 05.01.2020
Kindly Reply by May First
Reply by 05.01.2020
Please Respond By May First
Kindly Let Us Know By 05.01.2020
The Favor of Your Reply is Requested by May First
You can, of course, opt to get creative or funny with this section as well:
RSVP by May 1st or forever hold your peace
RSVP by May 1st or we will use at least 4 forms of communication to hassle you
Asking Guests To RSVP Online Wording Examples
Whether you decide to simply collect RSVPs online, or opt to create a full wedding website, you'll want to use your invitation to clearly direct guests to your page. With online RSVPs increasing in popularity, it is likely that many of your guests will be familiar with the process. For others, this may be a brand new experience so it is important to use clear wedding RSVP wording to point guests in the right direction. If you are concerned with guests running into trouble, some hosts opt to include an additional method of contact (such as phone number) just in case! Others are actually using technology to assist guests in making the online rsvp process even easier by adding QR codes to their paper wedding invitations. Here are just a few wording examples to get you started:
To respond, visit YourEvent.com
Kindly respond using our website: YourEvent.com
RSVP online by May 1
YourEvent.com
For more information & to RSVP online please visit YourEvent.com
Please RSVP on our wedding website: YourEvent.com
Please help us do our part to save the environment and RSVP online at YourEvent.com
Send us your RSVP by going online to YourEvent.com
Accept/Decline Wording Examples
There's also an almost infinite number of ways you can go about wording the text of your accept and decline lines. Here are a few of our favorites, ranging from the traditional to the clever and comical.
Simple
Accepts
Regrets
Will Attend
Unable To Attend
Traditional & Formal
Accepts with Pleasure
Declines with Regrets
Delighted to Attend
Regretfully Cannot Join You
Joyfully Accepts
Regretfully Declines
Contemporary

Can't Wait!
Can't Come
We Will See You There!
Sorry To Miss Out
Let the Good Times Roll!
You're Going to Have to Carry On Without Me
Wouldn't Miss it For the World
Will Celebrate From Afar
Yes! Can't Wait to Celebrate!
Sad to say…Have to Miss Your Day
Don't Despair, We Will Be There
Sad To Say, We'll Miss Your Day
Funny & Clever
Wouldn't Miss It For the World
The World is Not Enough
Let's Get Rowdy!
Show Must Go On Without Me
Aw, Yeah! Drinks on Me!
I'll Be There In Spirit
Free booze? Yes, please.
In a nutshell…I'm lame.
Only if you'll be playing "Forever" by Chris Brown
Not even "Call Me Maybe" will entice me