Why Choose An Online Save the Date Process?
Every couple planning their wedding knows that the first big step is sending out Save the Date notices. If no one knows about your wedding, it's going to be pretty hard to plan one! Traditionally, save the date cards would be designed, printed out, and sent out via snail mail. Not only is this process expensive, it also made it hard for couples to know if guests received their info and required collecting mailing addresses for your entire guest list. But there is good news – this is where an online save the date platform can make your entire wedding planning process easier!
With an online save the date platform, you can now communicate your big day to your entire guest list, entirely through email. But that's not the only positive to opting for an online save the date. We've highlighted some key things to consider when using an online save the date for your wedding.
Save Money, Save the Planet
As we noted above, save the dates once required ordering and designing a custom paper card, along with all the postage and envelopes along with it. Not only does this cost money, but it costs the paper you need for your entire guest list. With an online save the date platform, not only can you save money, you can save all that paper waste also. Why not kill two birds with one stone?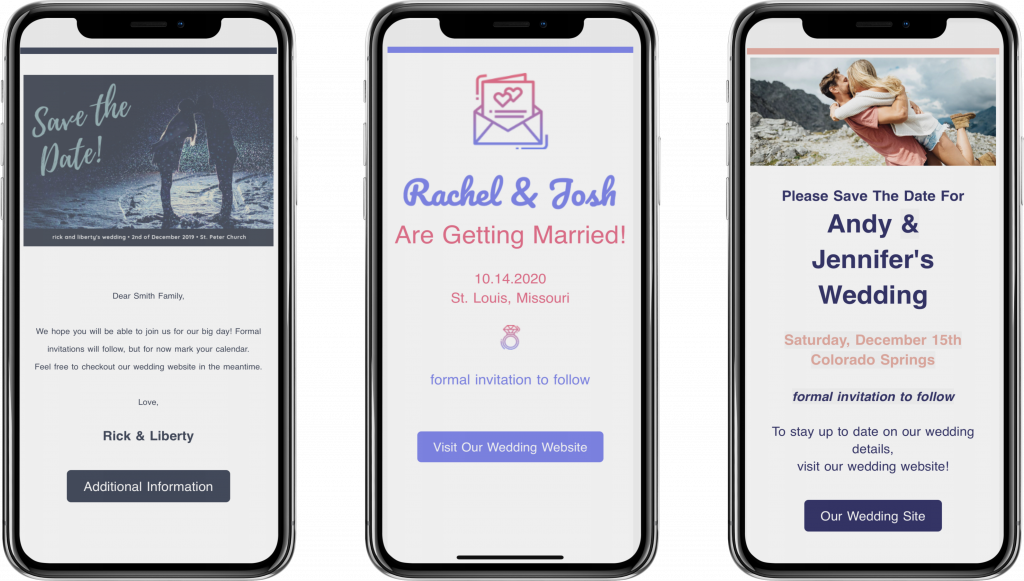 Convenience and Customization
Now that we've removed the printer and paper from consideration, the next best part of an online save the date is the endless options for customizing and being creative with yours. Most online save the date platforms offer dynamic invitation makers that allow you to customize everything from formatting and text to the images you want to include. You can play around with layout, fonts, and color schemes until you get the perfect save the date to match your event's theme and formality.
Aside from customization, there's also the convenience of going digital. Now that you can immediately email blast your entire guest list with your online wedding save the date, you not only can collect your entire guest list digitally, but you can also ensure quick responses, easier communications, and the ability to send reminders and follow-ups to your entire guest list also. Instead of making endless phone calls and chasing down relatives, let everyone know updates at the same time.
Key Areas of An Online Save the Date
Now that we've covered some of the benefits of using an online save the date app, let's also talk about what yours should include. To make your online save the date wording as effective as possible, here's a list of some of the key things to feature in yours:
Important event details – the date, time, and location, naturally
Info about the deadline for formal RSVPs/what to expect
A link to your personal wedding website – this can be an easy way to avoid having to include too much info on the online save the date
Info about travel and accomodations
Notice of an invitation to follow
Depending on your event, there may be more info needed, but the main goal is to communicate the basics so your guests can begin to make their own reservations and add the event to their calendars ASAP.