Wonder how long will it take for your guests to RSVP to your wedding? Here's the data
While you are probably ready to start planning your wedding as soon as you choose a date, there's one thing that can frustratingly delay many things on your to-do list – waiting to find out who's coming. Whether it's a distant cousin or your oldest friend, wedding guests often forget or delay responding to a wedding for a variety of reasons. The problem with this is that it's hard to work with vendors or venues without at least a good estimate of your event head count.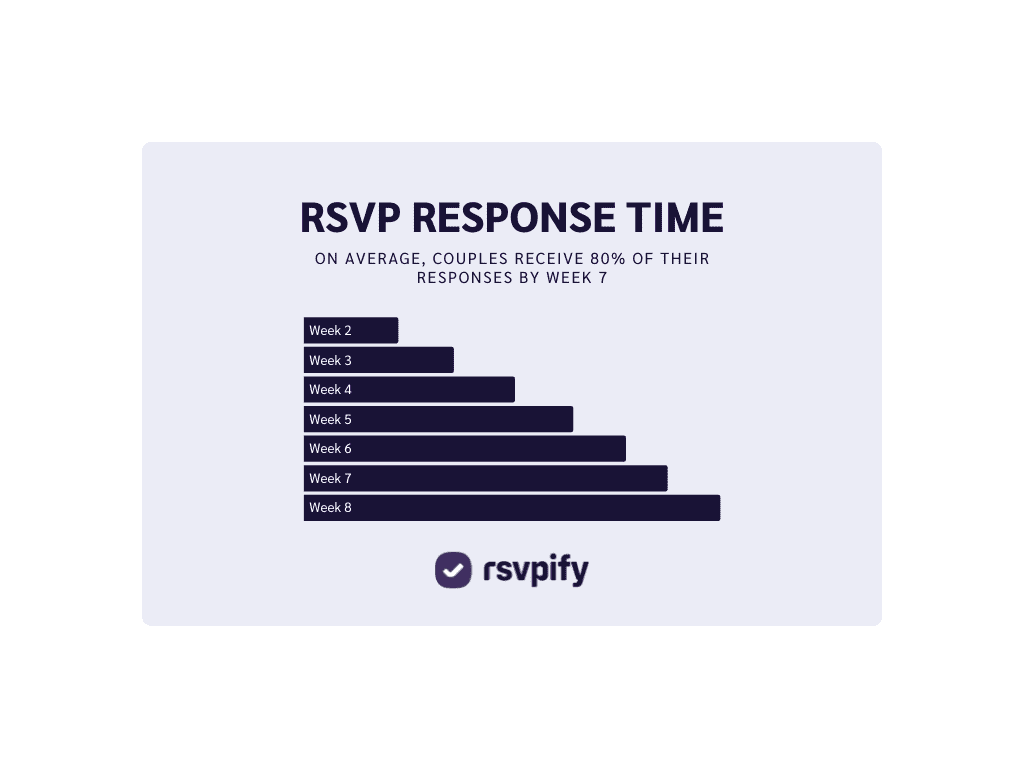 Why is it important to know when to expect your wedding RSVPs to return?
Aside from knowing who you'll be celebrating your big day with, waiting on a wedding RSVP response (or dozens of them) can also cause a few unexpected headaches, such as:
Being able to plan for the right amount of food and beverages needed from your caterer or bartender.
Choosing the right wedding venue – if your guest list shrinks well below expectations, you can get caught spending thousands of extra dollars when a smaller venue would have worked.
Buying favors or guest gifts, which often need to be purchased well in advance.
Figuring out your seating charts and table layout.
Booking the right size hotel block if you don't know how many guests will be traveling and need lodging.
In the age of hybrid and virtual events, figuring out how many of your guests may need a virtual option to attend.
So how can you save yourself these headaches? By having an accurate picture of when to send your online invitations, and more importantly, when to expect your guests to respond.
So, when can you expect to receive RSVP responses after sending an invitation?
This is where RSVPify is happy to help. With nearly a decade of wedding RSVP data from tens of thousands of events around the world, we offer a handy dandy wedding RSVP calculator that provides a snapshot of the average wedding RSVP response time. To get an estimate of your anticipated yield and a breakdown of your anticipated RSVP response timeline, simply enter the size of your wedding's guest list and the date you plan to send your invitations below, and get your personalized calculation.
So, what should you use this data for?
For you and anyone else involved in wedding planning, this should help you craft your calendar and organize your to-do list to handle the things that don't involve head counts first.
You can prioritize your vendor contacts and contracts based on the expected return date of a majority of your responses.
You can better craft your wedding RSVP wording to politely encourage guests to respond earlier to try and speed up the timeline a bit.
You can also get a better sense of when to send reminder emails or friendly texts to guests who haven't responded yet, without being too pushy.