How nonprofits are hosting galas and charity events with RSVPify
RSVPify has partnered with hundreds of nonprofit organizations across the globe hosting fundraisers to advance their missions. We are often asked about the ways you can leverage RSVPify for your gala or major fundraiser. With the gala event planning season quickly approaching, we wanted to share some of the most common ways that organizations have used RSVPify to power their events.
But first, two important notes – the RSVPify platform serves hosts with very diverse event management needs. We power large corporate conferences, small private parties, and everything in between… hundreds of thousands of events a year. To meet these needs, we've built a very dynamic platform with impressive functionality. And while many nonprofit organizations have used the combination of features highlighted in this post, it is absolutely possible to use a more limited set of features. You can optimize RSVPify to meet your needs.
The second important note is that RSVPify provides access to discounted plans for qualifying nonprofit partners. See this article for a description of our nonprofit program and how to get started.
Now, let's get to it…. here is a quick overview of the most common RSVPify features used in galas and fundraisers.
Design Your Event Website
You can use RSVPIfy's event website builder to create a landing page for your gala. In terms of formatting, it is highly customizable; you can select fonts, colors, upload images and logos. Or you can get started choosing from our library of templates. In terms of function, the event website is where you can post important details about your event (e.g., list the agenda, highlight sponsors, add relevant links, link to special videos, preview silent auction and live charity auction items, etc.) If you have your own marketing or event website, you can simply turn the event website off.
Design Registration
You can design a smooth registration experience using RSVPify's "Form Builder." While there are myriad types of questions folks typically ask, we've compiled a basic set of questions to start from; you can find this list below. In the event that you have your own marketing or event website, our team has built plugins so you can embed the registration form directly into your own site.
Set-up Organized Invite Lists
Your invite list might have a number of different types of guests (e.g., VIPs, Sponsors, board members, auxiliary board members, staff, advocates, annual supporters, general public). You can use RSVPify's tagging system to describe each person on your invite list. Tagging your invite list also makes it possible to create a personalized registration experience for guests. You can send separate emails to groups of tagged guests, set-up your registration form such that certain questions only appear to certain tags (e.g., only VIPs are invited to the VIP reception).
Add Team Members as Co-Managers
You might be working with a small group of individuals to plan your gala or need to regularly report progress. You can invite these folks as "co-managers" to your event, essentially giving your organization an extra license (or set of licenses) for that event. You can also customize their permissions so that co-managers have edit or view-only access.
Track RSVPs
Our dashboard makes it simple to get a real-time view of what registration looks like across all guests and other categories that are meaningful to you (e.g., attendance at "secondary events" or attendance for specific groups, like board members). The dashboard also provides a running total of tickets sold and donations made. To share these live totals, you can invite co-managers to see your dashboard or export the registration list (as many times as you want throughout planning) for a complete set of registration data.
Collect Tickets & Donations
You can sell tickets, tables, etc. and collect donations to support your event through RSVPify. When you host registration for a ticketed gala on our platform, you receive a complimentary upgrade to our Professional Plan. Read more about this upgrade and ticketing fees here. Note that nonprofits can apply for the nonprofit ticket fees discount.
Manage and Send Communications
You can send save-the-dates, invitations, confirmation emails, reminders, and thank you emails through the RSVPify platform. Just like an email service, you can draft and schedule these communications to go out on specific dates (e.g., one-week out, day-before, etc.). But unlike a typical email service, since communications are tied to your invitation list, you can also choose to target specific groups of supporters (e.g., send a reminder to those who have not yet responded, send a special message or thank you to VIPs or major donors). If you're planning to host a virtual gala or event, you can also include a link to join your celebration directly in these emails.
Organize Seating
With our seating chart feature, you can quickly create seating charts to organize and annotate event seating. This may be particularly helpful if you're planning a gala dinner or nonprofit luncheon. It can also be used to create lists and special groups outside of a physical seating chart. For example, if you task your board members or executive leadership to help steward major donors or welcome special guests, you can simply assign a table – i.e., list of guests – to a board member or executive leadership from within the platform. Also, if you plan to host a paddle raise and secure soft commitments prior to your charity dinner, you can group and store these soft pledges by amount using the seating chart function. These assignments, major gift trackers, and guest seating can be easily exported for quick reference on the day of your event.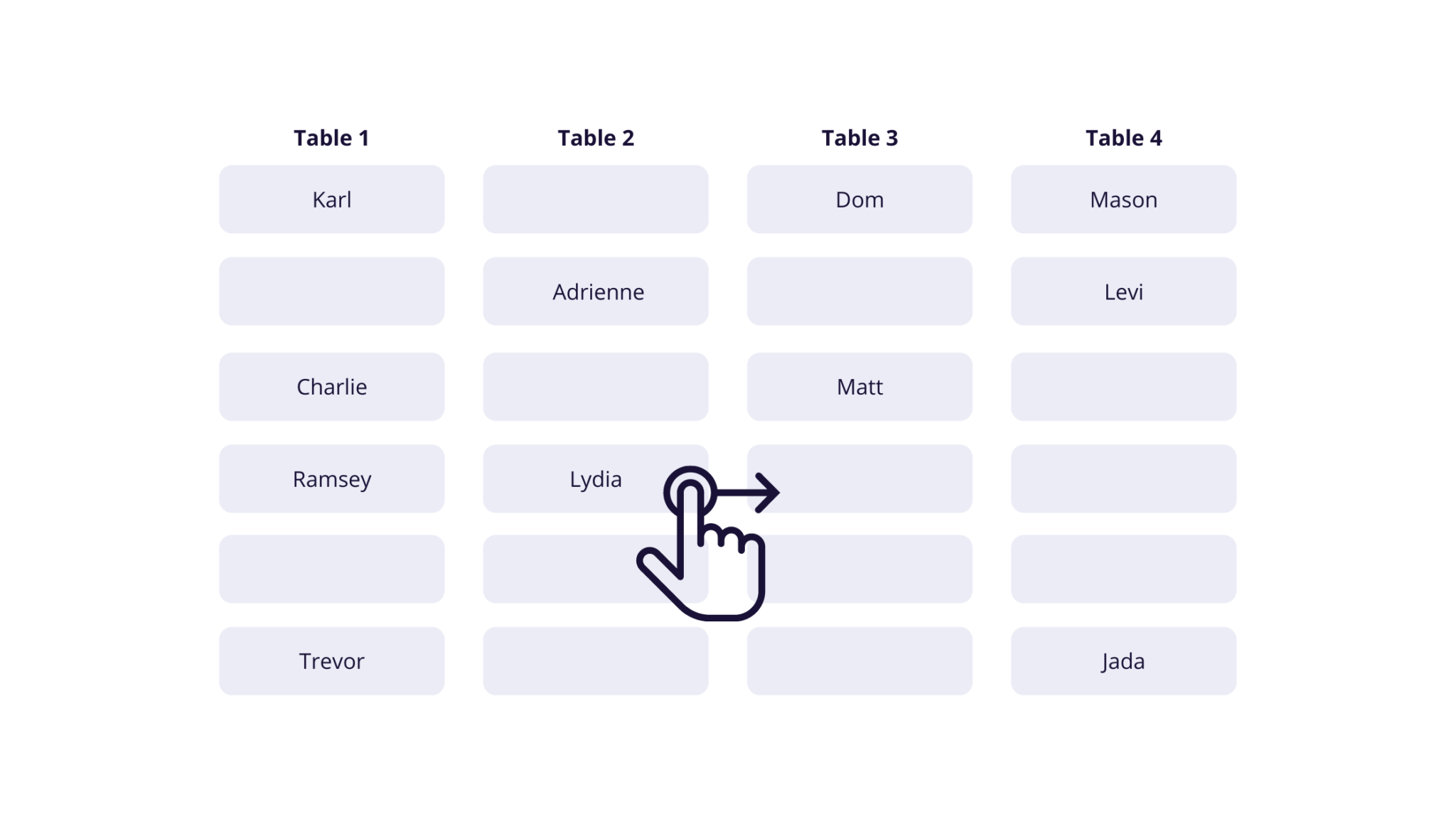 Organize and Simplify Event Check-in
It doesn't matter if you are expecting 10 guests, 100 guests or 100,000+ guests, the event check-in process can be tricky. It is often the last part of your event to be planned and (outside of sticking to your event timeline ) the place where things are most likely to go wrong. From the supporter's point of view, it is likely the first thing they experience, and it can set the tone for the event. When check-in is smooth and organized, your guests will likely not even notice. But by contrast, a disorganized check-in not only lessens the supporter's confidence in event operations, but it can also lead to unnecessary frustrations. To help the check-in process run smoothly, our team has built the RSVPify Check-In Suite. This suite is directly connected to your event registration (read: you can be free of excel spreadsheets!). It enables three types of check-in: (1) staff can scan a guest's QR code from their event confirmation email, (2) staff can look-up a guest using their first and last name or confirmation code, or (3) guests can check-in themselves by inputting their name and emails into a tablet in "kiosk mode" that you've set-up through RSVPify. Lastly, you can enable day-of registration so that staff can accept donations and register supporters if they walk-in to your event. We know that you might employ non-development staff and/or volunteers to help you with check-in. We've made these tools very simple and user-friendly. When guests check-in, you can clearly see registration responses and any special accommodations or requests they've made. We also built a check-in dashboard so that event organizers can see check-ins across stations in real-time so you can track when VIPs and major donors arrive as well as decide when to start your program.
Ready to Get Started?
Start creating your free event here. And if you are wondering if RSVPify is the right partner for your event, checkout our interactive support library or connect with us at our live chat support.