For years, RSVPify has been the leader in online event registration for hosts of all types of events around the globe. Today we thought we'd pay homage to our roots and focus on the wedding event industry in one of our most popular geographic segments – Singapore! We took a deep dive into our data and examined the thousands of wedding events in Singapore that we've been lucky enough to be a small part of and are putting together our exclusive list of the most popular Singapore wedding venues (according to RSVPify couples!).
As a couple, your venue is not only going to be one of the biggest expenses, but it really sets the stage for your wedding! Choosing the perfect event venue to fit your budget, guest list, and ideal atmosphere can be difficult. However, we're here to present some options if you're considering Singapore as your wedding destination!
We at RSVPify have certainly seen ample evidence of how the Coronavirus has impacted our friends in APAC, and Singapore is certainly no exception. Our thoughts are with all of those impacted and know that while canceling or postponing an event because of the Coronavirus is extremely stressful, it's ultimately the responsible decision given the age of many of the guests in attendance.
That said, we know that Singapore will be back and for those who are recently engaged or are are simply interested in re-exploring event venues when the time is right, we hope this list is a helpful resource!
Top 10 Singapore Wedding Venue Locations
Without further delay, here are the top 10 most popular wedding venues for RSVPify couples who would like to get married in Singapore!
Novotel Singapore Clarke Quay offers a selection of venues for weddings of any size. The high-ceilinged Phoenix Grand Ballroom will be the perfect choice for larger guest lists with seating for up to 500 guests. For a more intimate event, the Cinnamon Room seats 250. A dedicated wedding staff and fine cuisine are just a few of the services offered by this top Singapore venue.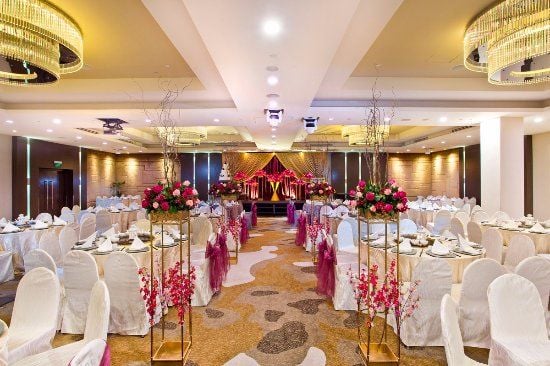 The next top Singapore wedding venue is Sheraton Towers. From their grand ballroom which seats up to 540 people to an outdoor garden ceremony space (with a waterfall), Sheraton Towers offers multiple packages to fit nearly any couple's needs. Since their ballroom has no columns, the large ballroom has a completely uninterrupted view. Plus, their smart light visual system will help to perfectly set the atmosphere for your day.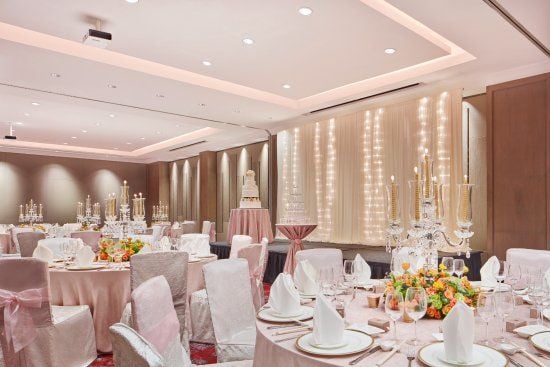 Choose from one of the 3 sophisticated venue spaces located in PARKROYAL COLLECTION Marina Bay. The wedding experts at this venue have curated themes options from 'fairy garden' to 'dazzling crystal' for you to perfectly personalize and transform their spaces. Plus, their culinary packages include international and classic Chinese favorites created by experienced culinary chefs.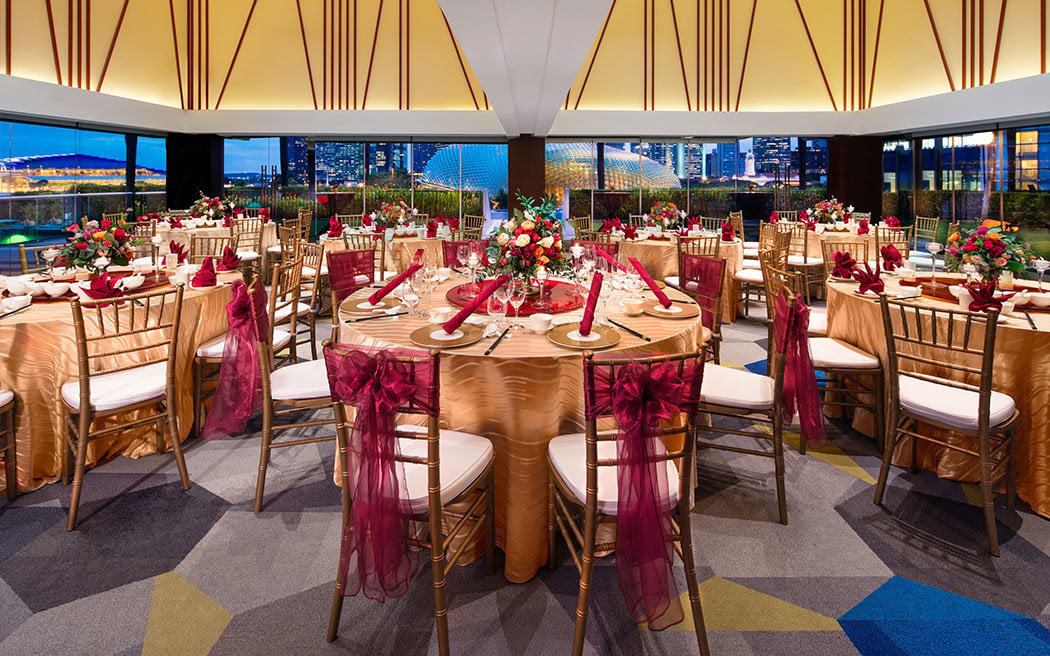 Right next to PARKROYAL COLLECTION, you'll find another high-end hotel. Mandarin Oriental Singapore offers customizable wedding packages that include theme options, wedding planning services, and excellent cuisine. Their Oriental Ballroom can seat up to 400 in a beautiful 'fan-shaped' space, and their Harbour Terrace is perfect for a romantic poolside ceremony.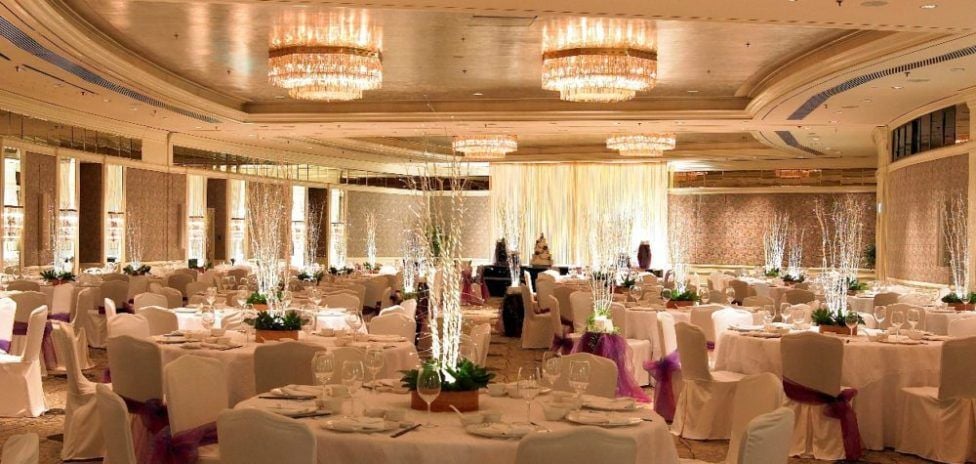 The next top Singapore wedding venue is another from the PARKROYAL COLLECTION, PARKROYAL on Pickering. You can expect the same extraordinary service and packages from this location with a selection of elegant banquets or outdoor ceremony spaces to choose from. This venue is a great option for a couple looking for a modern venue space.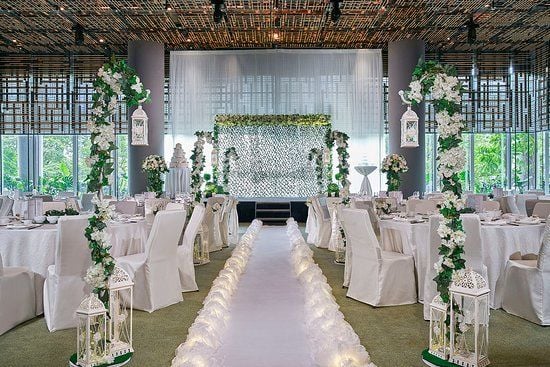 Whether you're interested in being surrounded by lush greens or prefer a French-inspired theme, the Regent Singapore offers a luxurious selection of twelve themes to transform one of their five venue spaces into the perfect setting for your wedding. Further, the themes are brought to life by their LED wall, the perfect backdrop to bring the space to life.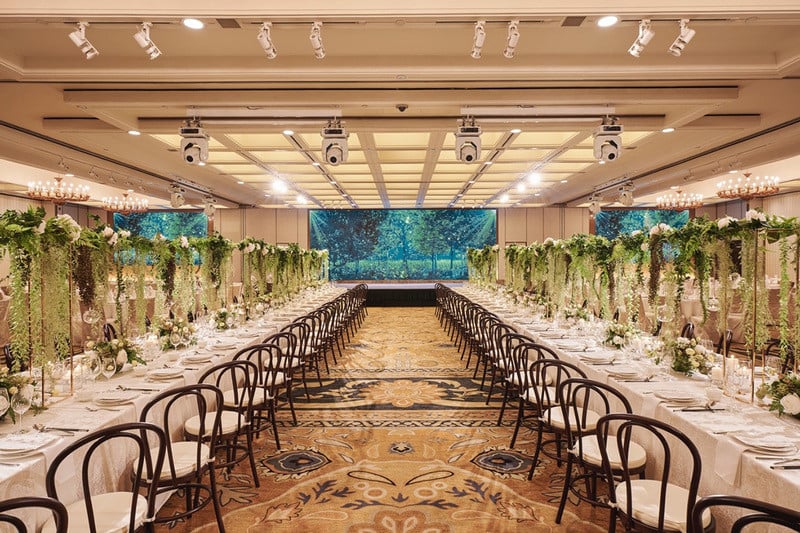 If you're looking for a unique venue space in the heart of Singapore, CHIJMES Hall may be just what you are looking for. This historical building actually began as a Catholic convent. CHIJMES Hall boasts high ceilings, stained glass windows, and dramatic chandeliers. In addition to the hall, the venue has a second space called the Alcove at Caldwell House. This space is suitable for smaller wedding events of 30 to 100 guests.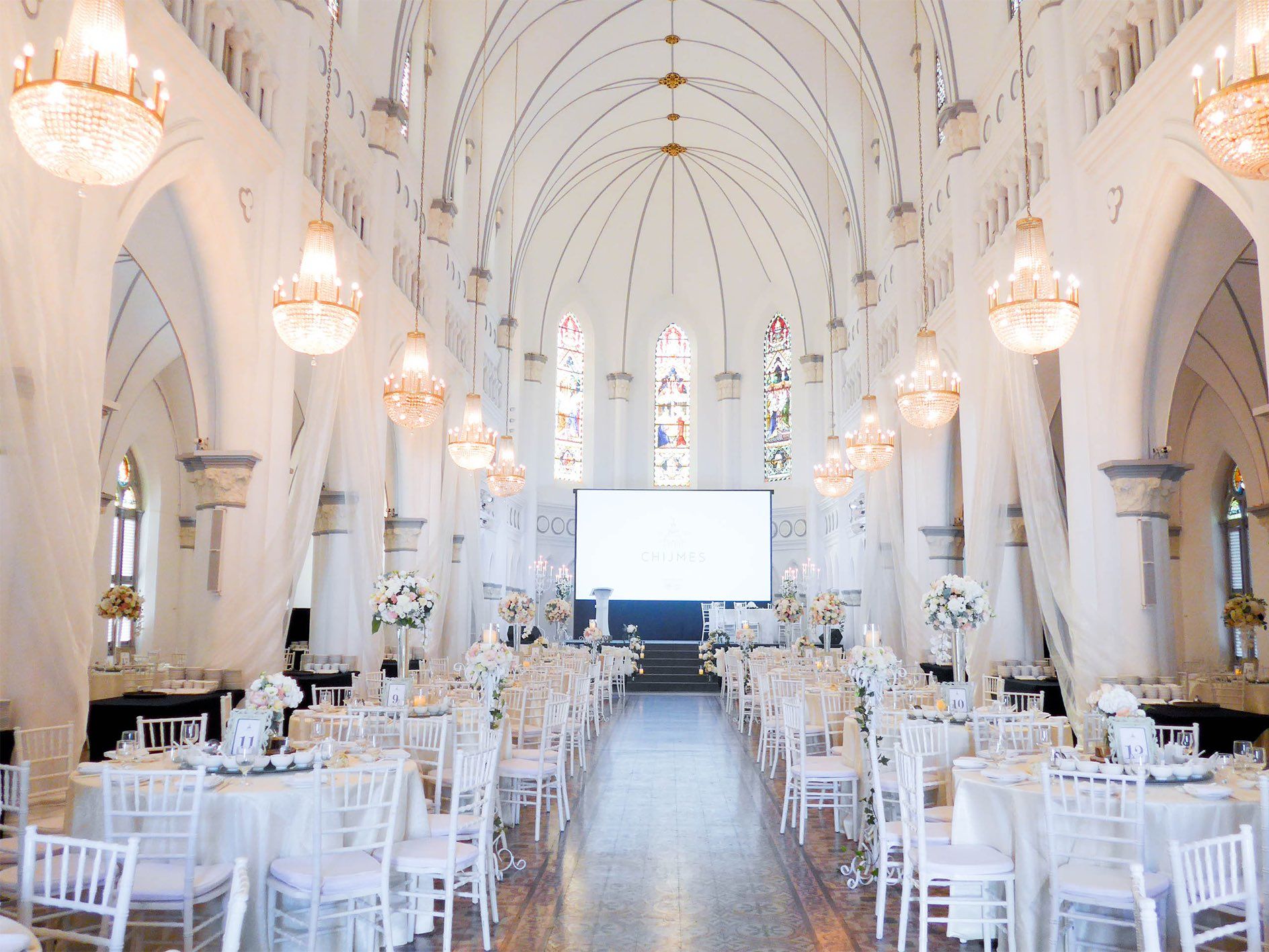 Offering twelve versatile rooms, Singapore Marriott hosts weddings ranging in size from 30 to 550 guests. Their certified wedding planners will work with you to customize one of their elegantly-designed wedding themes and tasty menus, so everything is perfect for your day. In addition, the hotel's location is convenient for travelers as it is located near Orchard MRT Station.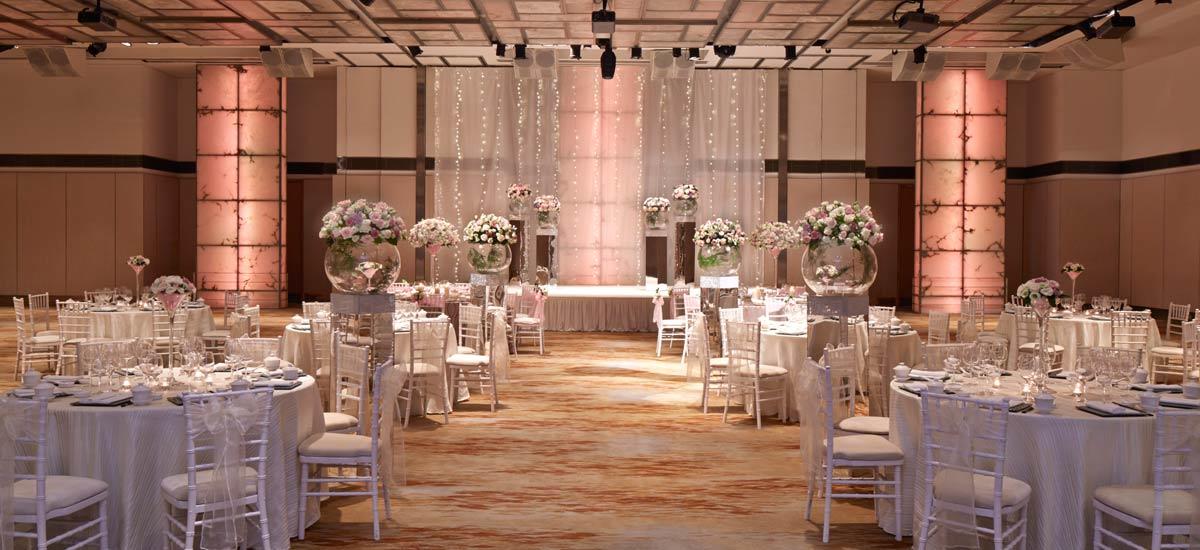 The number two most popular venue is the Holiday Inn. This top venue offers 4 unique spaces with a max capacity of 440 in their Atrium ballroom. Between their five romantic floral themes and diverse menu options, couples can design the perfect day at the hands of their professional wedding specials.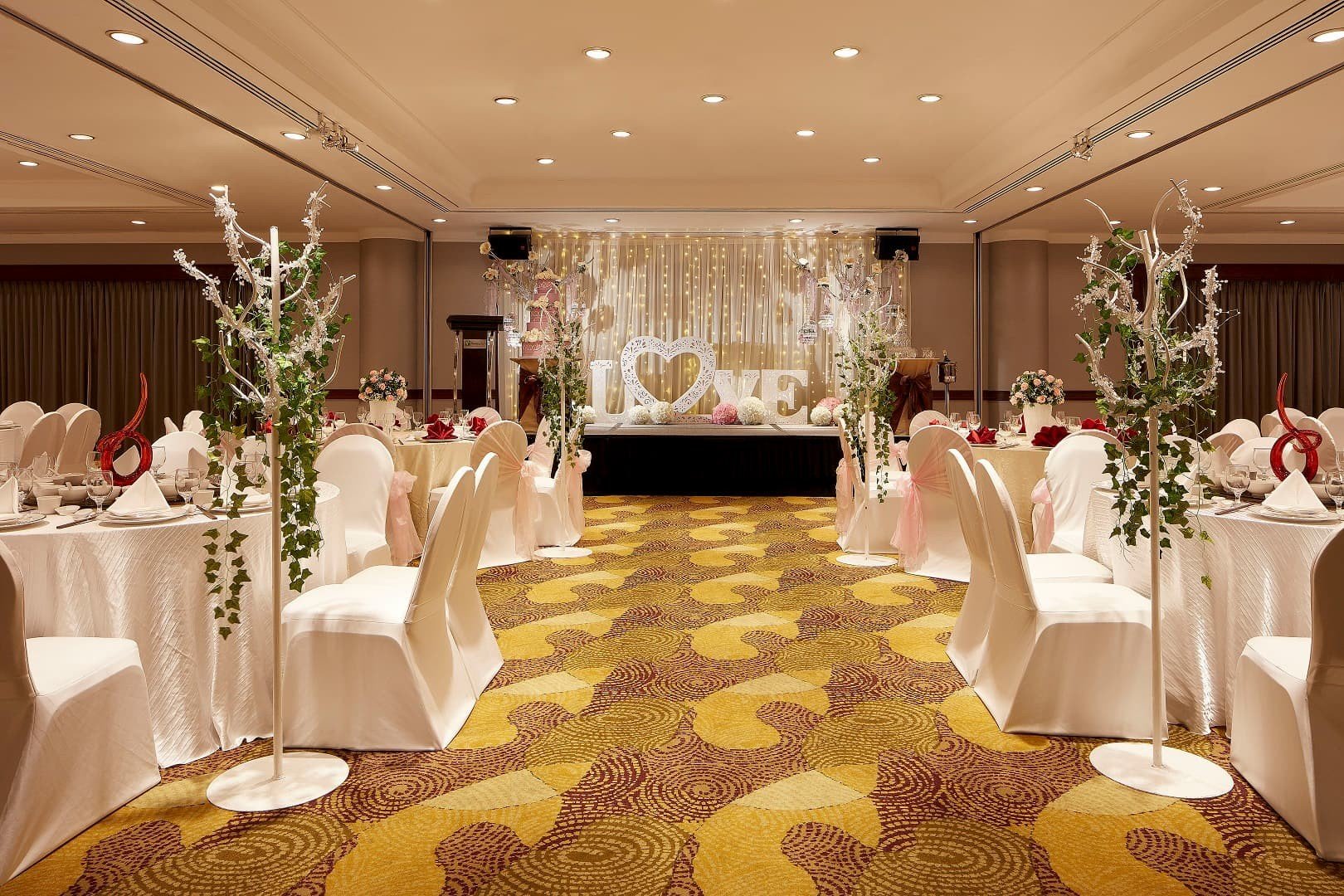 The most popular Singapore wedding venue is the Grand Hyatt. After looking at all this venue has to offer, we can see why! For instance, the Grand Hyatt Singapore offers a total of sixteen individual venue spaces with distinct styles. Their Grand Salon space offers a show kitchen, so guests can experience a live culinary showcase! In the Grand Ballroom, an extended digital canvas showcases your story across the walls.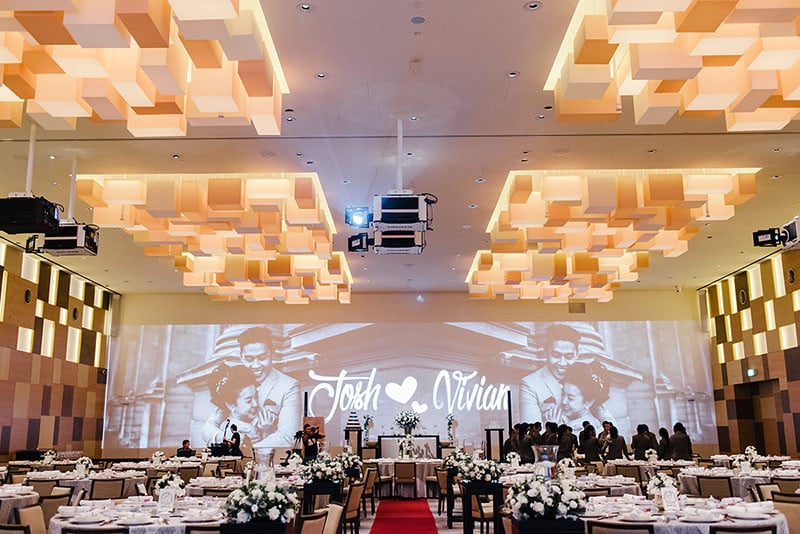 We hope this list of Singapore's top wedding venues was helpful! Above all, these top venues are all amazing options due to their exceptional service, offerings, and beautiful spaces. Found your perfect venue? Create your wedding website or get ready to manage your guest list and collect RSVPs with RSVPify!