It's quick and easy to sell tickets with Stripe for your event. To sell event tickets online using Stripe's payment processing services, you'll first of course need a (free) Stripe account. Whether you're a business or an individual, it's a 5-minute process to set up a Stripe account and connect to your bank account. Next, create a free RSVPify account, customize your event and set up ticketing pricing and event details. Here's a detailed step-by-step on how to sell tickets with Stripe:
Step 1: Create a Free Stripe Account
Setting up a free Stripe account to sell tickets takes about 5 or 10 minutes. Stripe will ask you for a handful of details to help them verify your identity, connect with your bank account, and ensure adherence to local laws in your region or country. While the wording in Stripe's sign-up flow is business-centric, the Stripe platform welcomes anyone and everyone who needs to collect payments. Here are some tips for signing up for Stripe as an individual or small organization without a Tax ID.
Step 2: Create a Free RSVPify Account
Sign up for RSVPify. It's 30 seconds to sign up and create your first free event.
Step 3: Create Your Ticketed Event On RSVPify
To sell tickets with Stripe and RSVPify, you'll first need to create a free event on the RSVPify platform. You can create a basic ticketed event with any of our templates and styles, or fully customize the end to end RSVP, ticket payment and checkout experience that your guests will see.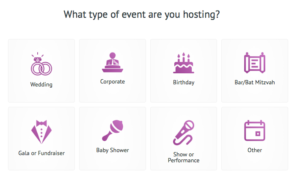 Step 4: Enable Sell Tickets Mode
In RSVPify, go to Setup > Sell Tickets & Collect Payments. Click Start Collecting Payments, and set your ticket tiers and pricing. If you have multiple events in one, you can sell tickets for sub-events as well (e.g. a raffle as part of a gala or a networking lunch as part of a conference series). To create a sub-event, go to Setup > Secondary Events. After you create your sub-event, head back over to Setup > Sell Tickets & Collect Payments to set tiers and pricing for these event(s).
It's free to setup your ticketed event with RSVPify, and any paid events hosted on RSVPify receive a free upgrade to our Platinum tier services ($119/month).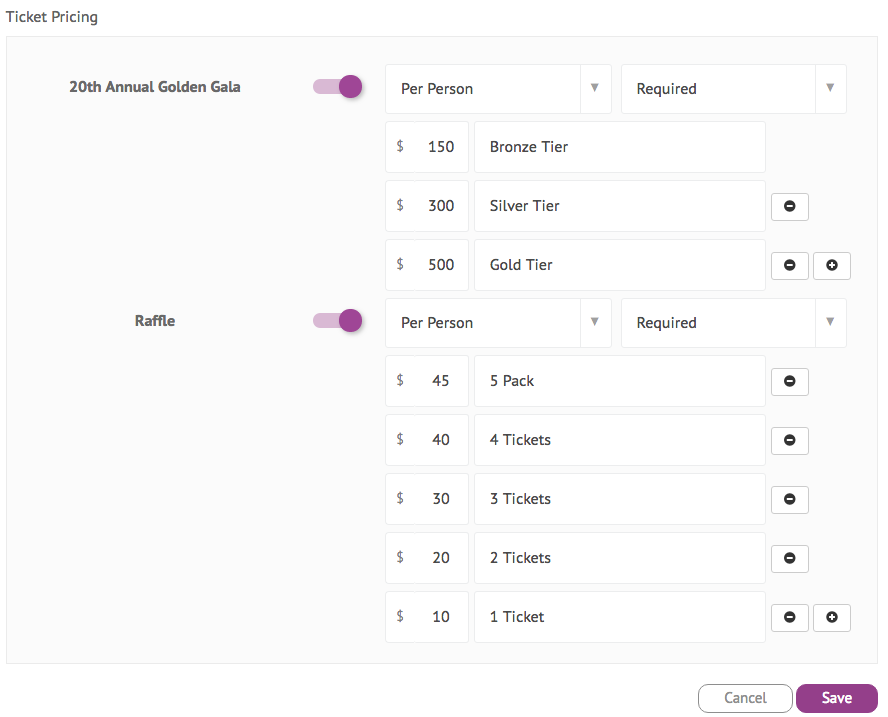 Step 5: Customize Your Event's RSVP & Ticket Experience
You can customize your event's RSVP, ticketing and payment experience as little or as much as you'd like. RSVPify offers a powerful suite of customization and branding options, allowing for a fully seamless process that focuses the spotlight on your event and brand. RSVPify's integration with Stripe enables a seamless checkout experience on desktop and mobile, without ever forcing your guests to leave your event to go to an external payment or ticketing platform.
Step 6: Connect Stripe to Your RSVPify Account
In Setup > Sell Tickets & Collect Payments, click the Connect with Stripe button. Enter your Stripe account login and password to complete the connection process. RSVPify will now automatically direct event revenue to your Stripe account, allowing for daily payout to your bank account automatically through Stripe.

Step 7: Enable LIVE Payments Mode
In Setup > Sell Tickets & Collect Payments, click the toggle to switch from TEST MODE to LIVE MODE. You'll now be accepting 'real world' transactions for any tickets you sell, payments you collect, or donations/gifts you accept.

Step 8: Share Your RSVPify Event's URL and Enjoy Ticket Bliss
Guests will visit yourevent.rsvpify.com to complete their RSVP for your event and submit payment for their ticket(s). Sell tickets, collect payments and accept donations (or gifts) from your RSVPify event — right within your event's RSVP flow.