Your to-do list for planning a class reunion is a mile long. You're searching for the best way to collect money for a class reunion, to engage classmates and get them excited. You need to raise money, and you're trying to manage everything in between. How about we check a few things off the list for you?
Find a free event ticket system? Check.
Allow guests to RSVP and buy raffle tickets? Done.
Need an option that everyone has access to, not just those on Facebook? Sure thing!
We know event planning is #stressful and you want to make your event memorable. We're on a mission to simplify that for you.
Best Way To Collect Money For A Class Reunion? Sell Attendance Tickets, Raffles, or Collect Donations!
Making things as simple as possible for your classmates (and yourself) is key to a successful event. Within your event's form, you can not only sell tickets and collect payments for the event itself, but you can also include add-on items such as t-shirts, raffle tickets, and collect extra donations! Being able to not only sell tickets online but track all related information, like t-shirt sizes, for example, will make things easy for all parties involved. Since ticketed events can use our platform (and premium features) for free, you don't pay anything out of pocket. Better yet? You can pass the service fees onto your guests. All are key elements to finding the best way to collect money for a class reunion.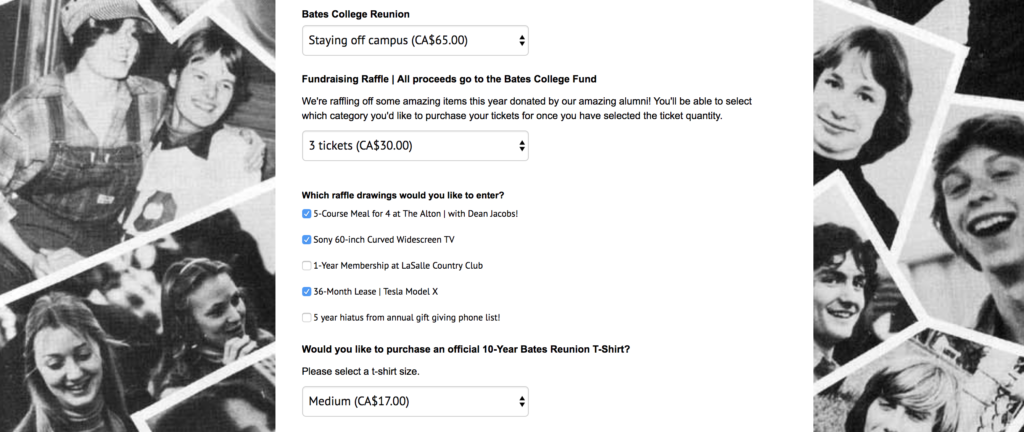 Allow Guests To See Who's Coming
A great way to ensure guests get excited about your event is to offer them the ability to see who will be there with them! Upon arriving on your event's RSVP and ticketing page, a click on "Who's Going?" will allow them to see the full list of guests who've accepted the RSVP.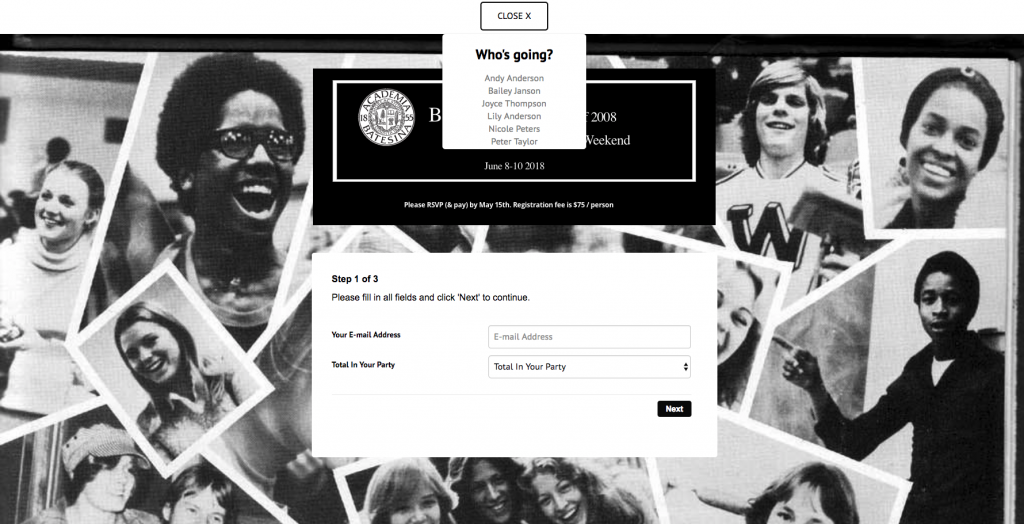 Send Reminders and Event Updates To Attendees
Maybe you have an outdoor venue and need to update guests of a location change due to weather, let guests know where to park, or provide any other important logistics you didn't want (or totally forgot) to include on the RSVP page. Maybe you just want to send reminders to keep guests excited and remind them to invite their friends to RSVP! Whatever it is, you can send updates to your guests who've purchased a ticket the message using our email features right within the platform.
See it in Action!
Go ahead and try it out for yourself. You can walk through a demo class reunion site here.