Being tasked with planning a party can be daunting, but it doesn't have to be as time-consuming as you may think! The key factor to focus on is the guest of honor, the retiree! Keeping their interests in mind will help you focus and reduce the overwhelm throughout the office retirement party planning process. The whole goal is to give them a memorable retirement celebration! By following a checklist and using helpful planning tools, you can have an enjoyable planning experience that doesn't take too much time.
We've broken down the office retirement planning process into 10 time-saving steps and provided some retirement party ideas to help you throw a spectacular celebration, even if you have no experience planning events.
1. Create an Inclusive Guest List
One of the most significant parts of planning an office retirement party is deciding who will be on the invite list! Of course, you want to invite the entire office to the celebration, but who else should you include? Great ideas for additional people to incorporate are old friends, old coworkers who may have moved on to something else, or even the retiree's family and friends outside of work.
2. Plan a Budget
While you may want to make this celebration the cat's pajama's of parties, be realistic about how much you are able to spend. Take a few minutes to estimate how much food, decorations, and gifts for the retiree might cost.
3. Raise Money for the Event
Those food and decoration costs can really add up! If you need help with expenses or if the company isn't providing a budget for the party, it becomes necessary to decide who is sharing the costs of the party. Make collecting payments part of the RSVP process so you can get funds up front for the party and gift without having to track down everyone for money.
4. Choose the Perfect Retirement Party Theme
Boring office party? Not today! While a theme isn't necessary for a spectacular party, deciding on a fun theme can take the event up a notch and give you some direction with planning. Here's 12 office retirement party theme ideas to get you thinking:
Fishing
Travel
Favorite Sport (golf, baseball, etc)
Cheers to Retirement
Retirement Fiesta
Eat, Drink, & Be Retired
Retirement BBQ
Tropical / Beach
Adventure Awaits
Casino
Hollywood or Gatsby
Retirement Brunch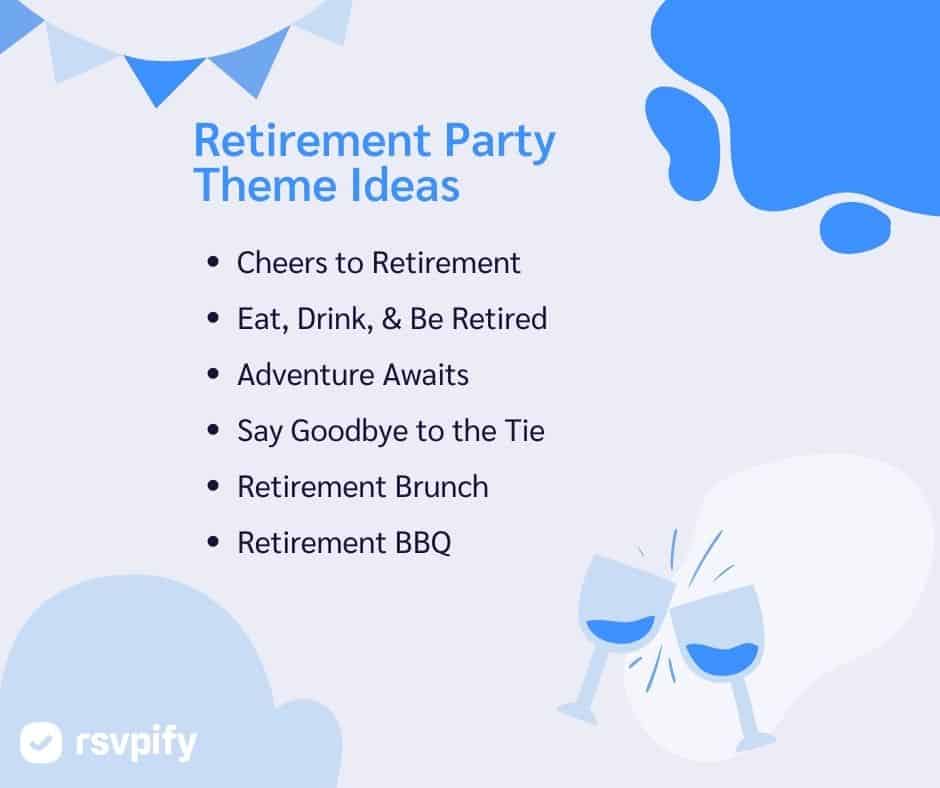 5. Plan Out Food and Decorations
Food doesn't have to be a grand affair, although it certainly can be if you would like it to be. A simple sandwich platter and a fun dessert might be all that is needed, or you may want to use a caterer. If you're on a budget, consider asking invitees to bring a dish to pass. Decorations are also a key component of the event, so take some time to find a few that align with the overall theme of the party. If you decided against a theme, consider what will look nice at the venue, or the retiree's favorite colors.
6. Offer a Fun Dessert
The dessert table often seems to be the center of the party! A cake is traditional and always a hit. The design could be aligned with the theme of the party, or it may be something that represents the company that the retiree works for. Outside the box desserts may include donuts, an ice cream sundae bar, macaroons, or pastries. Of course, take the guest of honor's favorites (and any dietary restrictions!) into consideration here.
7. Send Out Invitations
Once you have the basic event and location details, it's time to send out invitations! Of course, you can always send out paper invitations for an extra personal touch, but it may make more sense to send electronic invitations. RSVPify offers a free invitation designer that will allow you to save time and keep the RSVPs, payments, and invites in one place.
8. Have Everyone in the Office Sign a Card
This is a small detail but is one that shouldn't be overlooked. A card with everyone's signature will allow the retiree to look back on their time at work and see how everyone's personality shines through their signature. You could also get creative here and collect notes, wishes, and memories from guests during the RSVP process to be included in a momentum such as a personalized photo book.
Employees across the country or globe? A service like GroupGreeting allows you to ask friends and colleagues to sign a card digitally!
9. Get a Personalized Gift
Of course you'll probably want to honor the retiree with a gift! A personalized retirement gift is a great touch and makes sure that the retiree knows how much everyone in the office cares. Something memorable that the retiree will use often is a great choice. Don't forget to have their name and retirement date inscribed!
10. Make It Fun With Retirement Party Activities!
An office retirement party shouldn't be a somber affair! Plan games and other activities for everyone to take part in, or select a venue with built-in entertainment (less planning for you!). Here are a few activity ideas to help you brainstorm: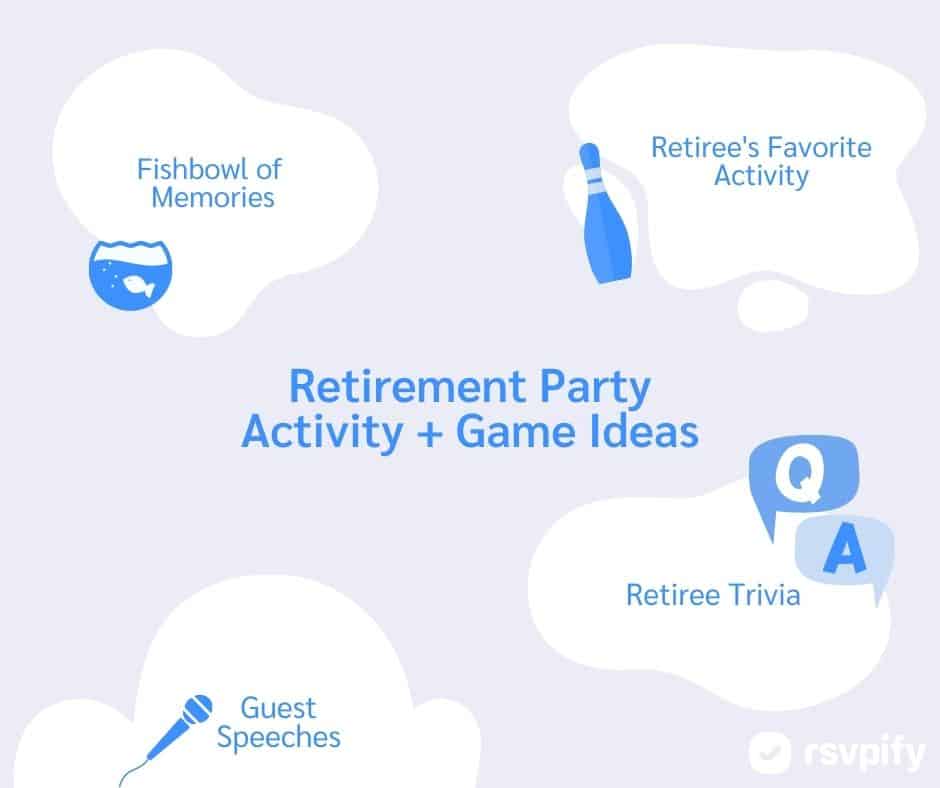 Speeches / Mini Roast
Like a good wedding speech, having a few guests who are close with the retiree say a few words can provide great entertainment and laughs. Just make sure speakers keep it light-hearted and brief.

Fishbowl of Guest Responses
Have attendees write down the answer to a prompt to be read aloud at the party. This could be something as simple as a fun or funny memory of the guest of honor. Other ideas would be to have guests write down what they think the new retiree will do with their new spare time.

Retiree Trivia / Quiz
See which attendee knows the guest of honor best with a game of trivia! Set things up game show style (think Jeopardy), or pass out a pop-quiz for a teacher retiree!

The Retiree's Favorite Activity
Use a favorite activity or hobby of the honoree to help brainstorm activities for the event. Some examples might be bowling, karaoke, shuffle board, bocci ball, an arcade, ping pong, or lawn games!
Planning an event can be overwhelming if you don't know where to begin. Don't let that discourage you! Event planning can (and should!) also be enjoyable and rewarding. Stick to these 10 tips, and you are sure to plan a fantastic celebration that the retiree will cherish the memories of.