Effective event management is a complicated but rewarding process.
 
The more effective event planning and organizational work you can do in advance of your event, the more success you can see in any metric, from attendance to revenue. With that in mind, we spoke to the team at  about their tips for hosting a successful event. The Stater Bros. Charities team is full of veteran event organizers and passionate fundraisers.
Stater Bros. Charities recently partnered with RSVPify on its most recent Believe Walk, and then graciously sat down with us to share their tips for curating a positive experience, starting with a smooth event registration process and ending with effortless participant event check-in on the day of the event itself.
About the Believe Walk
The Believe Walk is a 5K run/walk that raises general operating funds for local cancer support and services groups, as well as funds specifically for oncology equipment. The Believe Walk was started in 2008 by three cancer survivors and prominent women in the community, Annie Sellas, Cathy Stockton, and the late Nancy Varner, who came to Stater Bros. Markets' then-Chairman Jack Brown asking for event support. Jack graciously added the Believe Walk as a community fundraising event for Stater Bros. Charities, the nonprofit arm of Stater Bros. Markets.
All event logistics for over 8,000 runners and walkers, and recruiting, training, and empowering over 500 volunteers are coordinated by a team of four Stater Bros. Charities staff, a generous number of volunteer staff from Stater Bros. Markets, and the Inland Women Fighting Cancer committee. The fundraising efforts across 170 Stater Bros. Markets, community fundraising, and sponsorship contributed to the record-breaking $1.9 million in overall funds raised for cancer support last year.
We asked Tracy Marquez, Believe Walk Director, and Danielle Oehlman, Director of Stater Bros. Charities, a series of questions about what it takes to host a successful event. By the end of our conversation, we had a list of event planning tips to share with you and anyone planning a large community event.
Tips For Effective Event Management
Anchor the Participant Experience. 
As Tracy states, "When an event is well organized, people don't feel like they are rushed or anxious about the registration or check in process. They feel supported." That feeling of support is core to the Believe Walk. Tracy and Danielle believe that event design – from registration to fundraising to packet pickup to the run/walk itself – should be designed with the participants in mind. Quick Tip: For all major event-related decisions ask – how will this impact the participant experience?
 "When an event is well organized, people don't feel like they are rushed or anxious about the registration or check in process. They feel supported."
Create a Quick, Simple, and Organized Event Registration Form.
Believe Walk partners with OneCause as its peer-to-peer fundraising platform. This platform hosts run/walker registrations and donations for the event. The current registration experience is only a few questions – but it didn't start out that way. At first, the Believe Walk team asked participants for a lot of information – e.g., name, address, team name, t-shirt size, demographic information, etc. They ask fewer questions now to create a lower barrier to entry for participants. Danielle shared that getting to the right set of questions that balances what the team needs to host and report on the event with what community members feel comfortable giving took a few years.
After designing the event registration flow, uploading it to an event management platform is another important step. Danielle and team feel good about what the registration experience on OneCause is to-date. Creating this experience took some time from a technical perspective. The team invested time and energy to learn the platform early on, so now they are making updates as opposed to starting from scratch every year. Importantly, before they go live, the full team does a complete audit of the event website and registration process to make sure everything is in order. 
Quick Tip: Create an event registration form that includes only basic and necessary questions and partner with a platform that participants will find easy to use – so more register for your event!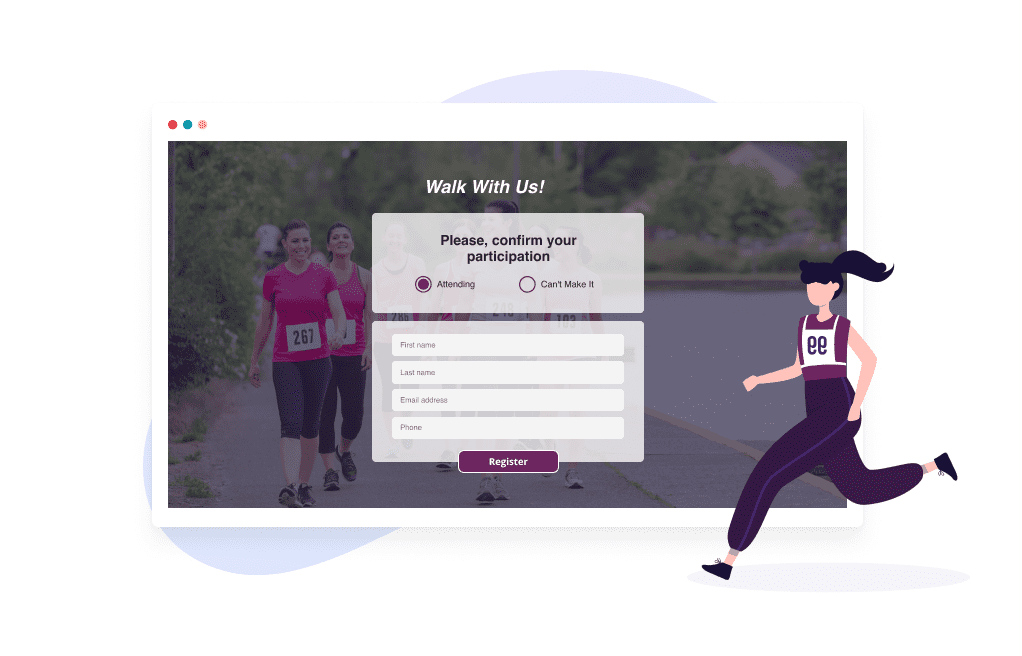 Make Packet Pick-Up and Event Check-in As Easy As Possible. 
Picture this – you and your family registered for a 5K, you've all trained for the run/walk, and you have raised more funds for charity than you have in past events (best year yet!). You come to pick up your bibs, t-shirts, and other goodies and are met by one volunteer sitting behind one desk, checking in a long line of fellow participants. Tracy described this as the worst possible setup. To her team, it's important to give participants a warm and easy welcome to race weekend. 
On Believe Walk weekend, you do not have to wait in lines. They have multiple packet pickup days, and each day provides multiple registration check-in access points located in one convenient location. They also accommodate late registrations so all can participate. Volunteers who staff events on Believe Walk weekend receive quick and competent training, and they are equipped with simple tools so they can more efficiently support operations.
Bottom line – the Believe Walk organizers do not want participants waiting in long lines  to join the fun – or conversely feel rushed during any part of the experience. They chose RSVPify's Check-In Suite last year to help with this. Volunteers were equipped with RSVPify's Check-in App to easily search for individuals / teams to check them in at packet pickup and hand out t-shirts and other event goodies. 
Quick Tip: For smooth event check-in, make sure you have enough trained volunteers and the right set of tools to make your participants feel welcome leading up to the event.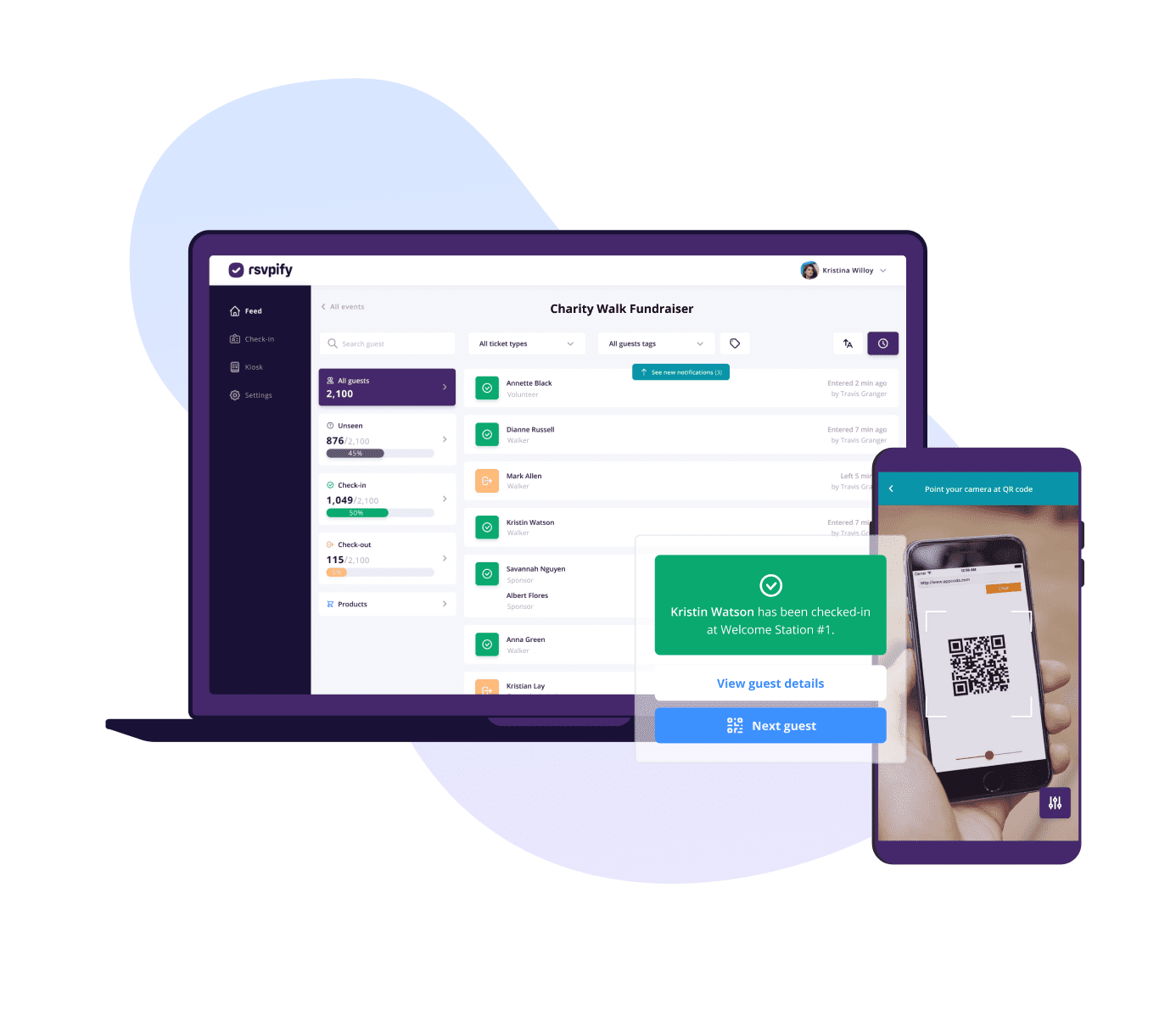 Day-Of Technical Support Headquarters. 
Tracy and Danielle had two teammates on Believe Walk weekend serve as technical support. These folks were available if any volunteers experienced technical issues related to check-in and overall event operations. Tracy and Danielle shared that this resource was indispensable.
"It was a relief just knowing that they were there to support us." 
Quick Tip: Designating a few staff or volunteers to event headquarters on the day of your event will give all a central resource for questions and support.
Be Proactive – Plan Time to Reflect. 
Leading up to the event, Tracy, Danielle, and other team members meet weekly to discuss event communications, fundraising and sponsorships, logistics/run of show, and everything in between. They focus on how to make incremental improvements along the way. Once the event is over, the team debriefs just about everything they can remember so they can bring these learnings into the next Believe Walk. Having the time to reflect on what's working, what needs adjustment, and how to improve for the future has helped shape what the Believe Walk is today. 
Quick Tip: Set up a series of check-ins from the start and invite anyone who touches your event – from staff, sponsors, lead volunteer(s), fundraising chair, etc. – to join relevant check-ins.
Final Thoughts
It was a pleasure learning from the Believe Walk team! We, at RSVPify, are honored to have supported such a great event last year. We hope to do the same for years to come. If you're planning a 5K for your organization or community and want to learn more about RSVPify's run/walk registration or check-in features, click here. Or get started creating your event on RSVPify for free, and reach out to our team at the live chat for support as you go.