Opting for white label email invitations can keep your branding the focus for any event
For any corporate event, ensuring your brand kit and public persona are the forefront of every guest's experience is a no-brainer. For events like trade shows, networking conferences, sales meetings, partnership mergers, and more, the goal is to both expose new leads to your branding and stay ahead of the competition. While there are a variety of avenues for achieving this goal, one often overlooked option is to choose a white label solution for your email invitations.
There are several reasons paying the extra cost for a white label option for email invites offers a good ROI for companies both big and small:
You remove any watermarks or branding from the event management service you are using, keeping your brand the only focus of your invitees.
You retain complete control over all elements of your email invites, from color scheme to layout, since alternative branding is removed.
You can give your invitees the impression that your email invitations were designed in-house, without needing to devote in-house resources that can be better used elsewhere.
So how do you send white label email invitations?
If you think this is a good play for your next event, you'll need to do a few things:
Choose an event management platform that offers enterprise email invites
While there are plenty of fish in the sea when it comes to online invitations, most event websites retain their branding on their online invitation templates. While you may be able to customize much of your email invitation, you'll still be stuck with a watermark or some form of branding out of line with your own.
Look for companies that specifically offer enterprise-level event management services. These packages, while costing more than a baseline subscription, are designed to provide corporate event planners with white label solutions for email invitations, event websites, and more. You'll want to browse the different subscription and feature tiers at your chosen event management solution to make sure this feature is included before you pay to register.
Set up your event website
For a service like RSVPify, you'll want to create your event website and finish all relevant details first before sending out your email invites. Since the invite will be mass-emailed to your entire guest list at once, you want to make sure you have all relevant details finalized to avoid having to send multiple emails which may come across as annoying or unprofessional.
Design your email invitation
If you are using a baseline event management package, you'll notice when you open email invitation templates that the company's branding will often appear in the footer of every template. In some cases, event management companies will even fix the color scheme of templates to feature their own branding.
If you've paid for white label features, however, you'll notice that your email invitation template is free of any undesired branding (or that it can be easily removed with a click). This means that you are free to upload your own brand kit, or hand the process over to your internal marketing team as needed. For some event software solutions, you can even upload internal invitation designs and simply use the platform to send those out without needing to reinvent the wheel.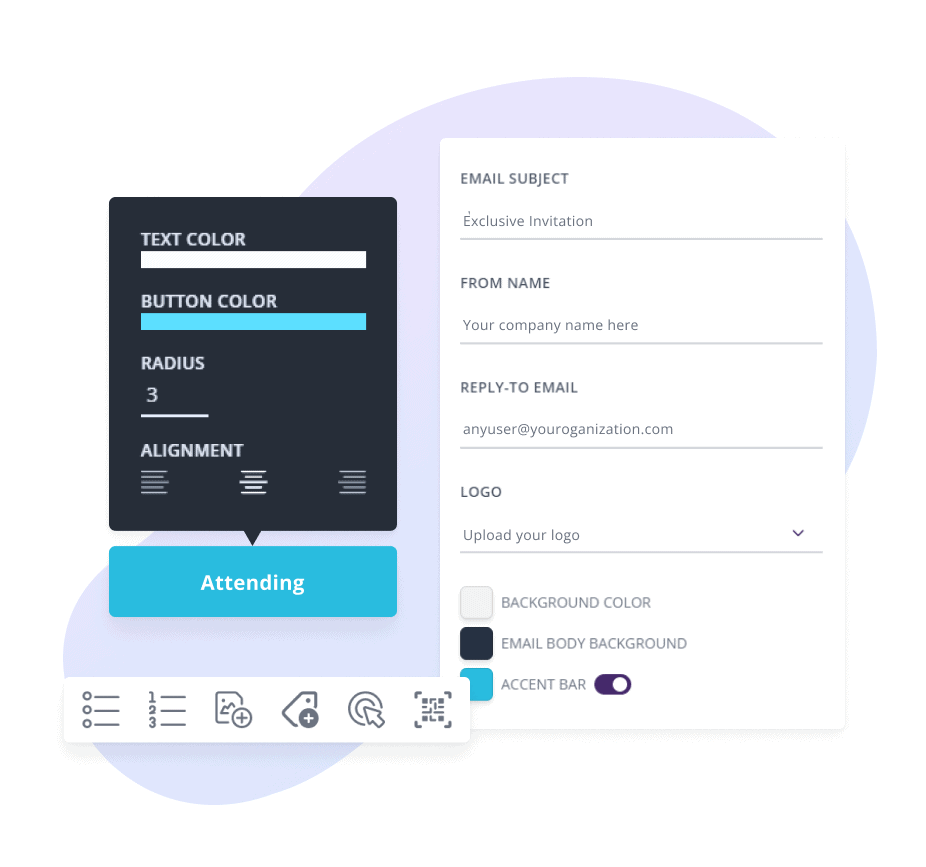 Review and send your email invites
The final step seems like a no brainer, but as a final check to avoid silly mistakes, you should always take the opportunity to preview your finished invitation before sending. While most white label tiered packages are completely free of platform branding, be wary that some event websites may include their branding in templates and force you to remove it yourself. Taking a few minutes to review your online invites before blasting them out can let you avoid wasting money on a white label solution without receiving the benefits you anticipated.