Collecting mailing addresses for wedding invitations has always been a key early step of the planning process but it has become absolutely vital in the "post" COVID environment as so many people have moved during / after the pandemic. According to the USPS, nearly 16m people filed a change of address – and that figure only accounts for Feb – July of 2020! 
While collecting updated mailing addresses from your guests can seem like a daunting task, there are fortunately a few helpful methods (traditional and online tools) that can make this a little *less* painful!
Once you've nailed down your guest list and determined how many people you want to invite, (and at have at least settled on your "A List"), you're ready to start soliciting address updates.
PRO TIP: Be sure to only ask those guests that you are *definitely* going to invite because this request often serves as an informal "Save the Date" as they're inherently going to know why you're asking them for their mailing address! 
What's the best way to collect addresses for wedding invitations?
There isn't a right or wrong way to collect addresses, but some ways are certainly easier and more reliable. In many cases, couples may use a combination of these different options to fill in the caps in their address book.
1. Ask each wedding guest directly – One option is to simply ask each guest for their address directly. This ensures that you have accurate and up-to-date information, as opposed to relying on potentially unreliable sources. When you speak to each guest, make sure you get their full address, including an apartment number if relevant. Of course, you have a few choices for how you'd like to contact guests from calling, texting, emailing, or even using social media.
2. Recruit your family for help – If you have a large guest list, it can be helpful to ask your families for help. They likely have the contact information for many of the wedding guests, but this could result in outdated or incomplete address information.
3. Search public databases – You can also search for addresses through public databases such as the US Postal Service or the White Pages. These databases are a great way to find addresses for guests you may not be able to reach directly. While this is a helpful resource, you still could end up with inaccurate data.
4. Use an online form or personal CRM tool – Online methods are a great way to collect addresses efficiently and easily. This allows you to collect information directly from guests quickly and store it in one place. You can use many tools to build an online form or start creating your personal contacts database. There are a number of CRM tools out there but we're going to highlight Postable as an example.
See below for step-by-step instructions for collecting mailing addresses for wedding invitations with their platform: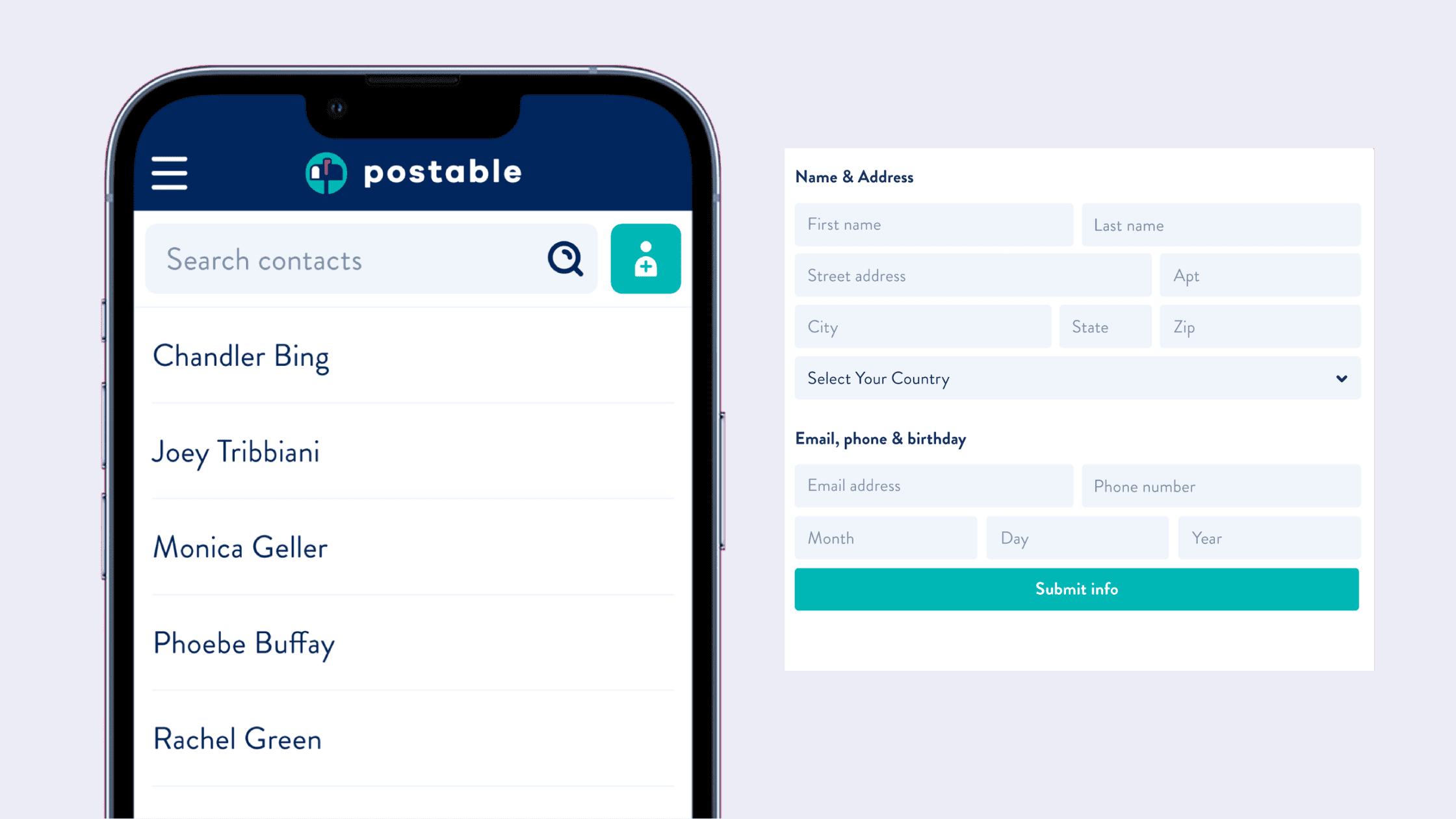 How to collect addresses for wedding invitations online with Postable
With Postable you can create your own personal database of the important people in your life and their contact information. While today's goal is collecting addresses for your wedding, having a clean list of personal contact information for your network will be helpful down the road. You'll be relieved when you want to send out your holiday card when you already have everything you need! 
Once you create an account on Postable, you'll be able to create an address collection form. This form will be used to collect the necessary information from your guests such as their names, address, and phone number. You can customize the form to fit your needs and add any additional information you need to collect.
Share the form: Once your form is created, it's time to share it with your guests and let them populate your invite list. 

You can share the form any way you'd like; send a text, or an email, or even place it right on your wedding website.

Follow up with guests: After you've shared the form, you may need to do some follow up. You can send them a reminder via email or text message to ensure they fill out the form. 
Store the data: Once all the address information is collected, it's important to store it in a safe place. Postable will store these responses in a single place, making it easy to keep track of all the address information. This will make it easier to access the data when you're ready to send out your wedding invitations.
Prepare to send your wedding invites: Before you send out your wedding invitations, it's important to double-check all the address information for accuracy. Make sure all the information is correct to ensure your guests receive their invitations in a timely manner. Once you have collected all the addresses you need, you can download them from Postable and use them to address your wedding invitations. Postable also offers a printing service, so you can have the invitations printed directly from their website.
Collecting addresses for wedding invitations online is a great way to streamline the process. By following these five steps, you can easily collect all the information you need to send out your invitations, and store them for future use too.