Seating charts are an important first impression when it comes to your event and critical in making sure your event runs smoothly, so choosing the right one is an important decision. Aimee Malotsis from Paperlust says that wedding seating display charts are not only critical for a sit-down wedding, but can be equally as critical at a business event, fundraising gala or birthday. So before you go researching 'business seating charts' or 'wedding seating chart ideas' there are a few essential pieces of knowledge and tasks you should have done before you click on your search engine.
Choose your seating chart material
These days you can make a seating display out of just about any rigid material, however there are three main types of board you should consider which tend to perform and look the best.
1. Foam board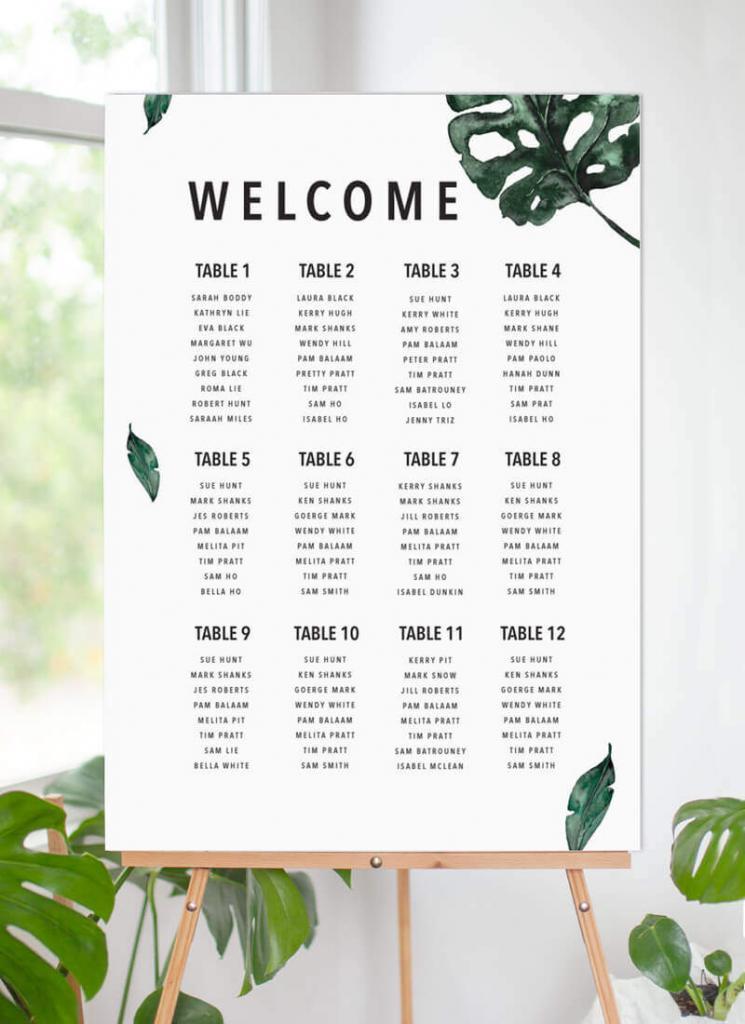 Image source: Paperlust
Foam board is the most traditional, reliable and generally cost effective way to present your guests tables. At Paperlust it's the material of choice when it comes to a wedding seating chart because it's light, easy to transport and will also be visually commanding when your guests enter the room to find their seat. With foam boards you can usually go that little bit extra when it comes to the design, such as the addition of foil decals to draw your guests eye to the board. Foamboard is also a very economical option, however superior to paper posters and cardstock due to its strength and rigidity.
2. Wood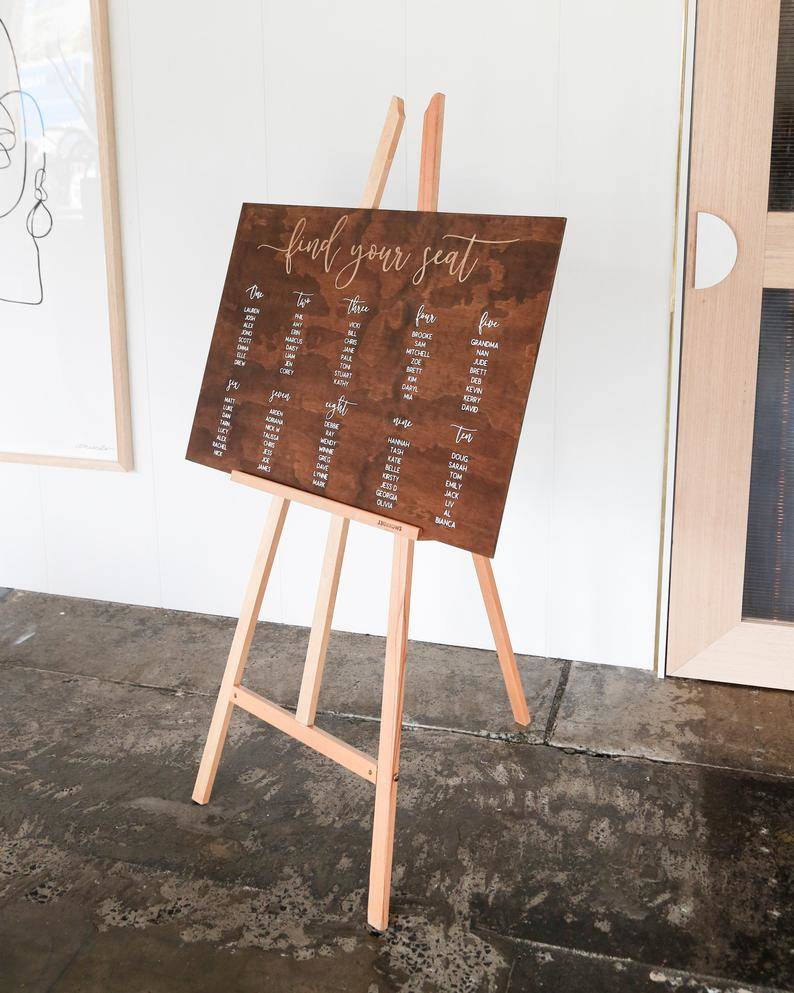 Image source: Etsy
Sustainable, natural and rustic. Using wood as a base for your seating chart provides a warm welcome to your guests as they arrive to find their seats. They're sturdy but also slightly flexible which makes transporting them a little less stressful. When looking at purchasing a wooden seating chart, just remember that the wood grain may be different to the one in the picture. Being wood it will have its little imperfections which will make your seating chart unique for you and your event.
3. Acrylic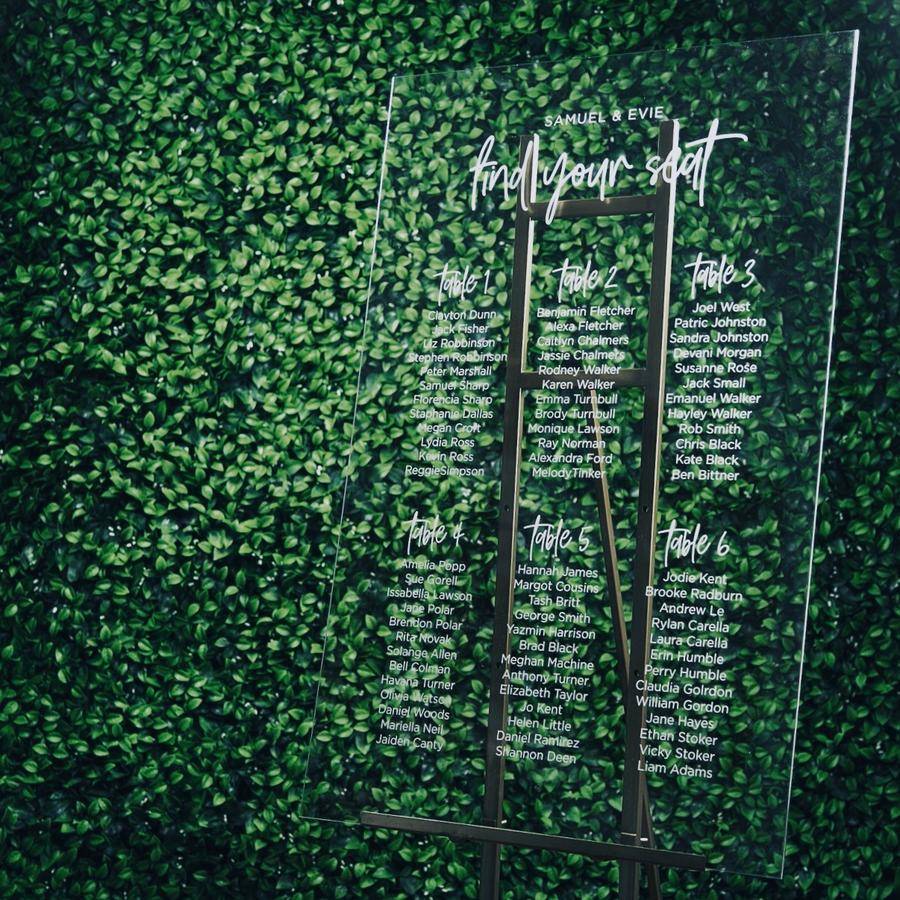 Image source: Wedding Traders
Introducing the new kid on the block when it comes to seating chart materials. In the last few years, acrylic seating charts have worked their way up to be one of the most popular seating chart designs. They are a solid choice (literally), weatherproof (which is preferable if your event is outside) and they come in a wide range of colors including clear, translucent and colored mirror finishes.
Now you have an idea of what your seating chart is going to look like, it's time to nut out the important details which will make your seating chart.
Who sits where?
Although one of the most dreaded parts of seating charts is having to seat the guests, this should be done before you approach a seller. Given it is one of the most stressful aspects of the experience, completing the lists beforehand will make the rest of the organization a much more pleasant experience.
Thankfully these days there are some great online tools including a seating chart generator or a seating chart maker such as the one on RSVPify, which allows you to organize your tables on your device in an easy fashion. Gone are the days of paper and sticky tabs with people's names on them which conveniently go missing!
Choose your layout
Round tables, blocks or lists? There are a number of different layouts to choose from when it comes to designing your table seating chart. If you're looking for inspiration, look no further than a seating chart template which you can find and download from the internet to help you visualize what your seating chart will look like.
All the small things
When it comes to event seating charts, the finer details tend to be left until the last minute – so why not get them out of the way at the start? Things such as whether to use full names or a first name and initial, what size you're after and if you're in need of more than one will create a smoother experience for everyone involved.
With all of this in mind, a seating display can seem daunting. However, if you follow these simple guidelines before you begin shopping your task will be as easy as finding your name on its list when the night comes.