Event Website Builders: Customization vs. Complexity

While there is a wide array of website builders out there, Wix and Squarespace have emerged as the two most widely recognized names for those looking for a user friendly way to build an event website. Those that are more tech savvy, it might be worth it to try out WordPress for your event registration needs. For people looking for an event website builder specifically, these two offer a very nice array of options and are among the most user-friendly for those with non-technical backgrounds. Not only are they both intuitive for anyone without a web design background, but they both offer a variety of tiered pricing plans that can fit almost any budget. This means that no matter how big or small an event may be, users can find a monthly pricing plan that will give them a selection of useful website design and hosting features without breaking the bank.
We're certainly not the first to weight in on this topic as there are a lot of good reviews of website builders but we felt that it was important that we evaluate these two players with the specific lens of creating websites for event registrations. So what's the difference between these two leaders in the DIY website building space? From pre-made templates to pricing, analytics to SEO, integration to ease of use, there are actually a surprising number of differences between the two offerings. End of the day, both of these website builders are really nice options but in our opinion, we think Wix wins out for the greater array of freedom, customization, and ability to choose pricing and features for specific event management needs. From dragging and dropping things wherever is needed, to remaking templates to specific needs or desires, to the wide array of options in the Wix app store for building out the functionality of any event website, we think this should be the choice for event planners. This is especially true given the broad array of needs for different event planners – from weddings to corporate conferences, event planners to individuals creating their personal wedding website, Wix offers a much greater flexibility for meeting the needs of any event planner.
With that said, if professional design and graphics are more important than customization, Squarespace is a great option as well. The fact that all of the templates have been painstakingly designed, integrate useful features, and don't require much customization might be a blessing for event planners not wishing to spend too much additional time on their event website. Squarespace also offers a significantly better interface for featuring products digitally and conducting eCommerce sales professionally – for anyone planning to sell products as part of an event, this might be the better choice for showcasing goods or services for attendees.
How do Squarespace and Wix generally work?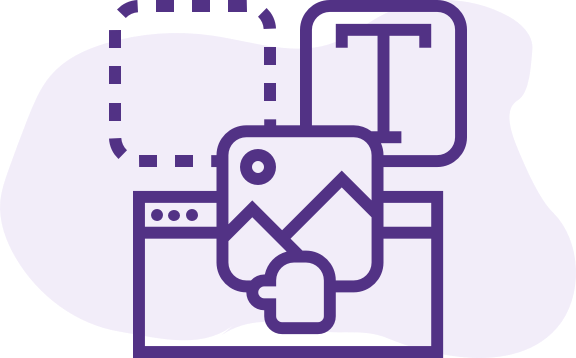 Both Squarespace and Wix have been designed to be used by everyone on the technological spectrum, from those who know nothing about designing a website to users with extensive experience in creating ecommerce interfaces and online marketplaces. Both sites will ask users to choose from an array of templates, with various levels of customization. Wix, and to a lesser degree Squarespace, also offer intuitive AI that can create a website for a user provided they take the time to answer a quick on-boarding questionnaire. Once the initial site is populated leveraging the responses fielded from the questionnaire, users can then get going on customizing the site to meet their needs. For the sake of hosting an event or getting the word out there, some of the more useful features include collecting guest information, integrating RSVP software or applications, using dedicated email features to mass-message guests or interested parties, social media integration, and a whole slew of others we will cover a bit later.
The main idea behind both sites is making it simple to create a custom website for whatever type of event is being planned. Even better, users can pick and choose between different plans and pricing options depending on what the specific event hosting needs may be.
Choice of Event Website Templates
While both website builders offer a variety of templates for event hosts to choose from, there is a decided difference between quantity and quality. Wix offers over 500 different custom templates, including everything from general ones like "Corporate Conference" to specific options like "Comic Convention". The breadth of the offerings provided by Wix means that it is entirely possible to find a pre-made template for a somewhat niche event-type, which can be a huge time (and frustration) saver as its primarily the custom configuration and layout that can be the most problematic (least user friendly). In our opinion, the ability to minimize the time spent / amount of work required to customize a template's configuration / layout to meet user needs is a key factor. After all, the core focus of these players is to make website development / management accessible to individuals and SMBs lack that the technical resources or knowhow to build something custom. Also notable is that most of the website templates are free, meaning Wix doesn't upcharge for access 'premium' templates (we'll get into their revenue model later). Here are some screenshots to give a more clear picture of navigating through the choice of templates.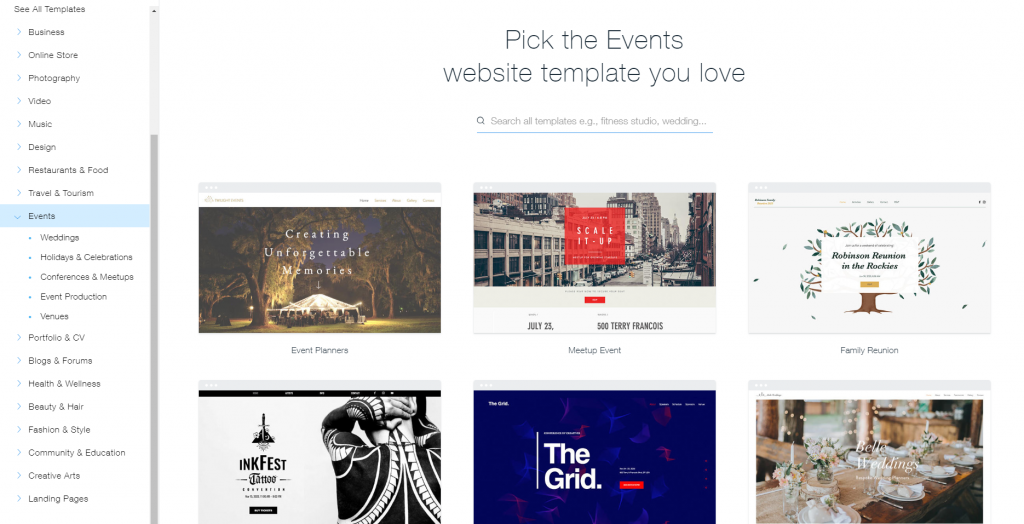 Meanwhile, Squarespace sacrifices quantity for quality. While Wix offers a much broader array of specific templates, Squarespace only offers around 60 – but those 60 are all sleek, professionally designed, and quite frankly much more impressive than any of the Wix options. Unlike Wix, Squarespace also prompts users to tell them what the goal or purpose of the page will be, and then returns what it deems to be the most useful templates for a specific user's needs. Here's a look at that process: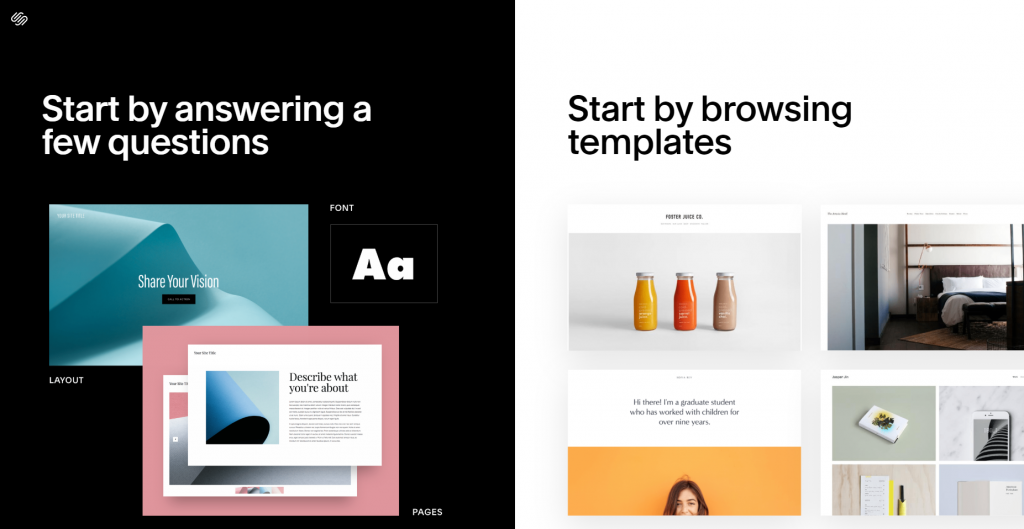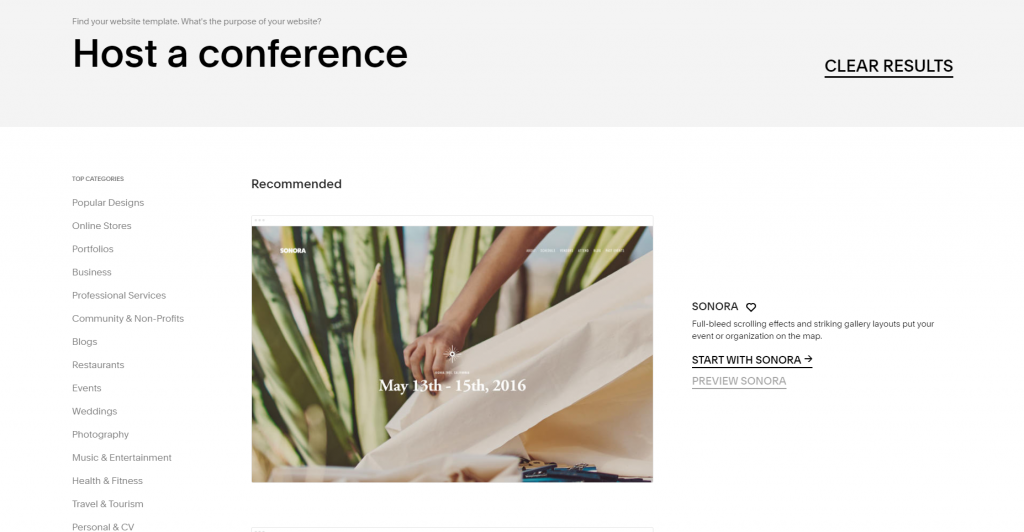 One more important difference between the two services is the ability to design templates and sites specifically for mobile platforms. Wix has a useful toggle at the top navigation menu that lets users switch to mobile-facing design, which changes the layout to what site viewers would see on their mobile devices. Squarespace does allow this as well, but it is not quite as convenient as the Wix tool, which simply involves a single click at the top of the page to toggle back and forth between desktop and mobile designs. Given how many event attendees and individuals in general view sites primarily on mobile devices, being able to tailor and customize a site with an eye toward the mobile appearance can be an invaluable tool for any user.
At the end of the day, the main difference between the two event website builder sites when it comes to templates is, in a greater sense, the main difference between them in every way. Wix offers a much wider variety of choice and freedom, not only in templates but in customization, which we will cover shortly. Squarespace offers a much sleeker and professional look, but limits user choices and ability to run wild with design.
Customization Options
Much like the variety of templates, the variety of choices available for changing the design of a chosen template is a significant difference between Squarespace and Wix. Wix offers an unbelievable array of choices once a user has entered their template, all laid out along a helpful and easy-to-use set of navigation tabs on the left side of the screen, as shown here.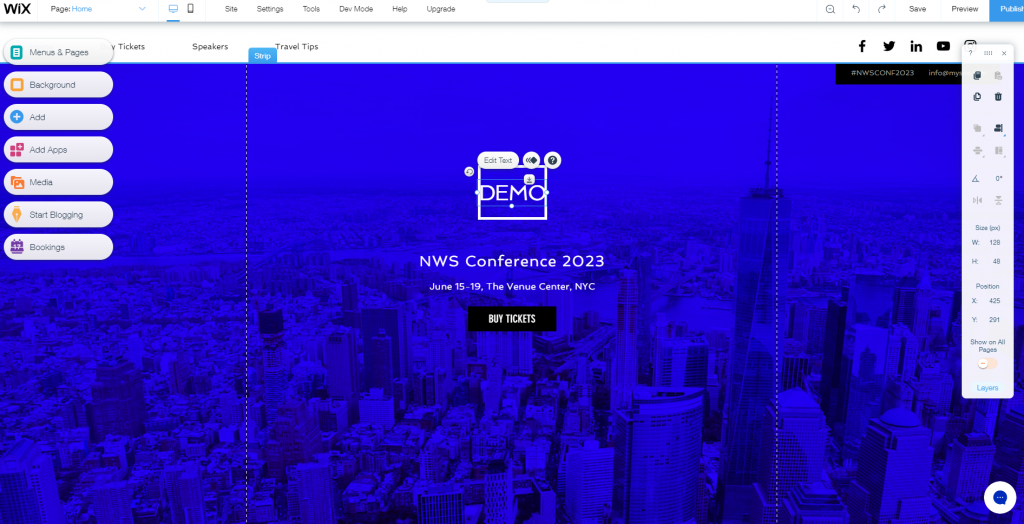 It is also possible to see one of the other main differences between the two sites here – the ability to drag and drop different elements anywhere on Wix. Squarespace does not allow this same free reign within their templates – while users can change the order and layout of different elements (like text boxes, videos etc.), Wix lets them do so anywhere on the page. While this does allow for significantly more creativity and customization within a template, it can also lead to formatting issues and headaches. It falls to an individual's preference on how much free reign is wanted.
There are several key areas of customization offered among those left navigation tabs. The top two, Menus & Pages and Background, are pretty self-explanatory – they give users options to change the specific pages and menus on the site as a whole, as well as the ability to customize the background of any page with images, pre-loaded media from the Wix archive, or even video clips or motion images.
Perhaps the coolest feature that Wix offers is the ability to integrate apps from its App Store – with everything from online marketplaces to chat features, social media tools to booking and calendar apps, the Wix app store gives users an impressively extensive set of options to build out a site for a specific event's needs. Users can sell tickets for an event, create a specific event calendar, include a countdown timer, create forms for collecting guest information, and many many other helpful features for any event host. Here's a closer look at what that App Store looks like in the Wix navigation.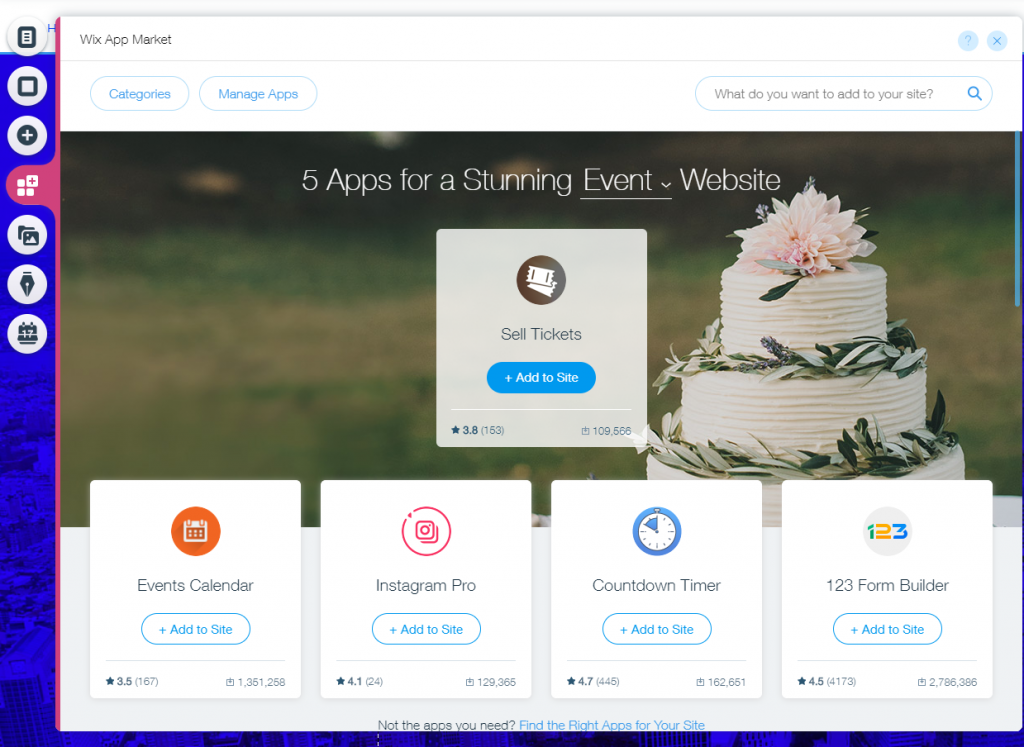 In comparison to this, Squarespace has a more limited set of features and app build outs, but they are often cooked into the template users choose itself. Here's a better look at one of the Squarespace customization menus.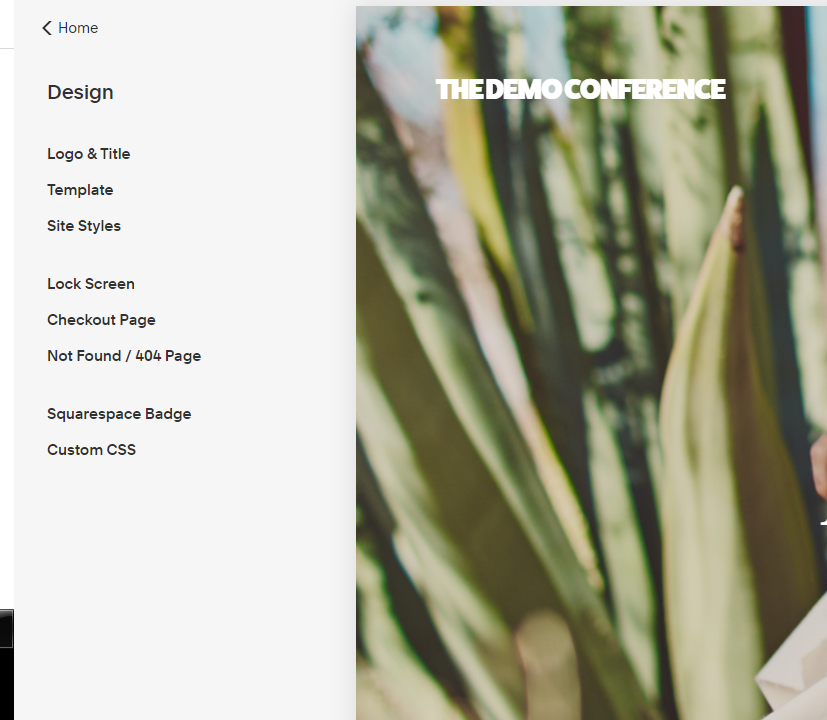 Clicking on any of those options present users with an array of choices, but again, the customization options are bit more limited than the array given with Wix. That said, the design itself has had a lot of thought and care put into it. So a user may not need to do as much work with a Squarespace template as one will with a similar option in Wix. At the end of the day, the biggest choice between these two is how comfortable or willing a user is to do their own customization work.
AI: Letting the Event Website Builder do the work
Both Squarespace and Wix also have options that can create and automatically build out a website template for a user, with significantly less need to customize. In Wix, this is called the Wix ADI, while in Squarespace users will be prompted to answer a few questions and provide basic information before a template is created. Here's how that process looks in Wix first: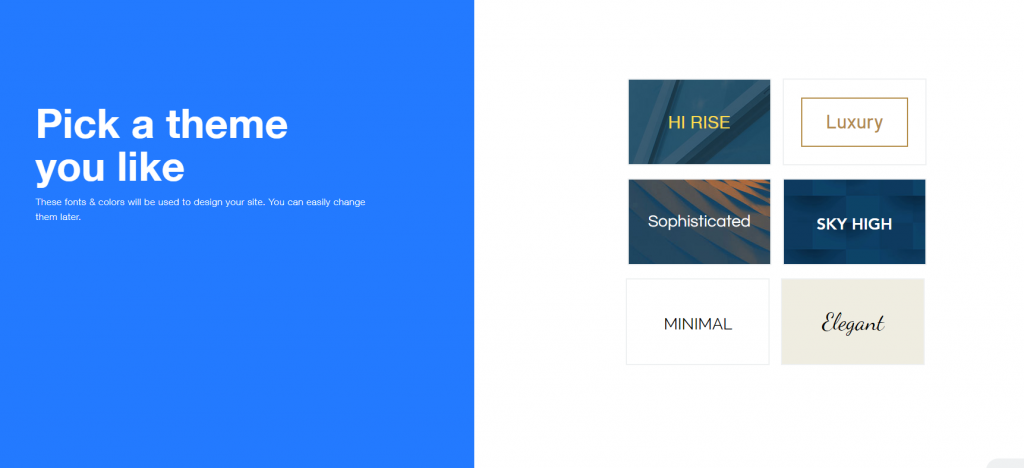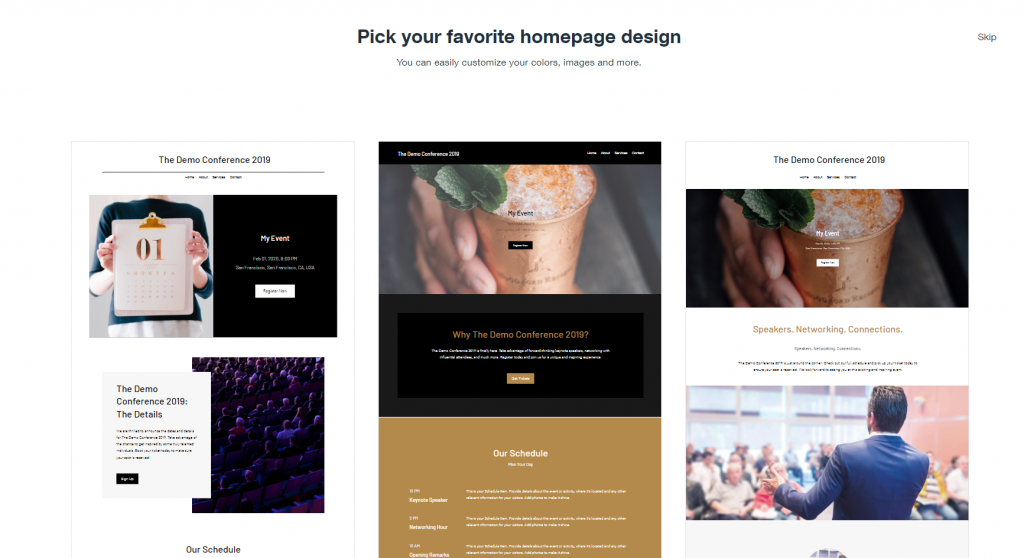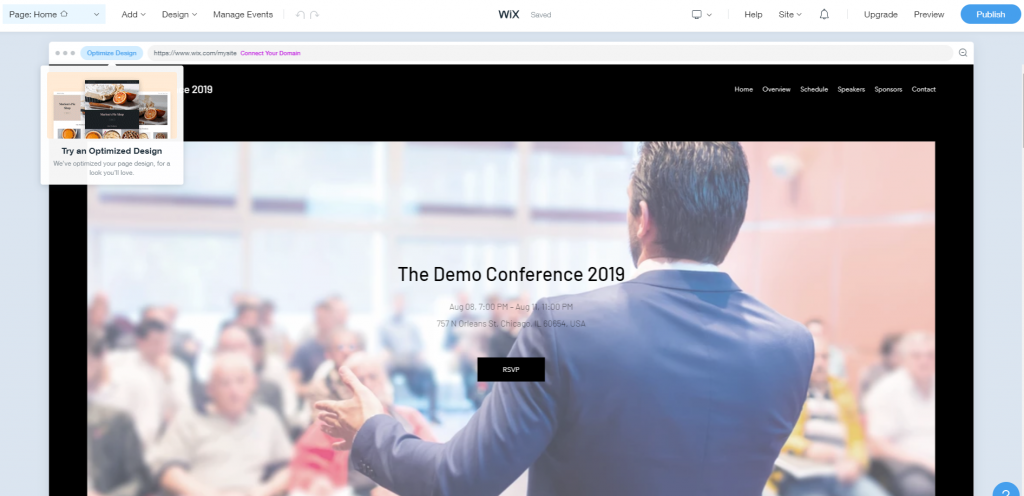 After just a few steps and selections, Wix will create a pre-made page based on the choices, which now lets users simply edit basic elements like page information, background images, and text boxes. While there are significantly less customization options in this interface, if someone is technologically-challenged, this takes much of the guess work out of the picture, and instead delivers a simple but effective event website. Similarly, SquareSpace provides a pre-made site after a few questions also, although it isn't labeled the same way – instead, they prompt users to answer a few questions about their specific event, as seen here: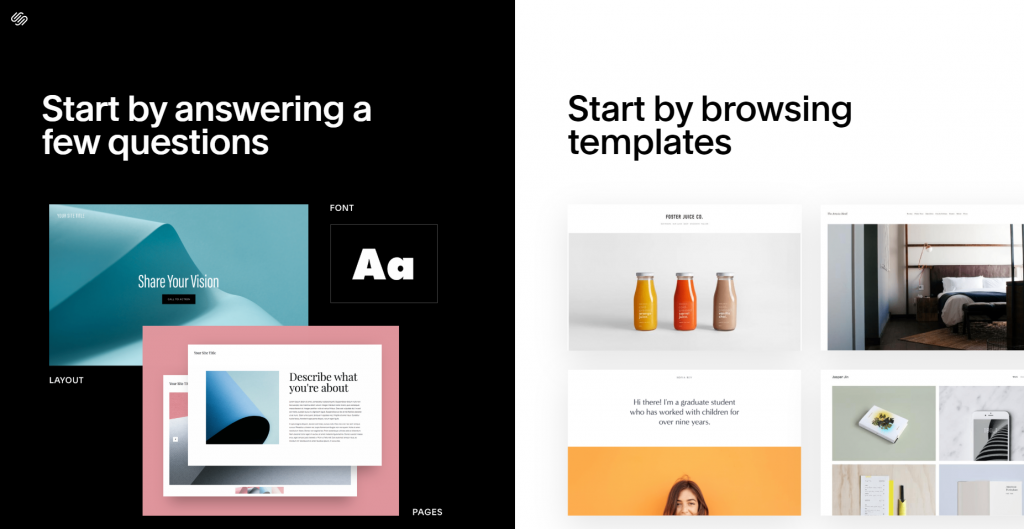 After providing information about an event, and likewise making a few simple choices, a similar pre-made event template will be created. The design menu will be largely the same as the one seen after choosing a common template, so there isn't the major change in customization options that users see with Wix. In this category, the two companies are pretty comparable, but we'll give the edge to SquareSpace, because of the higher professional quality of the template design provided via the AI option.
Managing and Promoting an Event on Wix and Squarespace
While both Squarespace and Wix are designed for use by anyone needing to build a website, for event hosts specifically, there are some key features for event management and promotion that will be more important than others. We mentioned ticketing and RSVPs briefly above, but for event hosts, these are the bread and butter of the event management process. With this in mind, both Squarespace and Wix do have functionality tied to these features. With Wix, these are among the many tools in the Wix app store – but, it is important to remember that only certain subscription levels will allow for selling tickets online and collecting payments. Squarespace also has these features built directly in to many of the templates, but Squarespace does charge a 3% commission on sales unless you subscribe at higher level packages – this will be covered more in the next section.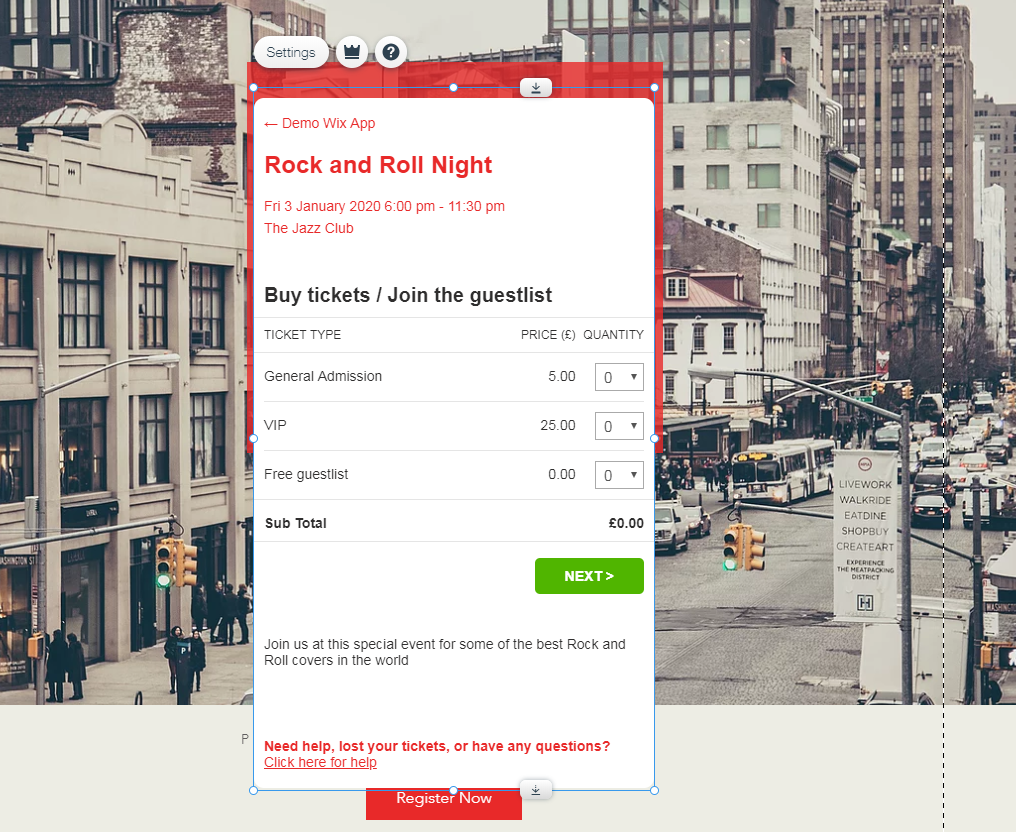 Another area important to event hosts are communication and outreach tools, whether that means social media integration or dedicated email services. Social media integration is equally easy with both website builders, so there is no major difference there. However, email is slightly different – while Wix offers unlimited emails as part of its higher-tier packages, Squarespace limits users to only three mass-messaging campaigns. This is an important difference if you are planning to communicate with attendees, clients, or vendors on a frequent basis – being limited to only three mass email campaigns can leave you in a bind as updates or announcements need to be made.
Finally, RSVP and form integration is another area where either event website builder offers satisfactory tools for any event host. Both Squarespace and Wix offer form embedding and online RSVP services through their templates or, in the case of Wix, the app store. With that said, one cautionary note about these tools as well as ticket sales – the functionality is much more rudimentary than more sophisticated web services that focus on providing these features to event hosts exclusively. So, users may be better served using an external widget and integrating them into their Wix or Squarespace site, as opposed to relying on the out-of-the-box options on either service.
Pricing and Plan Options
This brings us to one of the most critical areas of comparison for any event manager or host – price. Given most event planners are working within a set budget given all of the costs associated with the actual event, finding a cost-effective event website builder is an easy way to get the word out or collect information without cutting into money earmarked for other event-related expenses. Both Wix and Squarespace offer a variety of pricing tiers and packages, seven in the case of Wix, four for Squarespace. Before we identify the most common packages for most event hosts, here's a look at the different Wix pricing plans and what they include: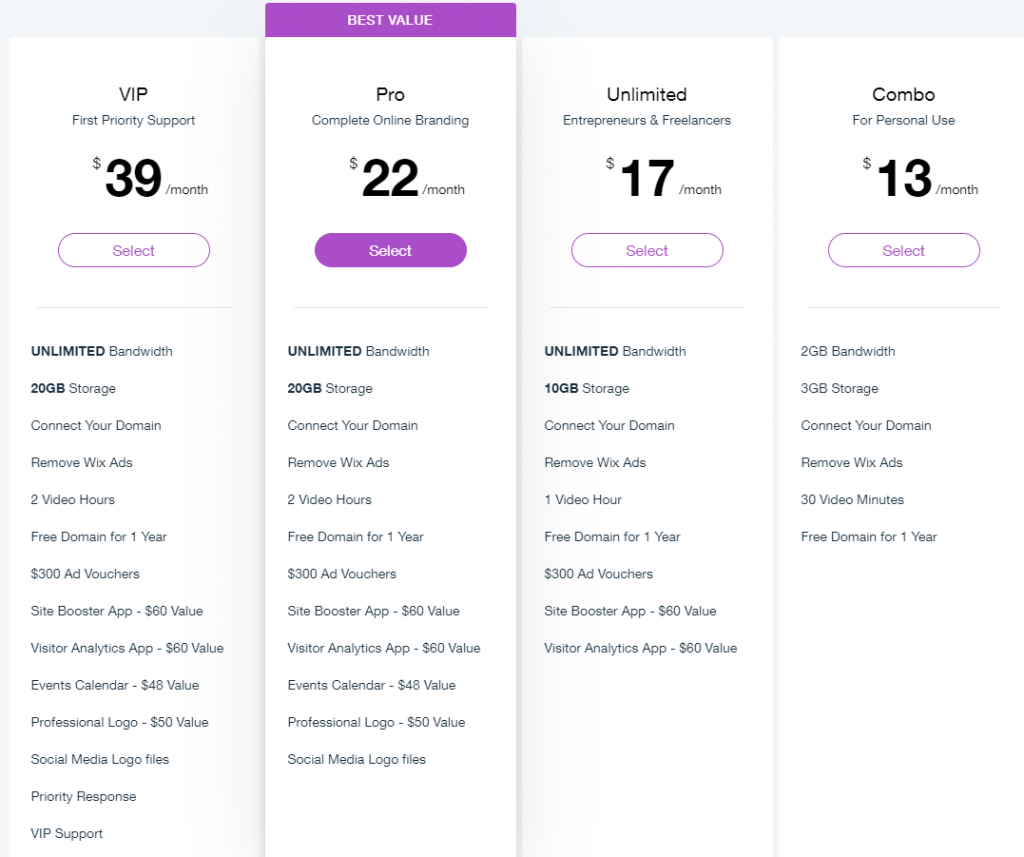 And here are the Wix plans designed primarily for eCommerce, which may be important if users are planning to sell products, packages, or other materials in conjunction with the event being hosted.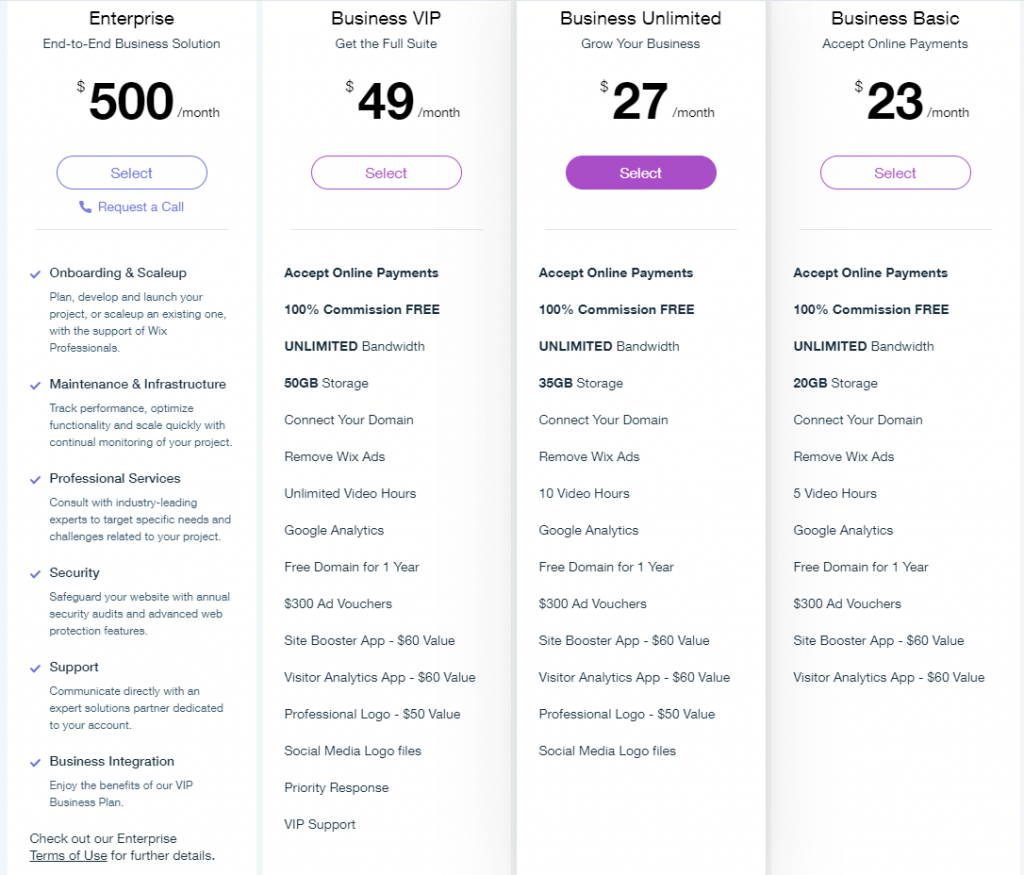 In comparison, Squarespace offers a simplified four-tier set of packages, as seen here: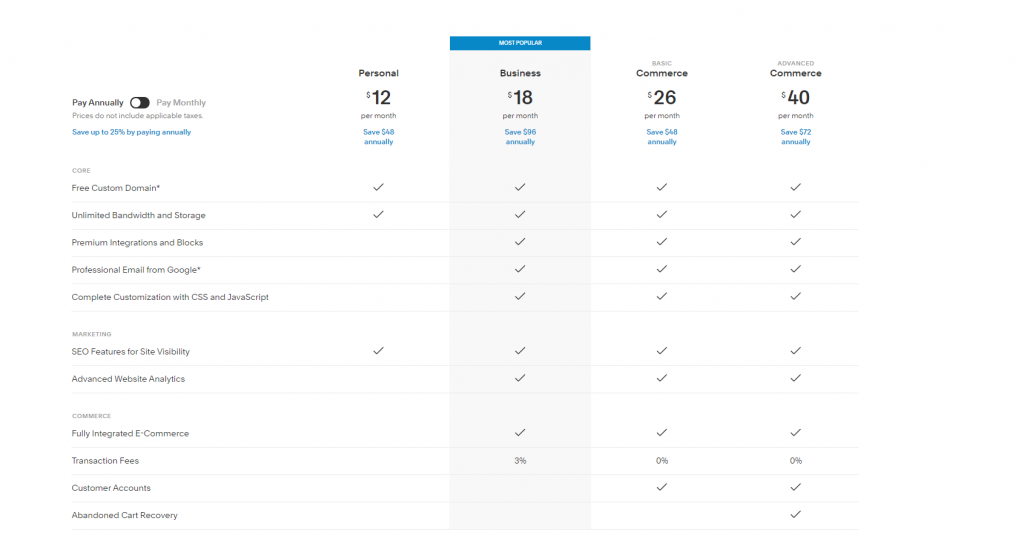 While it is clear the extent of features that are available (or not) depending on the different plan options, for most event planners, there are a few specific packages offered by both companies that will be largely the main choices for event hosting needs. It is also important to note that these prices are based on annual subscriptions – while they are listed monthly, paying month-to-month will be higher in each case (the companies choose to be a bit cagey about letting users know this information).
With this in mind, the most useful package options from Wix are the $14/month Wix Unlimited plan, which gets users unlimited bandwith, significant storage, the ability to connect a custom domain, removal of all Wix ads (especially important if hosting a professional event or don't want users distracted from personal branding), as well as a variety of other features. The bandwith option is especially important – while Wix offers some cheaper lower-tier plans, those plans only guarantee 2GB of bandwith – if this is confusing, consider that amount of bandwith is only really useful for about 25-30 visitors per day. So if users are expecting greater traffic than that, unlimited bandwith will be key to avoid errors and slowdowns that could give off an unprofessional appearance. Wix also has a $19/month Pro option, which increases storage and gives even more branding options, as well as increased priority for customer service and support.
Squarespace, in comparison, offers a $12/month Personal subscription that offers both unlimited bandwith and storage, which is fairly impressive for any basic package not only among these two sites, but among any event website builder. There is also an $18/month business option, that offers more features specifically for businesses and eCommerce needs.
So which is better? Candidly, there isn't much difference here – while the Squarespace Personal option gives users more bang for a slightly cheaper price, the Wix plans are more than adequate for slightly more money. With that said, if users are looking to include eCommerce elements like selling products, packages, or tickets, the additional Wix packages may be more attractive, specifically because they are designed with additional eCommerce features in mind. Additionally, there is no commission associated with the Wix plans, while Squarespace does charge a 3% commission for the Business subscription.
The Bottom Line: Which Event Website Builder is Better?
As stated at the outset of the article, at the end of the day Wix provides a significantly more robust option for customization, choice, and integrating apps and functionality when compared to Squarespace. While Squarespace has the more polished set of templates, and interface better tailored to selling products and creating an online marketplace, event professionals will appreciate the ability of the Wix platform to design sites for a wide variety of different events. Especially for users who will be hosting a variety of different event types, this ability to differentiate templates to adapt to client needs is simply invaluable and helps Wix stand above its competition.
However, we will again argue that for anyone focused on sleek and professional digital appearances, Squarespace templates are simply a step above in their execution. For event hosts competing in high-tech spaces, the futuristic designs of Squarespace may be more appropriate to the companies, brands, and individuals that will be attending or hosting events in their space. At the end of the day, the choice is very much tied to the goals and expectations of the event host and type. Neither one is a bad choice.