New This Month: Event Payments, Ticketing System, and Gifts & Donations Collection
March 2018 Edition
You've been asking, and we've been listening. You can now accept event payments — right within the RSVPify RSVP experience! We've married the planet's most powerfully simple online RSVP and event management platform with a versatile event payment and ticketing system.
RSVPify's new paid event management suite offers a flexible, hugely-customizable event RSVP and payment experience. Whether selling tickets, collecting payments for accommodations or accepting cash donations and gifts, it's quick and easy to take payments through RSVPify.
A Seamless, Fully-Brandable Online Event Payment System
Most of the other online ticketing and payment systems out there want sell their brand and promote other events. We've built our ticket and payment platform to be different.
With RSVPify, you can customize virtually every element of the online event registration and payment process, right down to the email confirmation and receipt guests receive. Keep the spotlight on your event, organization, and brand.
Multi-Part Event Capable
Collect payments for events and sub-events in one seamless flow.
Customizable Payment Options
Collect payments for entire tables for a fundraiser, sell raffle tickets, etc.
Collect Donations or Gifts
Optionally collect donations from guests instead of or in addition to their event payment.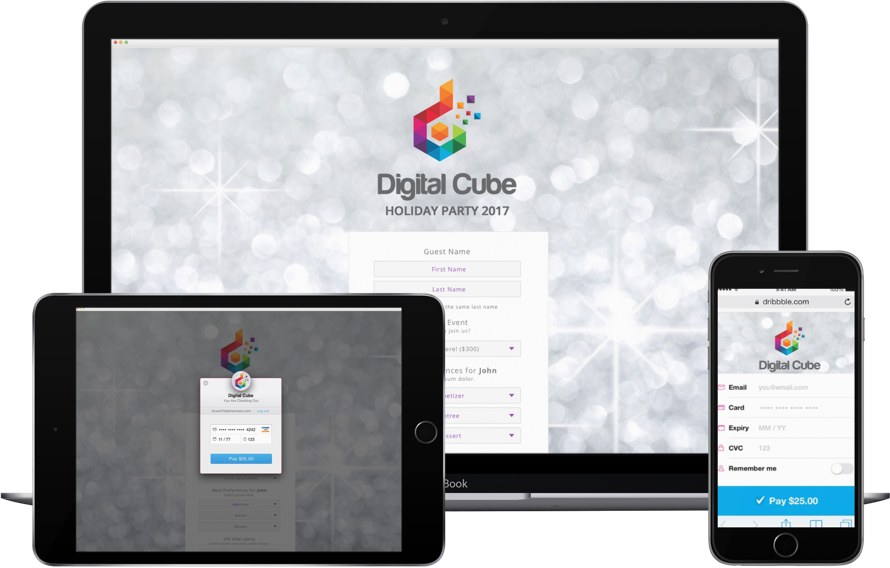 Integrated With Stripe
We've teamed up with Stripe to offer a secure, flexible, and affordable enterprise-grade payment processing solution. You can process payments from anyone with any major credit or debit card, anywhere around the world. This week, we've launched support for the US Dollar, and will be rolling out support for most all major currencies in the coming weeks.
With RSVPify and Stripe, you'll receive daily event revenue or donation payouts. It's your money, and think it would be inconsiderate to wait until your event is over to pocket it.
Get RSVPify's Platinum Features Free
When hosting a paid or ticketed event with RSVP, we'll upgrade your event to RSVPify Platinum ($119/month) 100% free. This means RSVPify's powerful suite of advanced RSVP, guest list and event management features come free when you enable ticketing or payment mode for your event.
Quick, Easy, and Flexible Online Ticket Sales & Event Payment
It takes just minutes to create a paid or ticketed event. To enable ticketing mode or collect event payments, head over to Setup > Sell Tickets & Collect Payments. You can find a full set of FAQd and tutorials in our ticketing support library.
Industry-leading Service Fees
Giving away up to 10% of your event's revenue to your online ticketing system vendor won't cut it anymore. RSVPify's ticketing and payment systems are 100% free to set up and use. We'll charge a small commission of 1.95% + $.90 per ticket, donation or gift. Our online ticketing service fee structures are clear, transparent and among the lowest out there.
Zero-Cost To Event Hosts, Pass Fees Along to Guests
Optionally, ask guests to help cover some or all of the credit card and service fees for your event. You can charge guests a fixed fee per transaction, or a percentage of total sale. Oh, and you can also collect local taxes, as applicable.