How do you make the best wedding website possible to organize your event?
Even just a decade ago, the idea of organizing a wedding digitally was considered tacky. But today, a wedding website is considered essential to organizing, promoting, and remembering your big day. With the emergence of various wedding website builders of all shapes, costs, and complexities, you truly have a gamut of options to choose to build your own wedding website. However, regardless of how big or small, fancy or casual, or traditional or modern you plan your wedding to be, the best wedding website will need some essential sections to be an effective tool for you as you plan your event, communicate with guests, and gather the key information you need for vendors and ordering purposes.
To simplify this, we decided to create a handy-dandy checklist of essential sections every wedding website should have. The specific information, tone, and details are up to the couple – each is unique! However, these sections are the key elements that will help you make the most of using your wedding website builder to create the best wedding website you possibly can.
The General Information
One of the best reasons to create your own wedding website is the ability to collect all of your key wedding information in one spot. Depending on how big or complex your wedding will be, this page may be a single section or broken up into several pieces. We recommend a layout organized by the following sub-sections:
Schedule – Important dates and times around the wedding itself
Venue Information – Key details about the venue (or venues) for the ceremony and reception. This should include directions, requirements, parking info, important information for guest comfort (attire requirements etc), and the venue website if possible.
Additional Information – For anything miscellaneous that doesn't fall under the previous two headers.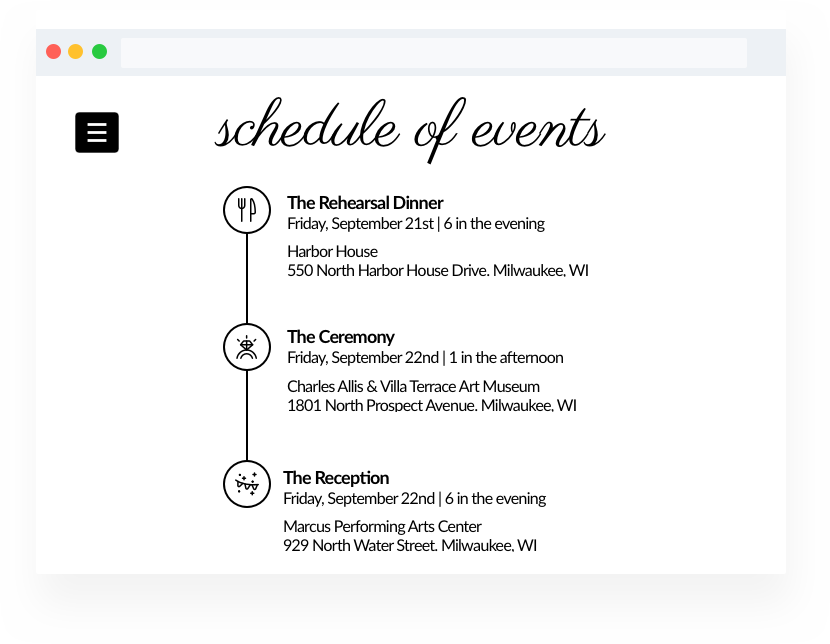 Accommodations Details
Unless you are planning a relatively small wedding or only inviting guests from the nearby area, you will probably need to provide hotel or Airbnb information for your guests. Including links to the specific hotels, as well as room block codes for discounted rates, can make the booking process much easier for your guests (and save you a ton of annoying emails or phone calls asking for this info over and over again).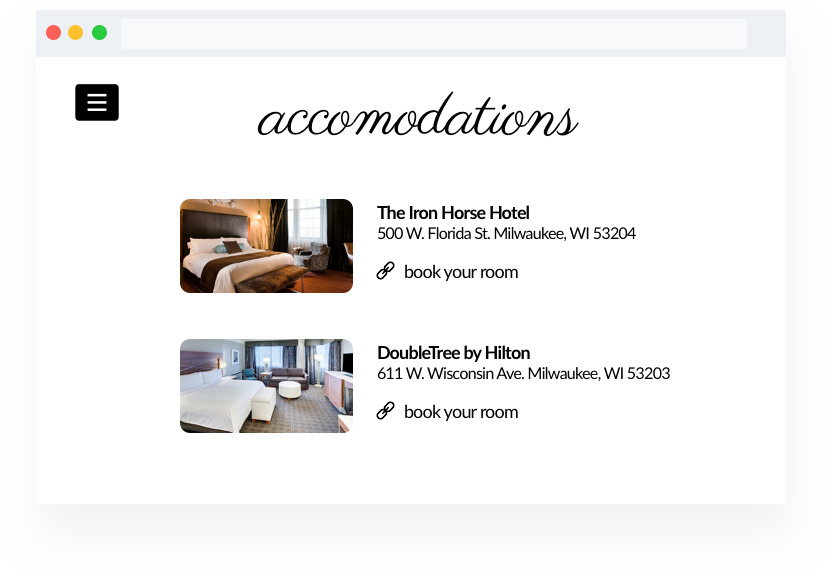 Registry Page
Hey, people want to get you gifts for your wedding – enjoy it! But also, make it easier on your guests by providing links on your wedding webpage to your registry pages so they don't need to go searching for them. Common vendors like Amazon, Target, and Bed Bath and Beyond offer easy link embedding options. That allows you to make it easy for guests to go straight from your wedding page to your registry in a single click.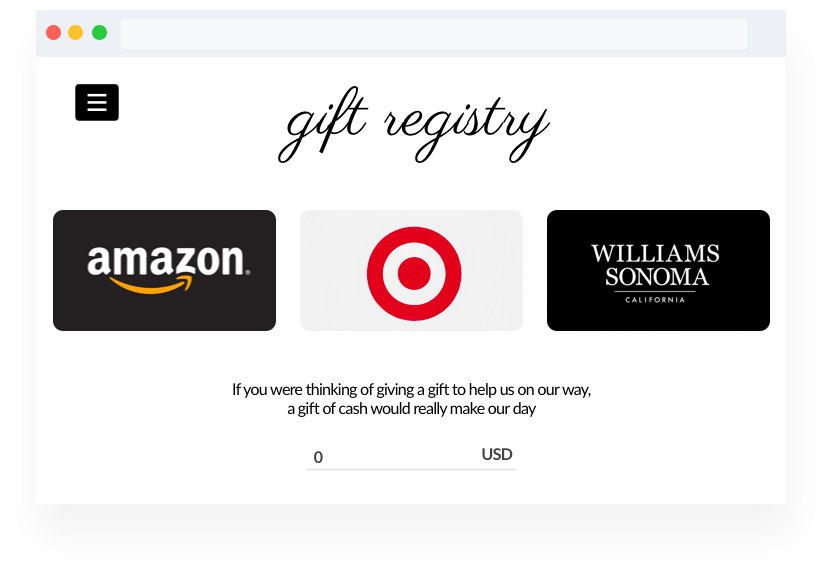 Attractions/Area Information
This one is a bit more optional. It depends on how many of your guests will be traveling from out of town to your wedding location. If a sizable number (we'd say a quarter or more) will be coming in from other locations, providing tips on travel details (like nearby airports or highway directions), places to eat, and cool things to do or visit is a great way to help your guests make the most out of their wedding weekend. It also lets you show off your home or region. You can also play tour guide for all of your guests at once, without having to answer each of their questions.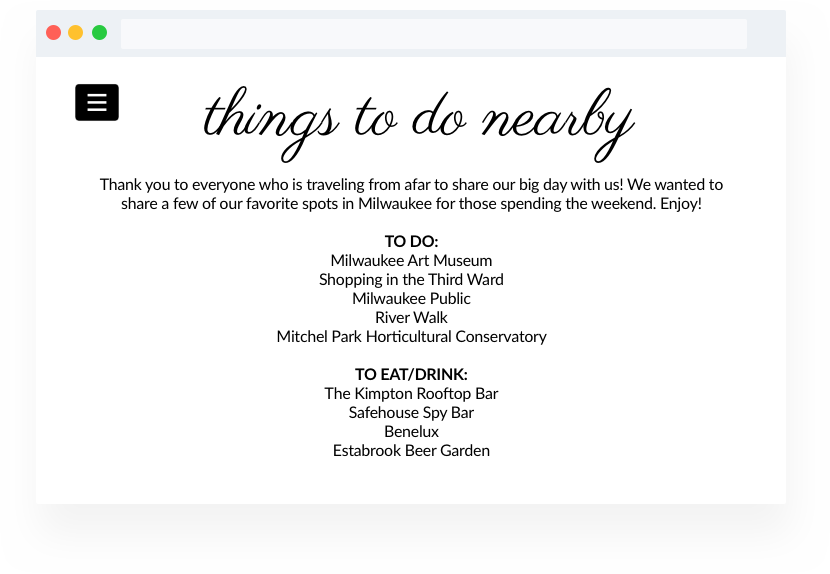 RSVP form or page
Some of the best online RSVP sites now offer the ability to embed an RSVP form right into the wedding website. Instead of having to direct guests to an external site to collect RSVPs, or the old stressful format of collecting paper RSVPs through the mail, embedding an RSVP form right on your wedding website means your guests can not only learn about your event, but also respond in the same place. This is one of the easiest ways to make sure you get your wedding RSVPs quickly, efficiently, and on time.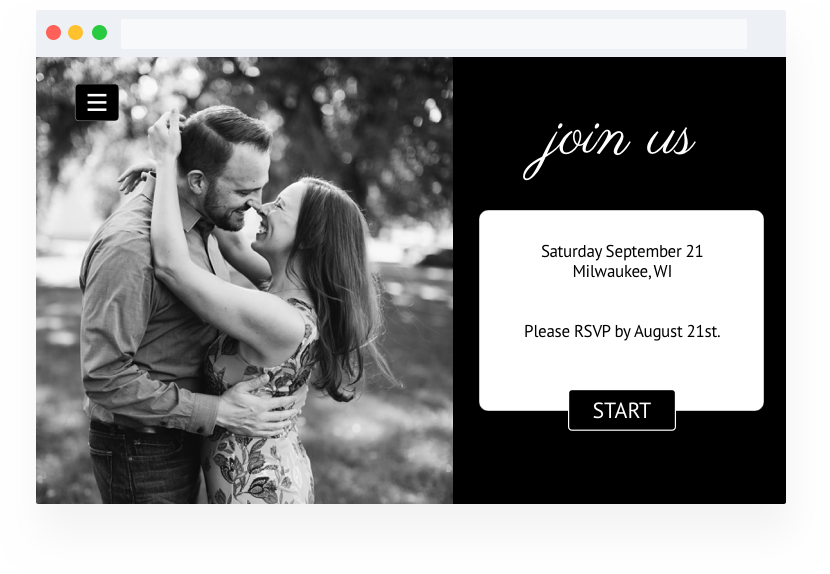 Other Pages Included on the Best Wedding Websites
This last category is much more optional and depends on your plans for your wedding. If you are going to create custom hash tags for sharing photos and videos on Instagram, Facebook, or Snapchat, creating a page with this info is a good way to make sure everyone can see it. You can also create pages with embedded forms for collecting info. This allows your guests to make song requests, or to share pictures that you can use to create a collage or slideshow for the wedding itself. Every couple seems to be coming up with creative and fun ideas for making the most out of tech at the wedding these days. So, if you have something else in mind, just remember that using your wedding website to get the word out is the best way to make sure all of your guests know about it.