Planning a birthday party? These templates will check invitations off your to-do list in no time.
If you're planning a birthday party, one of the most important things you'll need to do is create invitations to send out to your guests. Fortunately, you don't have to start from scratch. There are plenty of free birthday invitation templates available online that can help you create beautiful and professional-looking invitations without any design skills. Many websites offer a wide variety of templates to choose from, including templates for different types of birthday parties such as kids' birthdays, milestone birthdays, and themed parties. When selecting a template, it's important to consider the type of birthday party you're planning. If you're throwing a children's party, for example, you may want to choose a template with bright colors and fun graphics. If you're planning an elegant dinner party, on the other hand, a more sophisticated template would be more appropriate. 
Once you've selected your template, it's easy to customize it to suit your specific event. Most templates allow you to add your own text, change the font and color scheme, and even upload your own images. When you're happy with your design, all that's left to do is choose how you'll share your customized invitation template. Print your invitations and send them out to your guests, or choose a digital method such as email invitations or sharing the invite image to guests by text. 
Best Birthday Invitation Templates
With birthday invitation templates, you can create beautiful and professional-looking invitations without spending a lot of time or money. So why not give it a try for your next birthday party? Let's review our favorite paid and free invitation template providers:
Template.net offers a collection of templates that are downloadable and can be edited using different tools like Microsoft Word and Photoshop. You can choose from the available free templates or opt for a pro membership for just $2 per month, which provides access to thousands of premium templates. This affordable option is perfect for those looking for a broad selection of invitation templates to choose from.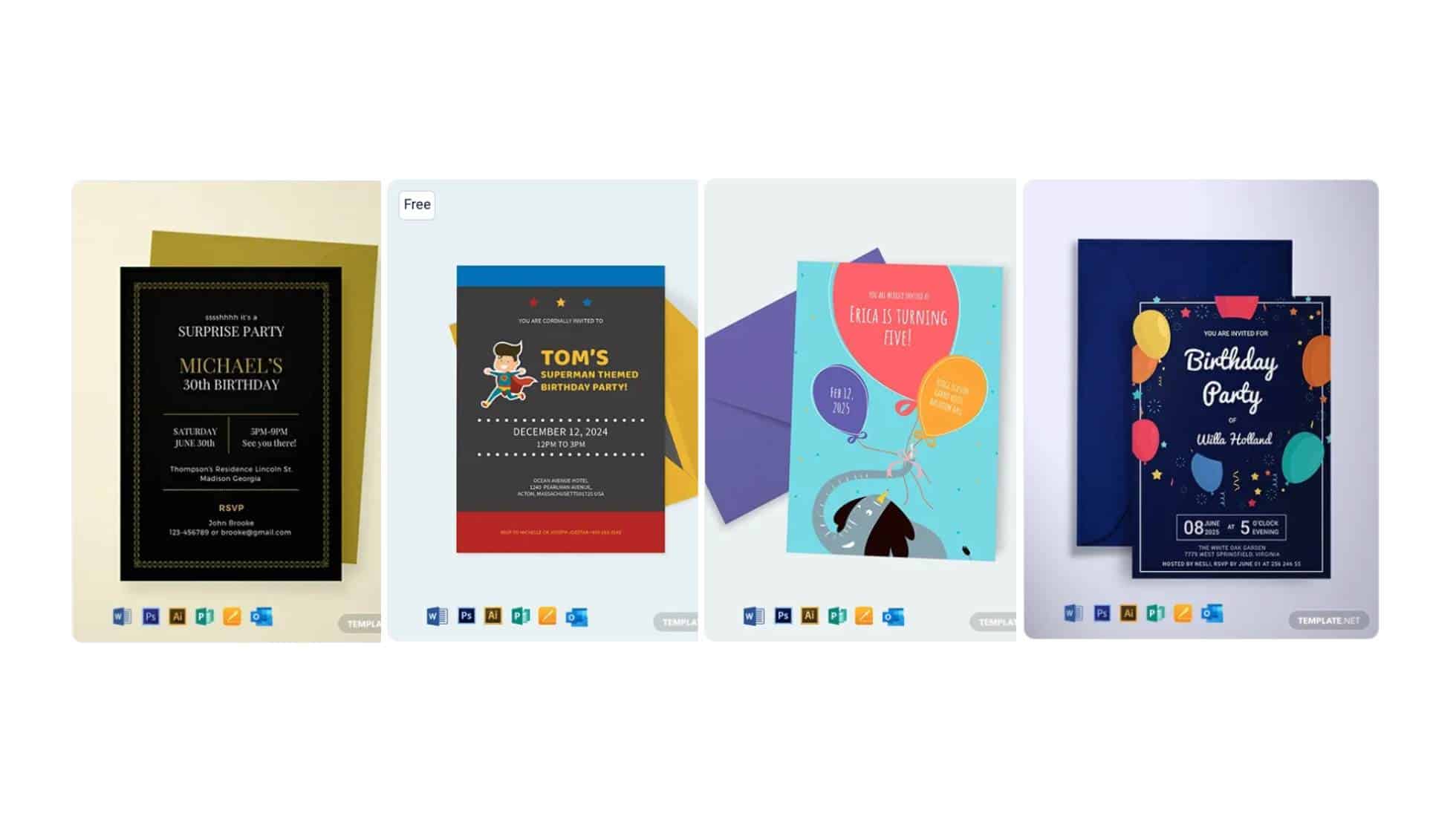 Zazzle is a well-established marketplace that was primarily known for its print products. They have now have expanded their offerings with instant downloads of customizable templates! Like Etsy, these templates do come with a price tag, but the selection is worth the investment. With a range of premium-quality invitation designs to choose from, Zazzle is sure to have something for everyone's party needs.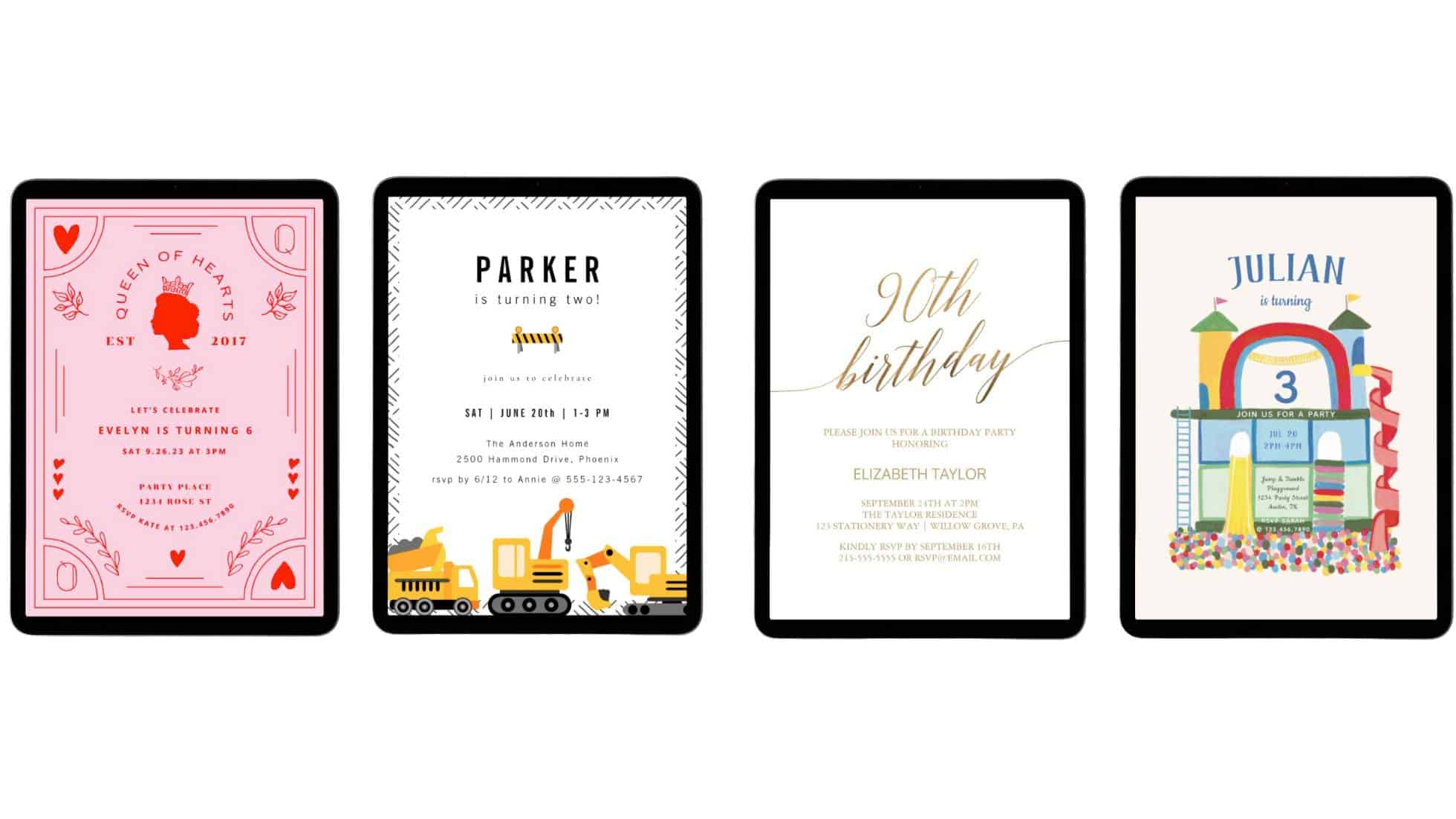 From the left: Queen of hearts |  Construction theme | Gold calligraphy | Indoor playground
Greetings Island offers a great selection of templates, which can be personalized and downloaded at no cost with the Greetings Island branding. If you prefer to remove the watermark or use a premium template, you can purchase a subscription or individual design packages at an affordable price. Overall, Greetings Island is an excellent option for creating birthday invitations without breaking the bank.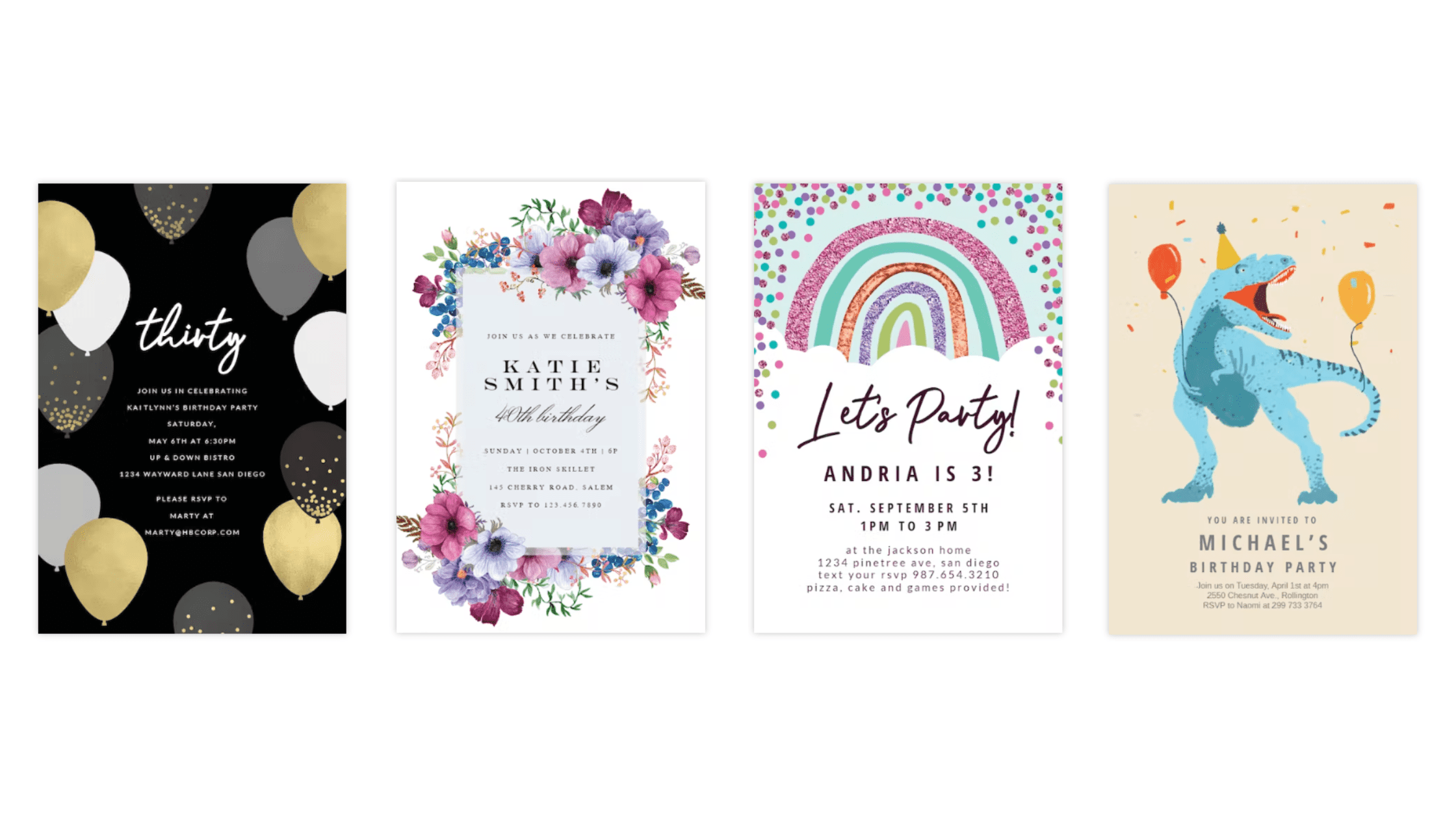 Adobe, the creators of popular graphic design software, launched their Express platform to provide simplified design tools and customizable templates. With a range of birthday templates to choose from, the free plan offers robust customization options. For even more features and options, users can subscribe to a premium account starting at $9.99 a month.
Canva is a free design tool that offers a vast library of customizable templates, similar to Adobe's Express tools. While many of the templates are completely free, some options may include premium design elements. In some cases, you may be able to remove premium elements without taking away from your invitation design. However, if you want to use the full suite of design elements and options, you can always purchase a premium subscription (starts at $12.99 per month).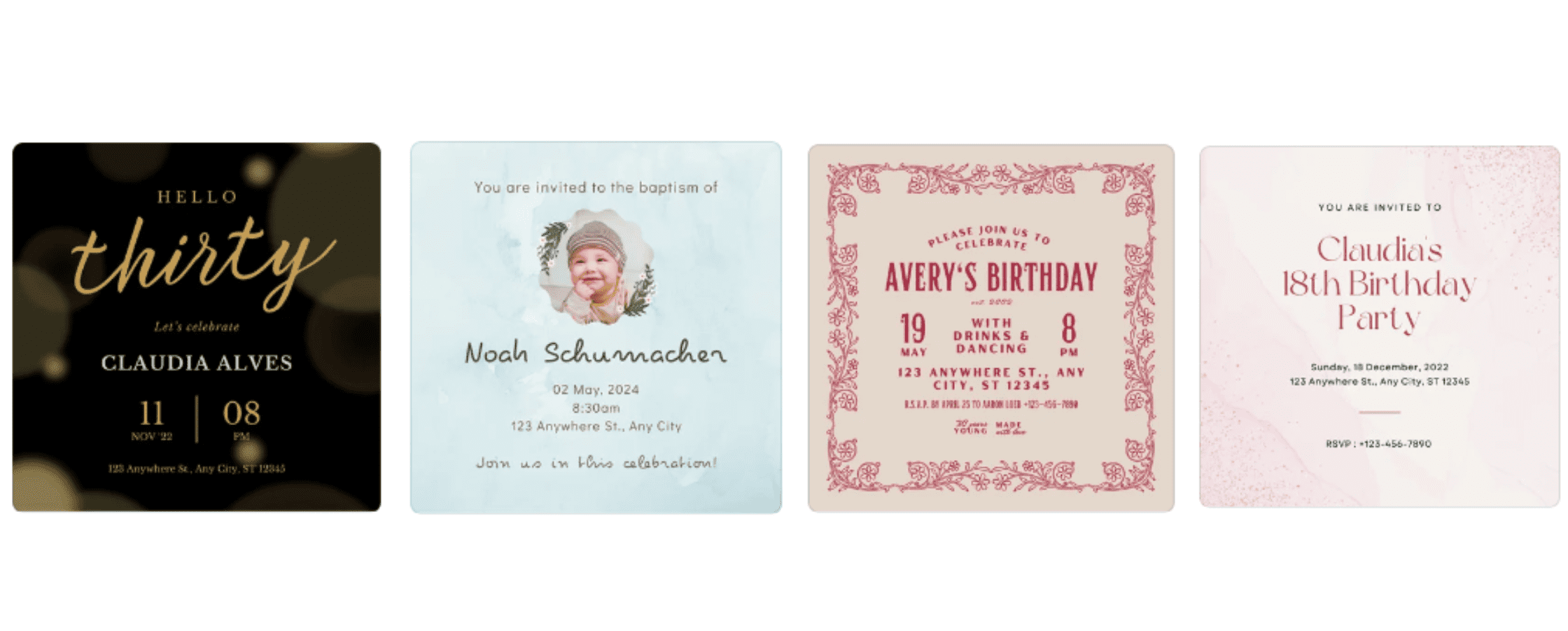 Wepick is another great resource. Their editor is straightforward to use, making it an excellent option for those who are not tech-savvy. You can choose from various invitation themes, but the site is particularly great for finding bold and colorful templates for kids' birthdays.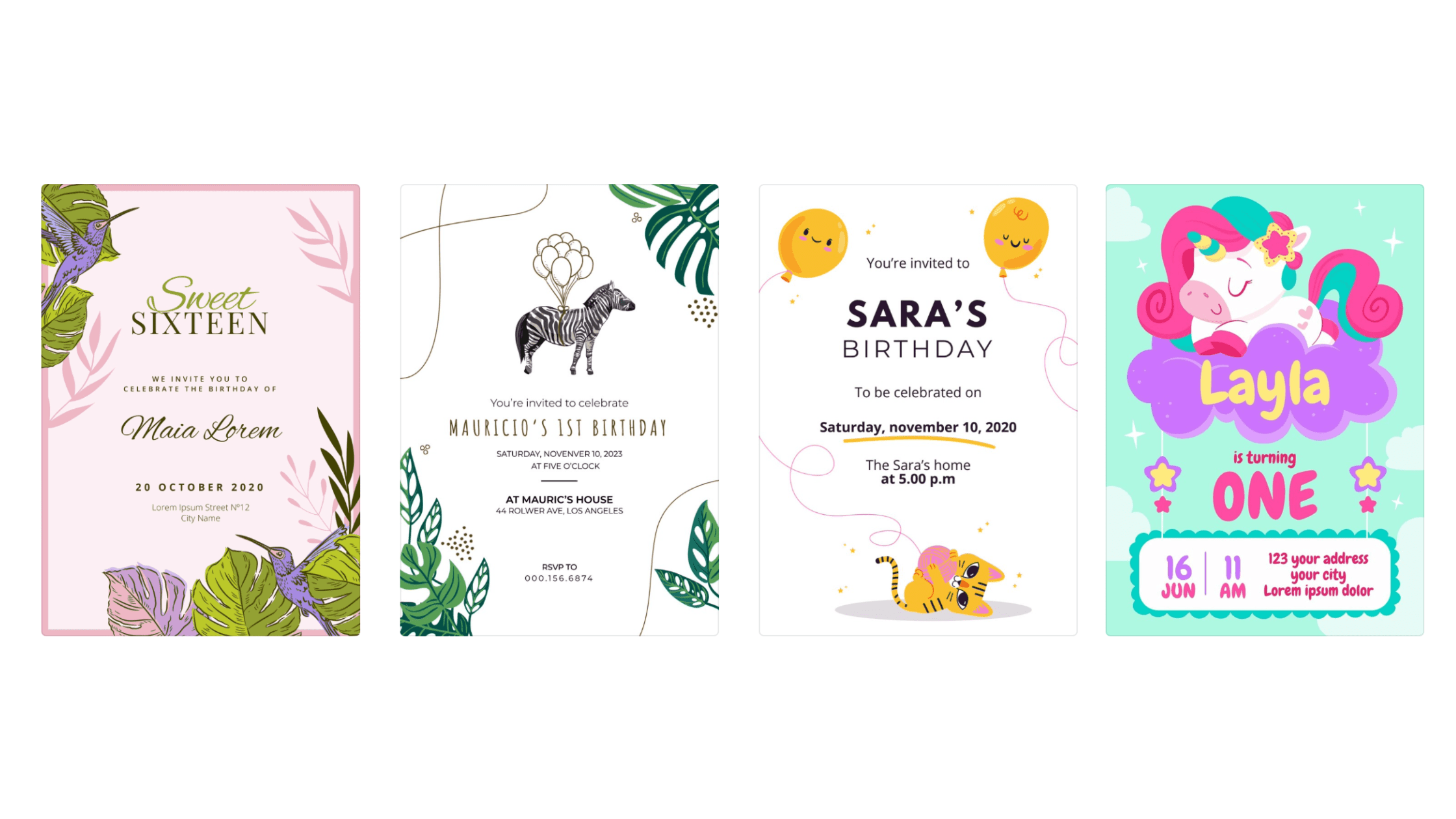 The Etsy marketplace offers a great option for those who are willing to spend a little extra to purchase the ideal birthday party invitation template. With a multitude of shops offering digital templates, you can easily find a design that matches your party theme or style. Once you have chosen your favorite design and made your purchase, you will receive access to an online editor that enables you to customize and download your template. With the vast selection of options available on Etsy, you are sure to find a perfect invitation template that will make your party stand out.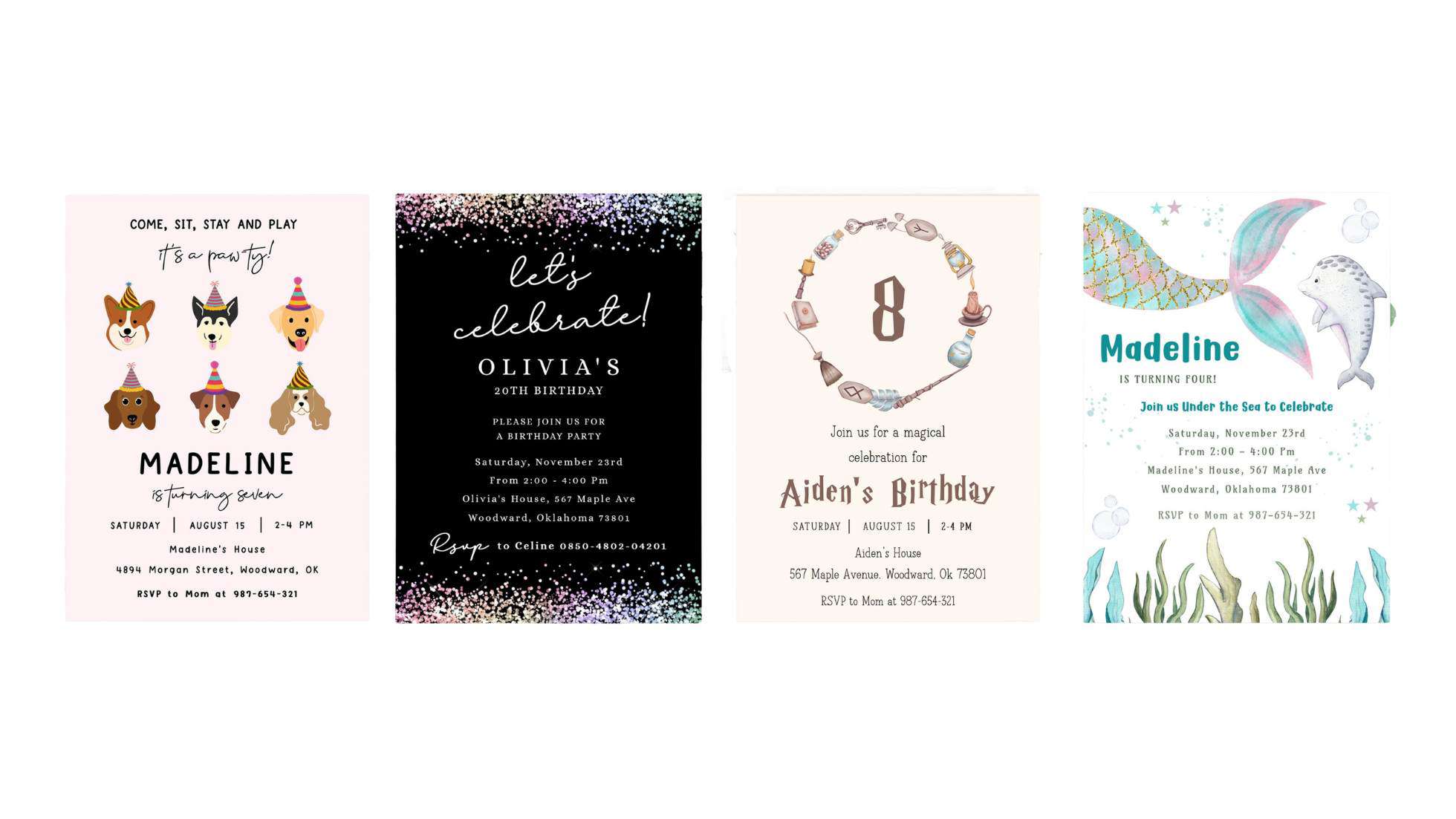 Invitation examples from SereneowShop on Etsy
Benefits of invitation templates
Invitation templates are the perfect solution for anyone who needs to create an invitation quickly and without the hassle of starting from scratch. One of the key benefits of using a birthday invitation template is their ease of use. Template providers like Canva or Adobe Express offer user-friendly interfaces that make it simple to create a beautiful invitation without any design experience. Additionally, the variety of pricing options available from template providers like Template.net and Greetings Island make it easy to find the perfect template for any budget. Time-saving is another significant benefit of using a birthday invitation template, as it eliminates the need to spend hours creating an invitation from scratch. These templates also offer flexibility, as they can be used for paper invites, digital invitations, or sharing the invitation on social media, making them ideal for any type of event.
Best practices for using invitation templates
When using an invitation template for a birthday party, it's important to follow some best practices to make sure your invitations are effective and error-free.
Take the time to fully customize the template and ensure that all the information is accurate and relevant to your party. This includes key details such as the date, time, location, and RSVP instructions, which should be easy to read and follow.
Be sure to proofread your invitation carefully, and ask someone else to review it as well to catch any mistakes or omissions.
Test any links or QR codes included in the invitation to make sure they work as intended.
Finally, pay attention to the color scheme and font choices, especially if you're modifying the default design, to ensure they are legible and visually appealing. If you're printing the invitations, it's a good idea to do a test run before producing all your copies. 
By following these best practices, you can create invitations that not only look great but also convey all the important details of your party to your guests.