Earlier this summer, event ticketing platform Eventbrite announced some significant changes to its pricing and plans for all users. After years of building a business model largely on enabling event creators to offer free and paid tickets for their events, the company has shifted its focus to profitability through a series of marketing tools meant to help event creators promote their events and connect with new interested audiences.
While the rationale for Eventbrite's decision involves a much longer look, many current Eventbrite users are left frustrated and confused about why their formerly free events are no longer free. Complaints from Eventbrite creators on social media have focused not only on the costs associated with new fees, but also on the opaque rollout of these changes that have left creators scrambling to figure just how much Eventbrite will cost them going forward.
To help clear up some of this confusion, here's a deeper look at how Eventbrite costs have changed and what these changes mean for different types of event creators.
What are Eventbrite's new fees and plan costs?
Starting in July, new event hosts in the US, Canada, Australia, New Zealand, and more were transitioned to a new Eventbrite fee structure. Under the new fee structure, only events with less than 25 tickets are still free. For events of any type expecting more than 25 attendees, you have two options, according to the company's press release detailing the cost shift: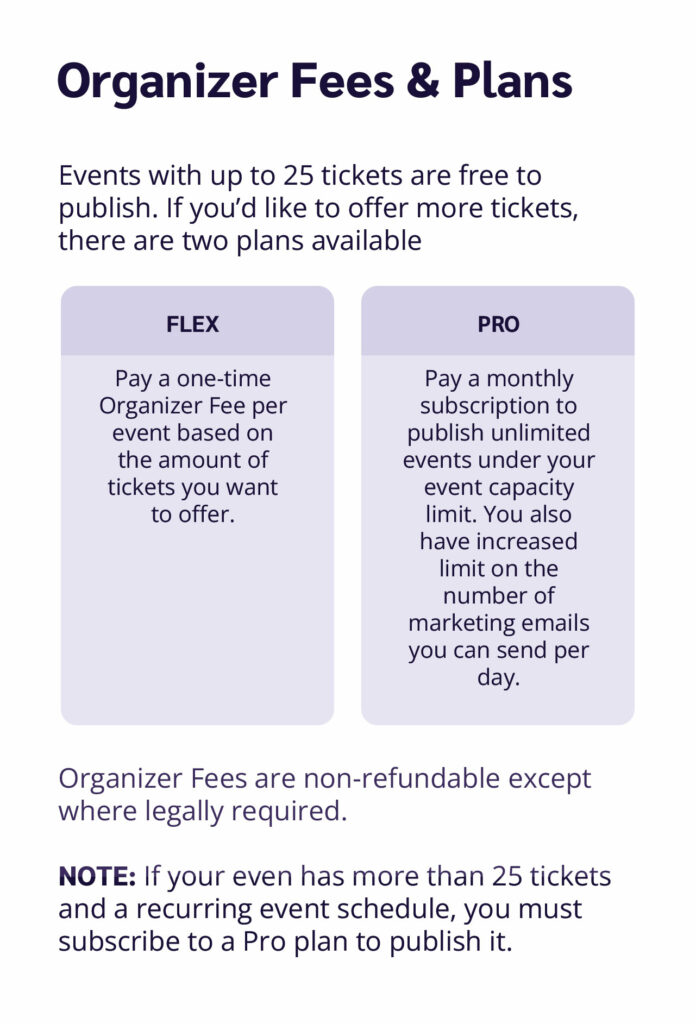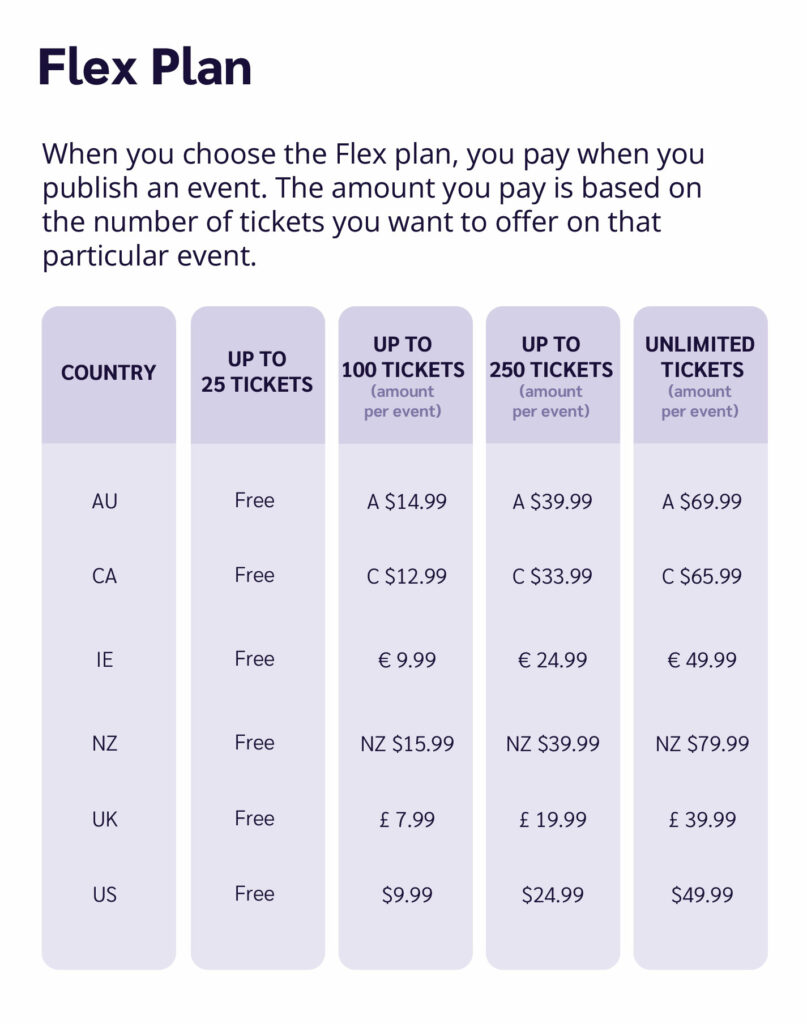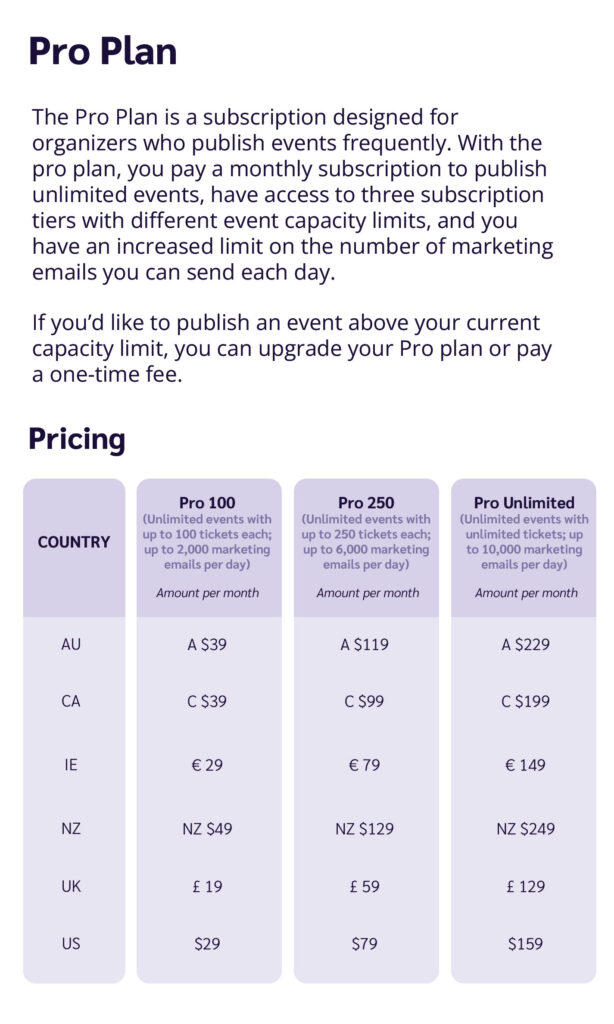 What impact do Eventbrite cost changes have on current and potential users?
So what does this mean for current Eventbrite users? Well, in the past, hosts of frequent small events (B2C or casual users, nonprofits, schools, and more) could use Eventbrite free for their organization. However, under the new plan and fee structure, organizations planning on hosting single or multiple events (or who have always done so in the past) with more than 25 guests will need to choose one of two paid plan options instead.
For a one-time event, these types of users will now need to opt for the Flex plan, which is priced based on your total event attendance (even if you are not selling tickets). This means that an event that registers 101 attendees will automatically be charged at $24.99 for the user (USD), whereas 99 attendees would cost 9.99.
For hosts of recurring or multiple events, the Pro plan offers a way to avoid the per-ticketing fee, but requires a monthly subscription instead. This means that even if you are only planning a series of small (25-50 person for example) events, you will now need to calculate whether the subscription is actually cheaper for you long-term.
Let's say that you are a small nonprofit that hosted biweekly community meetings that are free to attend, in order to solicit feedback from residents around initiatives to pursue. In the past, if you regularly had 20-40 people attend your meetings, these would be free without a second thought. Now however, you would only qualify as a free user if 24 or less people attended. As soon as that 25th person registers, you will automatically be charged 9.99 under the Flex plan. Your other option would be to become a Pro 100 monthly user, which would cost $29 per month but give you leeway in having up to 100 attendees at each event.
Who is most impacted by Eventbrite cost changes?
The short answer to this question is that anyone planning on hosting an event for more than 25 people is impacted. However, given the vastly different types of event creators on the platform, there are some specific user types who will feel the impact of these changes more than others:
Casual users who were hosting events like paint-n-sips, book clubs, or nonprofit events will now have to think hard about whether the new costs are worth trading off for convenience. If your margins on making money or breaking even from events were tight earlier, the changes may now make it impossible to host these types of events anymore.
Small organizations that hosts lots of events might be priced out by new subscription tiers. For alumni organizations planning monthly "game watches" or get togethers, Greek life orgs, volunteer clubs, school organizations (such as the PTA), and more, these changes remove a consistent software option that many have relied on for years.
Any organization that relies on ticket sales for fundraising will now be seeing a significant portion of their previous receipts eaten into by Eventbrite fees. Even if you will still be clearly making a profit from your events with new fees, is it worth sacrificing the extra revenue just for sticking with a tool you've relied upon in the past.
Event planners and organizers of frequent large events (such as trade shows) are also going to feel the impact, even if opting for a new Pro Unlimited plan, which removes the cap on total events and tickets. This plan now comes in at a base of $159 per month before adding additional event marketing tools – meaning enterprise-level users may be looking at annual prices in the thousands of dollars to gain the same feature set and account abilities they previously enjoyed for less.
So what do Eventbrite users do now?
With Eventbrite's clear business model shift to offering marketing and promotion services to users, as opposed to operating purely as a ticketing provider, Eventbrite users will have to adjust to a future with no free events, despite the uproar on social media about this change. Event hosts who fall into one of the above camps and have now lost a reliable free event hosting model have some decisions to make:
Does your budget allow for absorbing increased per-ticket or subscription fees that are outlined in this new Eventbrite fee structure? If so, then you might be able to simply continue using the platform.
Are you willing to adjust your event model to host less events (to potentially avoid the monthly subscription), or is that a non starter?
Are you willing to risk hosting public events that might experience a surge in popularity – but also a surge in unexpected cost due to the new ticketing levels that automatically trigger increased Eventbrite fees?
Are there suitable Eventbrite alternatives out there that offer a competitive feature set and more generous free event creator plans to choose instead?
While Eventbrite's new suite of marketing tools might be worth absorbing some of the new costs as a tradeoff for greater reach and attracting new audiences, if your organization or events don't need expansion, is the value of these tools worth the increased upfront costs?