2019 wedding trends you'll want to consider while planning your big day.
As we approach the end of 2018, the RSVPify team has been reflecting on the past year and gearing up for the 2019 wedding season. We're so excited to work with couples over the upcoming year and watch the year's wedding trends unfold. That said, we thought we would share what we foresee for the upcoming year of weddings! Of course, kicking it off with our favorite trends in technology:
Digital Save The Dates
Going digital has been a definite trend in the wedding industry. We only see this continuing to evolve as hosts remain focused on saving money and time as they plan their weddings. The rise of 'Save the Dates' has been a trend for years and just like traditional paper invitations, sending paper Save the Dates can get real costly very quickly. While most couples can stomach the cost of sending custom paper invitations, many are opting to design and send online Save the Dates for their wedding.
While most hosts will stick to the traditional paper invitation, couples may consider switching to e-invitations as well. Digital invitations are a great option to invite guests on your 'maybe' list. As RSVPs start rolling in, you can quickly send off invitations by email rather than waiting on snail mail invitations.
QR Codes For Easy RSVPing
Speaking of going digital, let's talk about QR codes. QR codes are awesome to help guests easily navigate to a couple's wedding website with RSVP! Our own RSVPify teammate tested this out for his own wedding and a guest even reported, "best RSVP experience ever". Guests were super excited about the QR code experience and the ease of quickly responding without even having to type a link in their browser.
When a guest receives their invitation, they can open the camera app on their Apple device to scan the code. A prompt will display that guests can click to bring them to the wedding website or RSVP. These steps will provide a delightfully simple RSVP process!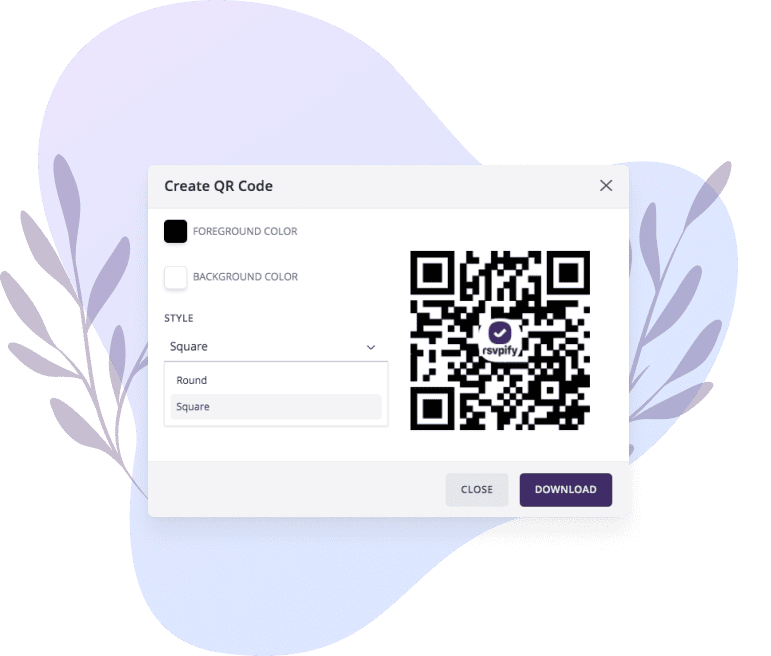 Formal Dining Styles & Inclusive Menus
While unconventional dinner options have had their time, couples will be making the move back to more traditional and formal dining selections. We see couples opting to offer formal menus where guests select their entree during the RSVP process and have their selection formally served to them at dinner. As people, in general, are more aware then ever of food sensitivities and allergies, couples will also be sure to include options for every and take dietary concerns seriously.
Non-Traditional Bridal Style
Brides have been slowly breaking the mold of what is 'expected' of them on their wedding day. 2019's brides will take their bridal style into their own hands. This year brides will wear whatever makes them feel comfortable, confident, and most importantly like themselves. Some brides will ditch dresses altogether and opt for a jumpsuit. Others will show their style through shorter hemlines, cropped two-piece sets, or even dress stray from the traditional shades of white. Speaking of colors, gold wedding dresses are expected to be a popular pick in 2019.
Stackable Wedding Rings
In terms of jewelry, stackable rings are the thing to talk about. Moving away from the simple wedding band, brides are stacking multiple rings on their finger. While you can start with multiple wedding rings, many couples are adding extra rings in celebration of big moments. A big anniversary or birth of a child may be the perfect occasion to add to your ring stack.
What trends do you expect to see in 2019? We'd love to hear in the comments below!