Vacation bible schools are a foundational part of building your church's community. From giving church youths a nurturing and positive spiritual experience to helping to knit your community closer together, vacation bible schools have been an annual tradition for most churches for a reason. But the success of your vacation bible school isn't just about the attendees and events. Careful, thoughtful VBS registration planning can help you fill your slots early and easily, making programming for the actual event that much easier for your planning committee.
So how can you ensure an effective VBS registration for your church? What key factors should you be sure to include in your planning and registration process? This guide highlights some of the most essential elements of VBS registration planning, as well as some tips to ensure your registration process runs smoothly.
Questions to consider before opening registration
Like any planning process, developing a list of essential questions to anticipate potential problems is a good idea. The more you can anticipate the questions of your VBS attendees, their families, volunteers, and vendors, the more you can ensure the final event meets your expectations. Here are some of the key questions to consider with your fellow planners as you design your registration:
Do we want to use an online event registration system to allow for digital signups, or a paper process?
What is the capacity of our venue and transportation options? Will we provide transportation and include related fees, or require attendees to travel themselves?
Based on operating costs from previous years and additional new fees for this year, what is a reasonable registration fee to charge (while still encouraging broad participation)?
Will we need to register and enroll volunteers through the same registration process?
What safety information will we need to collect? (For insurance, COVID-19 protocols, allergies and medical care, etc)
Will we have satellite or secondary events with limited invite lists that need to be handled through registration also?
Will we allow attendees to bring along friends from outside the church community?
These questions can significantly shift your planning, so walking through them as a group while designing your registration process is essential. The content of the event is important, but ensuring it runs smoothly and allows attendees to have an outstanding experience is just as important to the success of your VBS registration.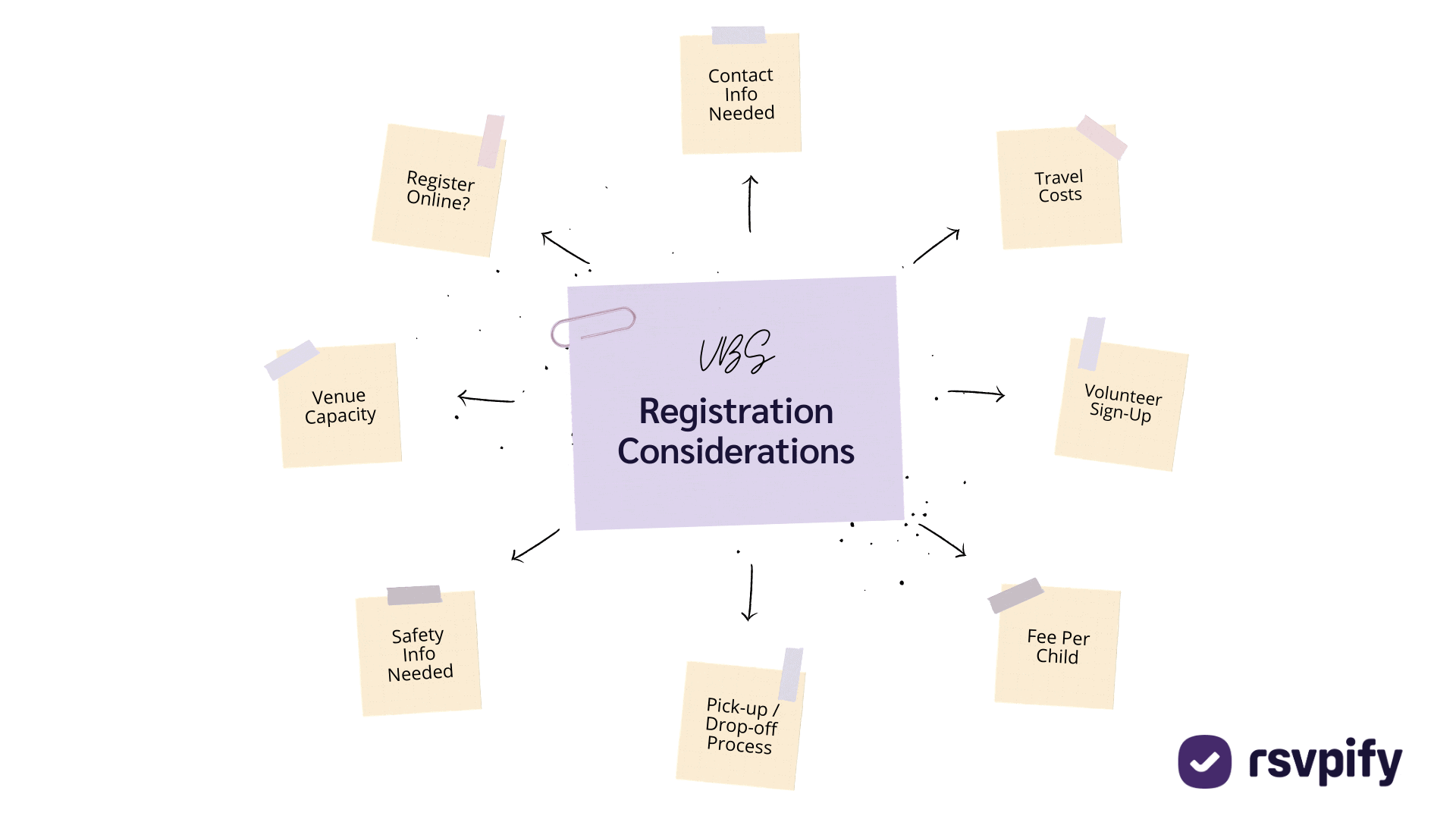 VBS registration info to collection from attendees
To further aid in planning, smart VBS registration planners will gather as much information during registration as possible. For every child or teenage attendee, you will want your event invitation to capture at least the following info:
The age of the child attending
Allergy or medical information to inform on-site medical staff
Emergency contact information
Dietary restrictions
Are they themselves (or a family member) a returning or first-time attendee?
Lodging preferences or requests, if you plan to offer these options
A notes section, for parents to include any additional information
Liability or insurance waiver forms
Certainly, this is just a sampling of necessary questions, and you should discuss with your planning committee if there is any additional information that either you or your host site may need to accommodate your guests. Because of the amount of info you need to collect, this is one reason why many VBS registration processes are turning to online event management apps, which allow you to customize your registration process to require attendees to submit all of this information. That way, you know exactly what to expect from your attendees.
Volunteer registration
Just like attendees, knowing everything you can about your volunteers can also ensure a successful VBS event. Often, many churches handle the volunteer registration process separately. However, using a single registration system for both can make it even easier for you to sort and access your volunteers, while referencing your attendee list as needed.
So what should you find out about your volunteers?
Personal information (age, contact info, education, previous VBS volunteer experience)
Medical, dietary, and allergy information (similar to attendees)
References or recommendation letters
Emergency contact information
Insurance coverage info if needed (or if employing older volunteers)
Liability or insurance waiver forms
Preferences for responsibilities, to help pair volunteers with their ideal role
While volunteers will have their own specific requirements, collecting much of this information in the same place as your attendees can help you create a master list of medical and dietary concerns, contact information, and other key info to pass along to the VBS event supervisor. This will make handling any unexpected issue much easier.
How can RSVPify help?
More and more churches are turning to RSVPify to upgrade their VBS registration process. RSVPify's customizable event templates can collect all of the information above, handle events of any size, and make it easier than ever to collect and share vital information with everyone involved in planning your VBS event this summer. Why is it a great option for you to use?
Collect payments online through the app, or track offline payments along with registration info
Customizable event invitations, RSVP forms, and event pages to add a professional touch to your registration process
Multiple tiers of plans to include more event managers and allow planning members to access your information
Export collected information into Excel spreadsheets for easy access
Mass email abilities, to communicate with all attendees and volunteers simply
Secondary event management, to create sub-events with private guest lists
QR code features, to scan in attendees and volunteers when they arrive