Read Airbnb's Official Newsroom Story
RSVPify Teams Up With Airbnb To Offer Event Guests Seamless Accommodations Booking
CHICAGO, IL, USA – April 19, 2018
RSVPify has teamed up with Airbnb, a global travel community that offers magical end-to-end trips, including where you stay, what you do and the people you meet.
RSVPify will be among the first event management platforms to feature Airbnb's new Events Tool. RSVPify event guests will now be able to discover and book the perfect Airbnb right within their RSVPify event's RSVP experience. Attendees will be able to access an interactive map at the conclusion of the registration process highlighting accommodations near their event's venue.
"In RSVPify's ongoing efforts to provide the most seamless and hassle-free event management experience on the web, coordinating with Airbnb was a common sense match," says Ari Driessen, RSVPify Co-Founder and CEO. "As every event organizer knows, organizing hotel blocks, accommodating guest needs and schedules, and coordinating travel logistics can be one of the biggest headaches for any planner."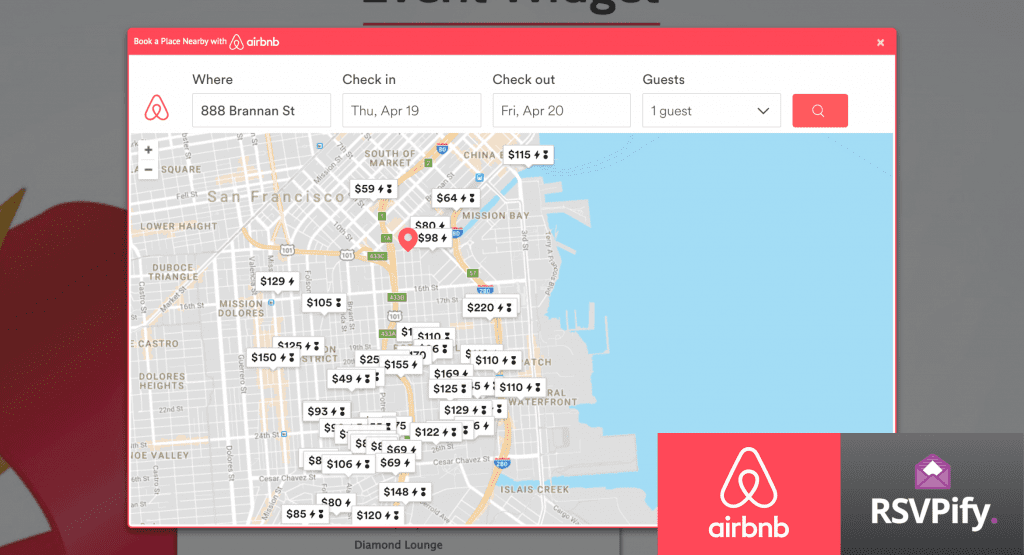 Likewise, guests know that coordinating lodging and travel, especially at the last minute, can be equally stressful. With the integration of the new booking tool, event hosts can seamlessly offer accommodations for any event guest list, big or small.
Event hosts will be able to effortlessly incorporate a Airbnb button into their event's fully-customizable confirmation screen.
Airbnb offers a selection of over 4.85 million listings in over 191 countries, providing event guests access to prime locations and the comforts of home.