An event check-in app can supercharge your event registration – if you know how to use it properly
Event check-in serves as the first impression for attendees for any formal or informal event. While the venue, the vendors, the proceedings, and more obviously shape the overall event experience, a poor event check-in app or process can leave guests frustrated or confused before they even begin. For years, the trick was to hire enough staff to ensure the busiest event registration time could be handled smoothly, but technology was lacking. Clipboards, printed out lists, ID checks – getting people into your event was no different than admitting them to a club or baseball game.
Fortunately, event check-in software has evolved significantly over the past few years. Now, you can assign custom QR codes for guests or parties to allow for contactless check-in, or fully automated processes that need only minimal support staff. Additionally, the best event check-in apps can offer additional features like payment processing, the ability to collect donations, automated scheduling software, and more.
So what's the trick to getting the most out of your event check-in system? How do you choose the right event check-in app with the features you need for a seamless event registration process? Here are four tips to help you pick the right check-in solution for your upcoming events.
Tip #1: Dedicated event check-in app or complete event management system?
As with all event tech, event profs can choose between a range of solutions for handling event check-in. These solutions start with simple event check-in systems that may simply generate QR codes for people who have purchased tickets ahead of time (often given as part of a confirmation email or printable ticket), that can be scanned or collected at the door. You can also find a check-in system that may simply allow for easier logging of guests after they arrived to make mass communication or vendor management easier.
However, simple event check-in apps like this are often limited in terms of integration with other elements of the event management process. For example, you may need to find additional solutions for handling email invitations, online RSVP collection, seating charts, secondary event registration, and more. The feature set (which may be different depending on how much you are willing to pay for a certain subscription level) should be your first consideration when choosing your check-in app.
Tip #2: Choose a check-in system that fits the formality of your event
Especially in the case of corporate events, such as trade shows or conferences, opting for a low-cost but low-feature check-in system may end up giving the worst kind of opening experience. Given that corporate events are often focused on brand integrity and building relationships and potential partnerships, it's important to look for event check-in software that offers customization and design flexibility to ensure that your brand and messaging is the focus.
This often takes the form of enterprise-level subscription tiers, where white-label options are available. These event check-in apps not only offer robust feature sets like the ones we noted above, but also allow you to remove any and all third-party branding or design elements to instead upload or feature your own brand kit. Just as you'll be decorating the venue or conference center in line with your marketing strategy and standards, you'll want an event check-in app that gives you the same level of creative control.
Tip #3: Consider the required hardware
Another convenience and cost consideration that you'll want to keep in mind when choosing your event check-in app is the required hardware. If you plan to sell tickets, most older solutions will simply create barcodes that will require scanners to process. In more basic check-in software, these scanners might need to be run via USB ports, or with proprietary hardware that adds a layer of complication to the event registration process.
More powerful event check-in apps offer the ability to scan codes on any smartphone, tablet, or computer. As long as the device has a camera (and in some cases, doesn't even need to be connected to the Internet), it can serve as a ticket or check-in processor, meaning that you don't need specially trained staff or new hardware to make sure your check-in system runs smoothly. Be sure to explore the hardware or scanning requirements to ensure you have a solution that removes these headaches and allows you to minimize staffing requirements and resources that can be devoted elsewhere to the event planning and event management processes.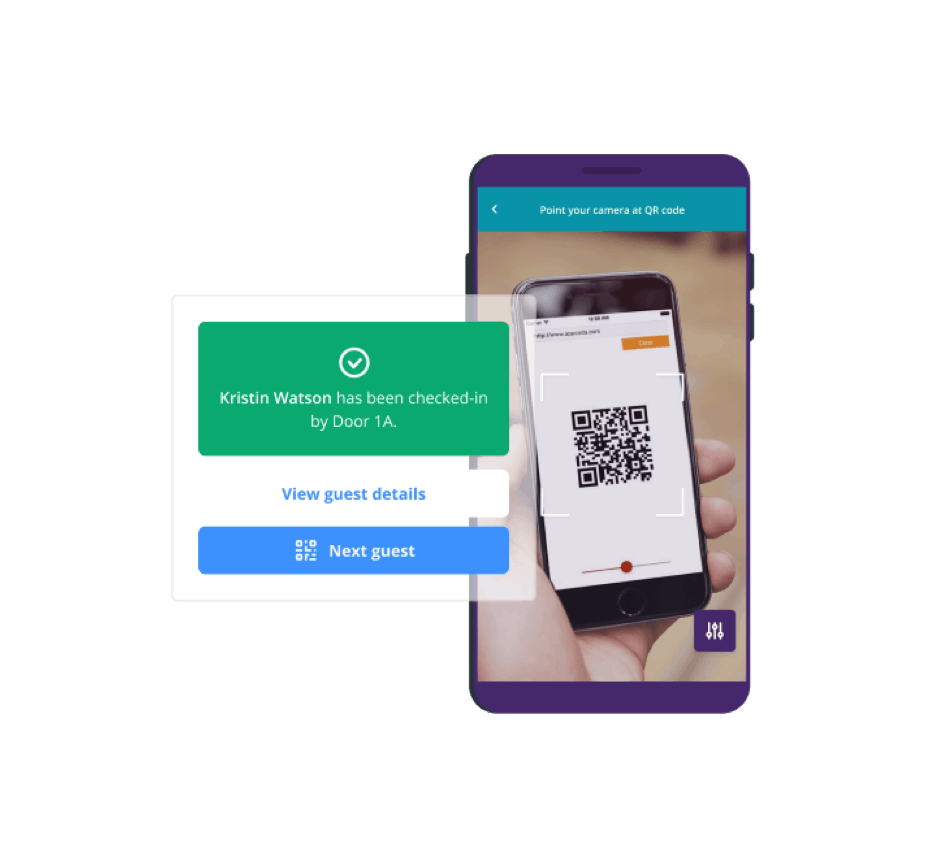 Tip #4: Do you have an event dashboard to give you real-time info?
Perhaps the most overlooked aspect of choosing the best event check-in app for your needs is the presence of event dashboard. These are real-time interfaces that give you an accurate and updated picture of your attendee list, sorted by whether they have arrived or not, as well as the ability to view specific attendee information and preferences or contact individual guests.
Why is an event dashboard so important as part of your check-in system?
You can adjust your schedule if you see a large percentage of guests are arriving late. No one wants to give a speech to a half-empty room.
You can optimize communications to only contact guests who are actually present to avoid spamming those who couldn't make it.
You can send reminders to those who haven't checked in to do so without having to hunt down individual emails or contact info.
You can sort by guest tags, allowing you to see if groups of guests (say, employees of a specific vendor or company) are attending in greater numbers.
Real-time data can make for better real-time decision making. If you want to go beyond simply letting people in the door, and instead use your event check-in app to make smart management and planning decisions throughout the duration of an event, an event dashboard is a must-have when choosing your event check-in solution.