Author, speaker and Chief Boredom Buster Andrea Driessen believes everyone's entitled to feeling radically engaged — and that includes during mission-critical business meetings. Professional, playful and positively resourceful, Andrea is a high-spirited, highly-regarded event planning expert (with 30+ years of experience in the industry). She is also the author of the award-winning book, The Non-Obvious Guide to Event Planning: For Kick-Ass Gatherings that Inspire People, which the International Book Awards named the 2019 winner in the Business: Communications/PR category. She also writes regularly for the Meeting Professional Magazine.
Filled to the brim with great tips for designing captivating events, The Non-Obvious Guide to Event Planning is an award winner for good reason. Andrea's expert guide boasts advice on everything from how to book the right presenters, to strategies for managing event logistics, to how to set a content road map. Each chapter is packed with actionable tips, templates, and tutorials to level up your event planning game.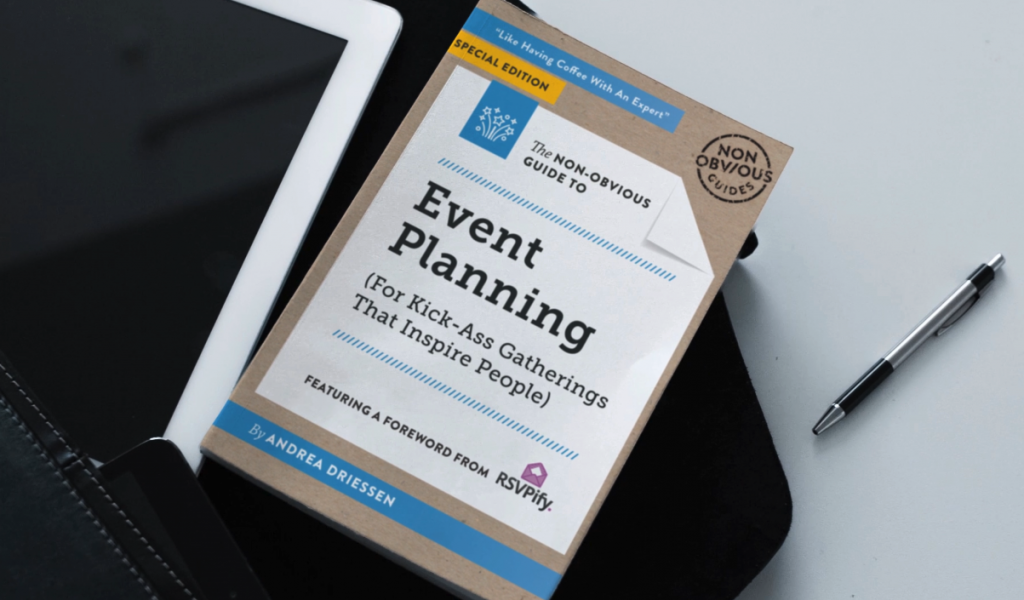 We're thrilled to team up with Andrea on a special edition of her book. As RSVPify Co-Founder and Director of Marketing Adam Hausman shares in a special foreword, RSVPify and Andrea's book have similar missions. What is that common mission? Innovating beyond the obvious to provide the tools to effortlessly manage nearly any type of event.
"At RSVPify, we think differently about events from start to finish. Our willingness to innovate beyond the obvious led to our industry-leading suite of customizable solutions that leave a strong first impression with your guests and ease the burden on any event planning team, so they can focus their time on what matters most-the at-event experience."

– Adam Hausman
RSVPify Co-Founder & Marketing Director
Andrea's must-read guide is available for purchase here. RSVPify Enterprise customers can request a complimentary copy of the book by submitting a quick request (while supplies remain!).